This article was published in The 30 Second Wine Advisor on Tuesday, Jun. 23, 2009 and can be found at http://www.wineloverspage.com/wineadvisor2/tswa20090623.php.
Mixing it up with Meritage
If you're dining out and thinking about ordering a glass of "Meh-reh-TAHJ," please think twice.
It has been just about 20 years since this all-American term for American wines made in the style of French Bordeaux was coined, and in its original intent, the new word was distinctly not intended to be pronounced as if it were French.
Make it "MEHR-uh-tij," please, to rhyme with "heritage," and you'll be speaking as the founders of the Meritage Society intended.
But to be honest, hardly anybody ever says it that way any more. The word looks so obviously French that it's simply natural for it to pop out of your mouth with a Gallic flair.
In fact, the word was coined in 1988, after a group of California wine makers formed a non-profit consortium, The Meritage Society (now called the Meritage Association), to encourage - and trademark - the development of California blended wines made in the fashion of Bordeaux. The name was selected in a public contest, the winner taking home a case of fine wine ... Meritage, of course.
U.S. wineries that wish to use the proprietary name "Meritage" must obtain a license from the association (for an annual charge of $1 for every case of Meritage wine they produce, up to a $500 maximum), and may use it only on wines that meet these criteria:
* A red Meritage is made from a blend of two or more of the following varieties: Cabernet Sauvignon, Merlot, Cabernet Franc, Malbec, Petit Verdot, St. Macaire, Gros Verdot, and Carmenere. No single variety may make up more than 90 percent of the blend.
* A white Meritage is made from a blend of two or more of the following varieties: Sauvignon Blanc, Semillon, and Sauvignon Vert. No single variety may make up more than 90 percent of the blend.
For more information on Meritage wines, see the Website of the Meritage Association, http://www.meritagewine.org
For today's tasting report, posted below, I offer a fine, surprisingly affordable Meritage from Clos La Chance, a California Central Coast winery that also boasts a decidedly French-sounding moniker. The wine, a Merlot-dominant blend, is in Clos La Chance's "Hummingbird Series," the lowest-price of the winery's three portfolios.
As lagniappe, you'll find also my report on a delicious "unoaked" Chardonnay from Clos La Chance, also in the Hummingbird Series. Both wines were recent selections from this week's Wine Advisor sponsor, The California Wine Club.
Today's Sponsor
Pour With Confidence! And get the first month on The California Wine Club
With The California Wine Club you can pour confidently because club owners Bruce and Pam Boring:
* Guarantee that every wine comes from a smaller, real, working winery
* Visit each winery, get to know the family and share their stories
* Taste thousands of wines before choosing the best
Experience The California Wine Club for yourself! Each month includes two bottles of handcrafted, award-winning wine so limited in production they are typically only found at the winery itself. Each shipment also includes the club's entertaining 12-page publication, Uncorked. Uncorked gives you an up-close and personal look at the family making the wine, tasting notes, recipes, insight to California's wine scene and much more.
Just $34.95 per month, plus s/h. Choose to receive wines monthly, every other month or quarterly. Join for yourself, or send a gift. Visit www.cawineclub.com or call 1-800-777-4443.
Use Promo Code: ADVISOR and save $34.95.
Today's Tasting Report
Clos La Chance 2005 Central Coast Meritage Red Wine "Hummingbird Series - Crimson Topaz" ($18)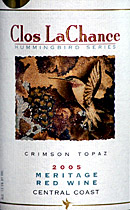 Red and black fruit, cherries, berries and plums and a back note of dark chocolate loft from the glass of this dark-garnet wine in an enticing aroma. Deep fruit flavors are consistent with the nose, shaped by appropriate acidity, a backdrop of firm but accessible tannins and a surprisingly rational 13.5% alcohol. A "Meritage" blend of 63% Merlot, 17% Cabernet Sauvignon, 11% Cabernet Franc, 6% Malbec and 3% Petit Verdot, aged 16 months in French and American oak barrels but only 30 percent new oak, holding oak character in restraint as an accent to the fruit. A very fine California Bordeaux-style blend at a surprisingly affordable price. Made for red meat, it was fine with a comparative tasting of medium-rare rib eye steaks from Kentucky grass-fed bison and beef. (June 21, 2009)
Clos La Chance 2007 Monterey County Unoaked Chardonnay "Hummingbird Series - Glittering Throated Emerald" ($15)
Transparent straw color. Ripe, appealing aromas of fresh apples and pears. Crisp and tart, juicy fresh-apple fruit with a snappy citric back note that mingles lemons, limes and an intriguing whiff of tangerine. Fresh white fruit and mouth-watering acidity linger in a long finish. Tart mixed-fruit flavors were a delight with a quick chicken pilaf with free-range chicken dark meat and broth, basmati rice, Iranian saffron and a whiff of curry. (June 18, 2009)
WEB LINK:
Here's a link to the Clos la Chance winery Website:
http://www.closlachance.com/
FIND THESE WINES ONLINE:
For maximum value, California Wine Club members may re-order these wines by the case for just $10.99 per bottle, a price that makes either a no-brainer as a house wine. Members making case re-orders may click
http://www.cawineclub.com/Clos-La-Chance-Winery-2005-
Meritage-Red-Wine,-Central-Coast-Hummingbird-Series-Crimson-
Topaz_PD642.html
To join California Wine Club, visit www.cawineclub.com or call 1-800-777-4443. During their current special offer for 30 Second Wine Advisor readers, enter Promo Code: ADVISOR and save $34.95 by receiving your first month's shipment free.
To review all of Clos La Chance's Hummingbird Series wines and order them from the winery at full winery retail, click
http://www.clos.com/Wines#hummingbird
Or, to find local vendors and compare prices for Clos La Chance Hummingbird Series, consult Wine-Searcher.com:
http://www.wine-searcher.com/find/Clos%2bChance%2bHummingbird/-/-/-/USD/A?referring_site=WLP
Talk About Wine Online
If you have questions, comments or ideas to share about today's article or wine in general, you're always welcome to drop by our online WineLovers Discussion Group, the Internet's first and still the most civil online community. To find our forums, click:
http://www.wineloverspage.com/forum/village
Discussions are open for public viewing, but you must register to post. Registration is free and easy; we ask only that you join following our Real Names Real Format system, using your real name in the format "John Doe" or "John D". Anonymous, cryptic or first-name-only registrations are discarded without notice.
Once your registration has been approved, which usually happens quickly, you'll be able to participate in all our online wine, food and travel forums.
To contact me by E-mail, write wine@wineloverspage.com. I'll respond personally to the extent that time and volume permit.
Subscriptions and Administrivia
Unsubscribe:
We're sorry if you must leave us, but simply click the "unsubscribe"
link at the bottom of your Email edition to be instantly removed from the mailing list.
Subscribe to this Email edition (free):
http://www.wineloverspage.com/wineadvisor
WineLoversPage.com RSS Feed (free):
http://www.wineloverspage.com/rss
Wine Advisor Archives:
http://www.wineloverspage.com/wineadvisor2/archives.php