This article was published in The 30 Second Wine Advisor on Wednesday, Dec. 3, 2008 and can be found at http://www.wineloverspage.com/wineadvisor2/tswa20081203.php.
Wine Focus - Head for the foothills
By either its Italian name "Piemonte" or the English version "Piedmont" the northwestern corner of Italy literally translates as "foothills," the Italian foothills of the Alps.
We'll study this region's fine red wines for this month's Wine Focus.
This topic will allows who prefer a high-end, ageworthy wine for holiday feasting to splurge on a fine Barolo or Barbaresco - both made from the Nebbiolo grape - or slightly more affordable Nebbiolo wines including Gattinara and Ghemme.
Those who want to stick with relatively low-price "recession-buster" wines may choose from an attractive range including the widely available Barbera or Dolcetto or the deliciously berry-scented Freisa.
But wait! There's more! With fully 50 designated D.O.C.G. and D.O.C. wine-producing areas - the most of any Italian region - Piemonte offers an array of choices from the fizzy red Brachetto d'Acqui to such rarities as Fara and Sizzano.
Piemonte also makes its share of whites, including the immensely popular bubbly Asti (formerly "Asti Spumanti") and the widely distributed Gavi still white.
With so much wine to try, however, let's stick with the reds for this month's Piemontese exploration. You're also invited to select the real Italian wines if you can find them, but for those in parts of the world where Italian imports are rare, feel free to discuss locally grown Nebbiolo and others; at least a bit is produced in California and Australia and, I expect, other regions as well.
I actually sneaked in a Piemontese Barbera in last Wednesday's edition, Michele Chiarlo 2006 "Le Orme" Barbera d'Asti. For today, I offer another, the somewhat more pricey Guido Porro 2006 Santa Caterina Barbera d'Alba.
For more background on Piemonte, its foods and wines, one good resource in English is the Italian Trade Commission's Piedmont page, http://www.italianmade.com/regions/region2.cfm, with information and further links tp articles about its regional wines and food, traditional dishes and a map.
It's simple to participate in Wine Focus. Just pick up a Piemontese red, or a few. Taste and take notes. Then bring your tasting report and your questions and comments to the Wine Focus forum in our WineLovers Discussion Groups,
http://www.wineloverspage.com/forum/village/viewforum.php?f=18
The discussions are open for public viewing, but you must register to post. Registration is free and easy; we ask only that you join following our Real Names Real Format system, using your real name in the format "John Doe" or "John D".
Once your registration has been approved, which usually happens quickly, you'll be able to participate in all our online wine, food and travel forums.
Guido Porro 2005 Vigna S. Caterina Barbera d'Alba ($23.99)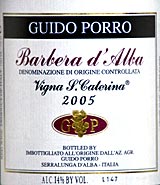 Very dark purple with a clear garnet edge. Red plums and very subtle hints of brown spices and dusty red clay on the nose. Bright and tart, zippy red fruit and mouth-watering acidity on the palate. Ripe, acidic red fruit lingers in a long finish. Excellent food wine, carries its 14% alcohol well. U.S. importer: Kermit Lynch Wine Merchant, Berkeley, Calif. (Dec. 1, 2008)
FOOD MATCH: Made for red meat, a fine companion with pan-seared natural strip steaks from Kentucky's Dutch Creek Farm.
VALUE: Toward the high end for Barbera at my local price in the lower $20s; in fairness, it's a very high-quality Barbera, but the U.S. importer suggests a $17.50 retail price, and Wine-Searcher.com shows it in the middle teens in many parts of the U.S.
WHEN TO DRINK: Delicious now, but under temperature-controlled cellar conditions it could evolve for a decade from the vintage.
WEB LINK:
The U.S. importer has a short report on this wine in his October newsletter. Page down about halfway through the PDF file to find the references to Guido Porro and his wines.
http://www.kermitlynch.com/0810-October2008.pdf
FIND THIS WINE ONLINE:
Seek vendors and check prices for Guido Porro Vigna S. Caterina Barbera d'Alba on Wine-Searcher.com:
http://www.wine-searcher.com/
find/Porro%2bCaterina%2bBarbera/-/-/USD/A?referring_site=WLP

Talk About Wine Online
If you have questions, comments or ideas to share about today's article
or wine in general, you're always welcome to drop by our online
WineLovers Discussion Group. This link will take you to the forum home page, where you can read discussions in all the forum sections:
http://www.wineloverspage.com/forum/village
Everyone is free to browse. If you'd like to post a comment, question or reply, you must register, but registration is free and easy. Do take care to register using your real name, or as a minimum, your real first name and last initial. Anonymous registrations are quietly discarded.
To contact me by E-mail, write wine@wineloverspage.com. I'll respond personally to the extent that time and volume permit.
PRINT OUT TODAY'S ARTICLE
Here's a simply formatted copy of today's Wine Advisor, designed to be printed out for your scrapbook or file or downloaded to your PDA or other wireless device.
http://www.wineloverspage.com/wineadvisor2/2008/12/wine_focus_head_for_the_foothi-print.html