This article was published in The 30 Second Wine Advisor on Monday, Dec. 1, 2008 and can be found at http://www.wineloverspage.com/wineadvisor2/tswa20081201.php.
Riesling trio
It's the first day of December, so we're scheduled to shift our monthly educational Wine Focus to a new subject.
I've still got tasting notes on three good Rieslings from around the world, though, so let's take today to wrap up up the November topic on the styles of Riesling around the world. There'll be time enough to move on to December's topic ("Head for the foothills: Piemonte") in Wednesday's 30 Second Wine Advisor.
To make a long story short, these recent tasting experiences point up to me both the variability in style that prompted November's study, but they also show that the underlying character of the Riesling grape can push through style differences to make a wine with some consistency of varietal character.
Today's featured wines, presented in brief format below, include Rieslings from Austria (Hiedler in Kamptal), Australis (The Wilson Vineyard in Clare Valley) and Washington State (Kungfu Girl from the Columbia Valley).
Curiously, the Australian wine, a six-year-old vintage showing some maturity, came closer to the classic German style than any of the other Aussie Rieslings I've tasted this month; the Washington State wine, despite its "pop wine" name and label, showed serious Riesling quality in a dry, aromatic white; and the Austrian Riesling was a real treasure from the Danube, rich, minerally, crisp and dry.
Read on for my tasting reports:
Hiedler 2006 Urgestein Kamptal Riesling ($21.99)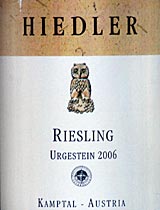 Clear light gold. A subtle but intense mix of elusive fruit, perhaps a whiff of apple, a hint of tangerine, a touch of ripe strawberry, adding up to an appealing sonata of scent that seems both fruity and floral. Bold palate impression, intense white fruits that follow the nose, shifting into a distinct "rocky" minerality that's a trademark of Austria's Danube vineyards. Crisp, mouth-watering and very long in the finish, apple and pear and just a touch of that subtle tangerine. Remarkable wine, not downright cheap in the $20ish range but a strong contender against the competition at that price point. Fresh, clean and potentially ageworthy under a sturdy Stelvin-style screw cap. Fine with halibut steaks braised in clam juice with browned onions and garlic. Importer's winery fact sheet: http://www.skurnikwines.com/
prospects.cgi?rm=view_prospect_detail&prospect_id=12 U.S. importer: Michael Skurnik Wines, Syosset, N.Y.; A Terry Theise Estate Selection. (Nov. 28, 2008)
FIND THIS WINE ONLINE:
http://www.wine-searcher.com/
find/Hiedler%2bUrgestein%2bRiesling/-/-/-/USD/A?referring_site=WLP
The Wilson Vineyard 2002 Polish Hill River Clare Valley Riesling ($18.99)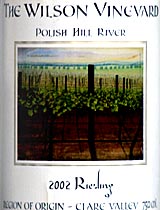 It's very difficult to open the Stelvin-style metal screwcap on this six-year-old Australian wine. It was so tight that I couldn't break the seal by hand and ended up resorting to a pair of pliers. Very ripe aromas, mango and pineapple and a lot of that characteristic Riesling "petrol" scent. Abundant tropical fruit flavors follow the nose, a touch of fresh-fruit sweetness shaped by sufficient acidity, although it perhaps falls short of the steely acidity of a top German Riesling. Holding up well after six years from the vintage; only the petrol betrays its age, but there's certainly no loss of fruit. Fine with roast free-range chicken. Website: http://www.wilsonvineyard.com.au U.S. importer: Oenophilia Inc., Hillsborough, N.C. (Nov. 29, 2008)
FIND THIS WINE ONLINE:
http://www.wine-searcher.com/
find/Wilson%2bPolish%2bRiesling/-/-/-/USD/A?referring_site=WLP
Kungfu Girl 2007 Columbia Valley Washington State Riesling ($12.99)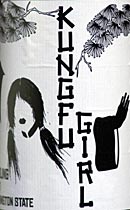 Clear, pale brass color. Good, fresh, appealing but not over-ripe apple and mango scents. Crisp and fresh white fruit on the palate, structured by tart, snappy acidity. Comes across as fully dry, with a slight, pleasant almond bitterness in a long finish. Fine at a Thanksgiving banquet, well paired with both light and dark turkey meat, and outstanding with chilled shrimp. Made by Charles Smith Wines, Mattawa, Calif., http://www.charlessmithwines.com (Nov. 27, 2008)
FIND THIS WINE ONLINE:
http://www.wine-searcher.com/
find/kungfu%2bGirl%2bRiesling/-/-/-/USD/A?referring_site=WLP
Whether you'd like to catch up on November's Riesling topic or jump in on December's topic on Piemontese reds, simply click to
http://www.wineloverspage.com/forum/village/viewforum.php?f=18
The discussions are open for public viewing, but you must register to post. Registration is free and easy; we ask only that you join following our Real Names Real Format system, using your real name in the format "John Doe" or "John D".
Once your registration has been approved, which usually happens quickly, you'll be able to participate in all our wine, food and travel forums in the popular WineLovers Discussion Group (WLDG).

Attention Facebook users!
In our ongoing effort to maintain a good balance of tradition and mocernism on one of the oldest wine-appreciation Websites, we're adding a dash of Web 2.0 flavor with a WineLoversPage.com presence on Facebook.
If you're a Facebook user, I invite you to click over and join WineLoversPage.com on Facebook at
http://www.new.facebook.com/group.php?gid=100031780214
If you'd like to pair up with me as a Facebook "friend" and get frequent bulletins on what I'm eating and drinking, you'll find me at
http://www.new.facebook.com/people/Robin_Garr/1008045477

Turnbull Wine Cellars 2005 Napa Valley Cabernet Sauvignon ($49 retail; $41 per bottle for half or full case orders by Connoisseurs' Series members)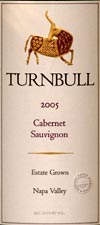 Inky blackish-purple all the way to the clear garnet edge. Plums and a whiff of Cabernet blackcurrant cassis gain complexity from attractive oak elements, dark chocolate and subtle spice. Full Cabernet black-fruit is nicely balanced by crisp acidity and substantial but smooth and palatable tannins, with tart black fruit persisting in a very long finish. Nicely balanced, carries its 14.5% alcohol well; very enjoyable now, especially with rare red meat on the table, but it should reward years of cellar time. Although its 83% Cabernet Sauvignon content allows it to be labeled full varietal, the tech information reveals a slightly offbeat but appealing blend of 7% Cabernet Franc, 5% Syrah, 2% Merlot and 1% Petite Verdot in the blend, aged 17 months in 50% new French oak. Winery Website: http://www.hartwellvineyards.com (Nov. 15, 2008)
FIND THIS WINE ONLINE: The Turnbull Wine Cellars 2005 Napa Valley Cabernet Sauvignon was a recent shipment in California Wine Club's Connoisseurs' Series and is available for additional orders by Connoisseurs' Series members. Call 1-800-777-4443 to join or learn more.

Talk About Wine Online
If you have questions, comments or ideas to share about today's article
or wine in general, you're always welcome to drop by our online WineLovers Discussion Group. This link will take you to the forum home page, where you can read discussions in all the forum sections:
http://www.wineloverspage.com/forum/village
Everyone is free to browse. If you'd like to post a comment, question or reply, you must register, but registration is free and easy. Do take care to register using your real name, or as a minimum, your real first name and last initial. Anonymous registrations are quietly discarded.
To contact me by E-mail, write wine@wineloverspage.com. I'll respond personally to the extent that time and volume permit.
PRINT OUT TODAY'S ARTICLE
Here's a simply formatted copy of today's Wine Advisor, designed to be printed out for your scrapbook or file or downloaded to your PDA or other wireless device.
http://www.wineloverspage.com/wineadvisor2/2008/12/riesling_trio-print.html

This week on WineLoversPage.com
• Rogov's Ramblings: The War Between The Rothschilds
Ever since the 14th century, the French and the English have had problems relating to each other. In no case has this been better demonstrated than the "war" between the London and Paris branches of the Rothschild family.
http://www.wineloverspage.com/rogov/rothschilds.phtml
• Vino e Cucina d'Italia: Umbria - A Wine and Food Jewel
Most wine and food lovers who visit Italy seem to focus on Piedmont and Tuscany. ... However, there is much more to Italian wine and food than these most appealing destinations. One such area, located just east of Tuscany, is Umbria.
http://www.wineloverspage.com/duarte/umbria.phtml
• WineLovers Discussion Group: Riesling or a can of paint?
A wine lover's ugly experience with a mass-market Riesling that reeked like a can of paint inspired a technical discussion of volatile acidity and other wine flaws on the WineLovers Discussion Group.
http://www.wineloverspage.com/forum/village/viewtopic.php?f=3&t=20290