This article was published in The 30 Second Wine Advisor on Monday, Dec. 22, 2008 and can be found at http://www.wineloverspage.com/wineadvisor2/tswa20081222.php.
Red wine, white carpet: Uh oh!
Today's lesson could be given in a quick 100 words or so, simply quoting a hurried text exchange with a friend who had a problem at a family Christmas party:
Q: How do you get red wine out of a light colored rug?
A: White wine! Pour white wine on it, then pat it up gently with paper towels.
When holiday parties abound, happy crowds sharing fun, fellowship and frivolity are bound to yield the occasional accidental wine spill. Red wine can leave serious stains, so this seasonal tip sheet may come in handy.
White wine works because its neutral color and alcohol help dilute and dissolve the red-wine spill. Pour it on - you don't have to use Le Montrachet: Jug wine or something you've got left over in the fridge will work fine.
Once you've poured on enough white wine to turn the red stain pale pink, pat the spot as dry as you can with a big wad of paper towels or a bath towel. Don't rub, which will may spread the stain around or force the red color deeper into the carpet.
It's not a bad idea to follow up with a commercial carpet cleaner or stain remover to wipe out the last vestiges, but white wine's the key, and get it on fast.
If you're stuck without any white wine, try club soda. Some say the carbonation helps scrub out the red-wine color as it dilutes the stain. But really, what wine enthusiast isn't going to have a little extra white around?
If you've tried this technique or have other red-wine stain antidotes you'd like to share, please log in to our WineLovers Discussion Group and tell us about it as a response to this column, which is posted at
http://www.wineloverspage.com/forum/village/viewtopic.php?f=3&t=20970
Von Strasser 2005 Rainin Vineyard Diamond Mountain District Napa Valley Cabernet Sauvignon ($76 retail; $64 per bottle for half or full case orders by Connoisseurs' Series members)
Brilliant garnet color invites a taste, and tasting is rewarding: Lovely blackcurrant cassis and a whiff of Napa eucalyptus aromas. Intense cassis carries over on the palate with black and blue berry fruit, mouth-watering acidity and smooth tannins showing up in the very long finish. Just a splash of 2% Petit Verdot and 2% Malbec add a dimension to 96% Cabernet Sauvignon, grown in the red volcanic soil of Diamond Mountain's Rainin Vineyard. The varietal lots were aged 22 months in French oak, but the wine speaks prettily of fruit, not wood, and shows potential for considerable evolution with a decade's cellar time. No problem with the 14.2% alcohol, which is really on the moderate side for modern Napa Cab. Only 248 cases were made. Winery Website: http://www.vonstrasser.com (Dec. 20, 2008)
Halleck 2006 Hallberg Vineyard Russian River Valley Pinot Noir ($57 retail; $51 per bottle for half or full case orders by Connoisseurs' Series members)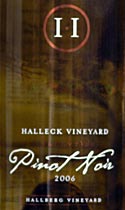 This is a light, ruby-rose color wine, transparent and jewel-like, appropriately light for a well-made Pinot Noir that's not overly manipulated. Good, subtle cherries and spice and a whiff of cola on the nose; mouth-filling and velvety red fruit and crisp acidity on the palate. Stylish now, clearly a California wine but showing a touch of Burgundian elegance, with only 30 percent new oak in its 10-month French oak barrel program; it carries its hefty 14.9% alcohol well. Only 295 cases were made. Winery Website: http://www.halleckvineyard.com (Dec. 20, 2008)
FIND THESE WINES ONLINE: Both of these fine wines were included in a recent shipment from Connoisseurs' Series and are available for additional orders by Connoisseurs' Series members. Call 1-800-777-4443 to join or learn more.


Talk About Wine Online
If you have questions, comments or ideas to share about today's article
or wine in general, you're always welcome to drop by our online WineLovers Discussion Group. This link will take you to the forum home page, where you can read discussions in all the forum sections:
http://www.wineloverspage.com/forum/village
Everyone is free to browse. If you'd like to post a comment, question or reply, you must register, but registration is free and easy. Do take care to register using your real name, or as a minimum, your real first name and last initial. Anonymous registrations are quietly discarded.
To contact me by E-mail, write wine@wineloverspage.com. I'll respond personally to the extent that time and volume permit.
PRINT OUT TODAY'S ARTICLE
Here's a simply formatted copy of today's Wine Advisor, designed to be printed out for your scrapbook or file or downloaded to your PDA or other wireless device.
http://www.wineloverspage.com/wineadvisor2/2008/12/red_wine_white_carpet_uh_oh-print.html

This week on WineLoversPage.com
• Italian Wine Guide: The Simple Pleasures of Italian Wines
In a wine world seeminly obsessed with ratings and points, writer Tom Hyland begs to differ: The bottom line, he says, is pleasure. He offers a quick survey of some favorite Italian wines that don't get the attention they deserve.
http://www.wineloverspage.com/italwineguide/simple08.phtml
• WebWineMan: Champagne Shootout!
Writer Richard Fadeley and the Columbia Free Times tasting panel take on their favorite assignment of the year as they help you wade through the huge offerings in the sparkling wine aisles.
http://www.wineloverspage.com/webwineman/bubbly08.phtml
• WineLovers Discussion Group: Favorite steak wine
What's your favorite wine with steak? A WineLovers Discussion Group member suggests Spanish Tempranillo (as in Rioja); his comment inspired a long discussion with lots of suggestions. Read them and add your own advice in this forum topic:
http://www.wineloverspage.com/forum/village/viewtopic.php?f=3&t=20861