This article was published in The 30 Second Wine Advisor on Wednesday, Dec. 31, 2008 and can be found at http://www.wineloverspage.com/wineadvisor2/tswa20081231.php.
Recession-busting bubbly
If you're keen to celebrate the New Year with a toast in something sparkly but your big wish for 2009 is that your 401(k) or your job comes back, here's a recession-busting bubbly from Italy that will get the job done at a fraction the cost of Champagne.
Mionetto Valdobbiadene Prosecco Brut is available in my neck of the woods for a reasonable $12.99; Wine-searcher.com shows it as low as $8 in some parts of the U.S.
This is a non-vintage wine made from Prosecco grapes in Valdobbiadene, in the Veneto hills not far north of Venice. This region is generally considered the source of the best Prosecco, and Mionetto Brut easily hits that mark with its crisp, dry and fizzy apple and pear fruit. You'll find my tasting notes below.
We're circulating this column a day early in the hope of getting it to you before New Year's Eve and allowing you a bit of time to find the wine in your city if you choose to try it.
Coincidentally, The New York Times recently ran an interesting article about Prosecco and its producers' concern about wine producers in other parts of the world making knockoffs of the regional wine using the Prosecco grape. Read it at this link:
Italian Makers of Prosecco Seek Recognition
http://www.nytimes.com/
2008/12/28/business/worldbusiness/28prosecco.html
Mionetto Valdobbiadene Prosecco Brut ($12.99)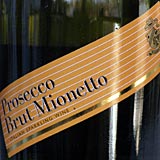 Transparent straw color, with a frothy mousse that falls back quickly but leaves crisp, prickly carbonation that tickles the nose and tongue. White fruit and a subtle floral note in the aroma; crisp, dry and fizzy, with light (11%) alcohol; hints of pears and apples in the flavor. A tart, clean sense of prickly carbonation hangs on in a long finish. U.S. importer: Mionetto USA Inc., Brooklyn, N.Y. (Dec. 28, 2008)
FOOD MATCH: Fine for New Year's Eve and celebratory toasting, of course. Good, dry bubblies also pair with just about anything on your plate. We enjoyed it with a dinner of pork chops braised with garlic over orzo pasta.
VALUE AND WHEN TO DRINK: Best enjoyed young and fresh. Buy it now, drink it now; next time you want an inexpensive bubbly that exceeds expectations for its price point, buy it again.
WEB LINK:
Here's the Mionetto USA Website:
http://www.mionettousa.com
FIND THIS WINE ONLINE:
Find sources and compare prices for Mionetto Prosecco Brut on Wine-Searcher.com:
http://www.wine-searcher.com/
find/Mionetto%2bProsecco%2bBrut/-/-/-/USD/A?referring_site=WLP

Talk About Wine Online
If you have questions, comments or ideas to share about today's article
or wine in general, you're always welcome to drop by our online
WineLovers Discussion Group. This link will take you to the forum home page, where you can read discussions in all the forum sections:
http://www.wineloverspage.com/forum/village
Everyone is free to browse. If you'd like to post a comment, question or reply, you must register, but registration is free and easy. Do take care to register using your real name, or as a minimum, your real first name and last initial. Anonymous registrations are quietly discarded.
To contact me by E-mail, write wine@wineloverspage.com. I'll respond personally to the extent that time and volume permit.
PRINT OUT TODAY'S ARTICLE
Here's a simply formatted copy of today's Wine Advisor, designed to be printed out for your scrapbook or file or downloaded to your PDA or other wireless device.
http://www.wineloverspage.com/wineadvisor2/2008/12/recessionbusting_bubbly-print.html