This article was published in The 30 Second Wine Advisor on Wednesday, Sep. 10, 2008 and can be found at http://www.wineloverspage.com/wineadvisor2/tswa20080910.php.
Fine value red from Languedoc
We won't dip quite as far down the food chain today as Monday's $8 Chianti, but this Grenache-based red from the Languedoc represents another fine bargain.
The Languedoc, as we've discussed before, could be described as the "other half" of Provence - it extends along France's Mediterranean coast from the mouth of the Rhone River west to Spain - mirroring Provence's stretch eastward from the Rhone to the boundary with Italy. Languedoc incorporates the cities of Montpellier and Toulouse and the lovely medieval village Carcassonne, among others, taking in seacoast, fields and mountains.
You'll find just about all the same familiar wine grapes in Languedoc as you do in Provence and the Southern Rhone: Grenache, Syrah, Mourvèdre, Carignan and a few others in the reds; Marsanne, Roussanne and Viognier and more in the whites.
As a curious aside, the region takes its odd name from "Langue d'Oc," which means something along the lines of "The language of 'Oc'," the word for "yes" in Occitan, the ancient language of the region, a fact that bemused the more northerly French who said "Oui."
Within most of our lifetimes, Languedoc was lightly regarded by wine enthusiasts because, much like California's agricultural Central Valley, it was primarily a source of high-production, hot-weather grapes used to make inexpensive table wines that were modest in quality at best.
But like much of the rest of the wine world, individual Languedoc producers have moved upscale in recent years. While the region still may lack the cachet of Burgundy or Bordeaux, many Languedoc wines - particularly artisanal and estate-bottled production - command respect around the world of wine.
I'm ready to say "Oc!" about today's featured wine, a blend of 80 percent Grenache and 20 percent Mourvèdre from the Coteaux du Languedoc, the hillsides north of Montpellier, a nicely balanced and hearty red and a very good bargain at just a buck or two north of $10. See below for my tasting report.
Montpezat 2005 Coteaux du Languedoc Palombières ($11.99)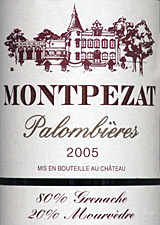 Very dark garnet, with reddish-violet glints. A typical regional chateau-bottled blend of 80% Grenache and 20% Mourvèdre, it offers light raspberry scent and a hint of fresh green herbs, maybe tarragon and thyme if I had to single them out (but I'd prefer not to have to give this answer on a test). Mouth-filling, tart and softly tannic, red fruit and crisp, food-friendly acidity wrap up a simple but attractive package that carries its rather hefty 14% alcohol well. U.S. importer: Robert Kacher Selections, Washington, D.C. (Sept. 4, 2008)
FOOD MATCH: I'm rarely loath to make a cross-Latin match between a French wine and an Italian meal, and scored this time with a lighter-style summer version of Italian-American spaghetti and meatballs with Pecorino Romano cheese: The meatballs were local natural beef and the topping was no thick, long-simmered, caramelized "gravy" but a quick, fresh garden-tomato sauce.
VALUE: An easy choice at just over $10 in these economic times.
WHEN TO DRINK: No worries about holding it for a year or two, but I wouldn't try to cellar it.
WEB LINK:
The Chateau Monpezat Website is available in French and English. Click "Version Francaise" or "English Version" for your preference:
http://www.chateau-montpezat.com
FIND THIS WINE ONLINE:
Locate vendors and check prices for Montpezat Coteaux du Languedoc Palombières on Wine-Searcher.com:
http://www.wine-searcher.com/
find/Montpezat%2bPalombieres/-/-/USD/A?referring_site=WLP

Talk About Wine Online
If you have questions, comments or ideas to share about today's article
or wine in general, you're always welcome to drop by our online
WineLovers Discussion Group. This link will take you to the forum home page, where you can read discussions in all the forum sections:
http://www.wineloverspage.com/forum/village
Everyone is free to browse. If you'd like to post a comment, question or reply, you must register, but registration is free and easy. Do take care to register using your real name, or as a minimum, your real first name and last initial. Anonymous registrations are quietly discarded.
To contact me by E-mail, write wine@wineloverspage.com. I'll respond personally to the extent that time and volume permit.
PRINT OUT TODAY'S ARTICLE
Here's a simply formatted copy of today's Wine Advisor, designed to be printed out for your scrapbook or file or downloaded to your PDA or other wireless device.
http://www.wineloverspage.com/wineadvisor2/2008/09/fine_value_red_from_languedoc-print.html