This article was published in The 30 Second Wine Advisor on Monday, Jun. 30, 2008 and can be found at http://www.wineloverspage.com/wineadvisor2/tswa20080630.php.
The root of the matter
Phylloxera, the root louse that almost destroyed the world wine industry in the 19th century, is now found everywhere ... almost.
Phylloxera ("Fil-LOX-eh-rah") is a root-gobbling aphid that was accidentally exported to France in a shipment of American grapevines in 1862 and spread so quickly that it all but wiped out Europe's vineyards within a generation. For the full-length story, I strongly recommend Christy Campbell's excellent book, The Botanist and the Vintner.
To put it in a nutshell, the phylloxera nibbled its way through Europe's vineyards, killing the vines by eating their roots. Eventually vine growers learned that the roots of native American grapes are naturally resistant to phylloxera, so they began grafting European grapevines (Vitis vinifera) to American rootstocks, and the industry was saved.
To this day, vinifera grapevines are grown on American rootstocks, not only in Europe but in the New World as well. Botanically, the grafted plant should produce fruit exactly as one grown on its own roots. But no one is still alive who was tasting wines in the 1860s through 1880s, so it's difficult to be certain whether "pre-phylloxera" wines tasted exactly the same as those made from the fruit of grafted vines.
We may never know the answer to this question when it comes to wines from France and the rest of the Old World. But one New World growing region, surprisingly, remains phylloxera-free. Thanks to its protected location in a narrow strip between the Andes mountains and the Pacific Ocean, the aphid has never reached the main growing regions in Chile.
Today's featured wine, like most Chilean wines, is grown on ungrafted roots, celebrating that fact in its name - "Root: 1" and a striking botanical drawing of a grapevine and its deep root painted on the bottle.
Says its importer, Click Wine Group, of Seattle: "Chile's unique geographic and climatic forces make it one of very few grape growing regions in the world where original European rootstock has been unaffected by phylloxera. While most vineyards around the world are planted with grafted rootstock, Root:1 Cabernet Sauvignon and Sauvignon Blanc are grown on original, ungrafted roots, producing wines with intense flavors and authentic varietal character."
In my opinion, the distinction in aroma and flavor between grafted and ungrafted vines is subtle at best. But if you want to give an ungrafted wine a try, look to Chile - which also happily tends to produce relatively affordable wines - and if you can find it in your market, don't overlook Viña Ventisquero 2006 "Root: 1" Colchagua Valley Cabernet Sauvignon. Juicy, ripe and tart, its a noteworthy value at $10 or thereabouts. My tasting notes are below.
Viña Ventisquero 2006 "Root: 1" Colchagua Valley Cabernet Sauvignon ($10)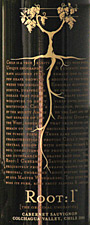 Dark garnet, deep reddish-purple at the center. Very distinct cassis (blackcurrant) aroma with a fruity back note of red plums and a whiff of fennel. Mouth-filling and ripe, fresh and juicy fruit flavors follow the nose, nicely shaped by tart, mouth-watering acidity. U.S. importer: Click Wine Group, Seattle. (June 28, 2008)
FOOD MATCH: Good with red meat or grilled chicken; fine with hamburgers made from local natural ground beef.
VALUE: This wine was a gift from a friend. Wine-Searcher.com shows it at prices from $8.45 to $12.99, typically around $10, at which point it is an exceptional value.
WHEN TO DRINK: Made for immediate drinking and not really in a cellaring style, but a few years in the wine rack or cellar shouldn't do it any harm.
WEB LINK:
The importer's Website has an information page about Root:1 wines here:
http://www.clickwinegroup.com/cwg/wine_portfolio_detail.php?id=24&cat=GWC
And a PDF file about this Cabernet here:
http://www.clickwinegroup.com/cwg/PDF/Root1CS2006Tech.pdf
FIND THIS WINE ONLINE:
Find vendors and check prices for Root:1 wines on Wine-Searcher.com:
http://www.wine-searcher.com/
find/Root%2bColchagua/-/-/USD/A?referring_site=WLP

Talk About Wine Online
If you have questions, comments or ideas to share about today's article
or wine in general, you're always welcome to drop by our online WineLovers Discussion Group. This link will take you to the forum home page, where you can read discussions in all the forum sections:
http://www.wineloverspage.com/forum/village
Everyone is free to browse. If you'd like to post a comment, question or reply, you must register, but registration is free and easy. Do take care to register using your real name, or as a minimum, your real first name and last initial. Anonymous registrations are quietly discarded.
To contact me by E-mail, write wine@wineloverspage.com. I'll respond personally to the extent that time and volume permit.
PRINT OUT TODAY'S ARTICLE
Here's a simply formatted copy of today's Wine Advisor, designed to be printed out for your scrapbook or file or downloaded to your PDA or other wireless device.
http://www.wineloverspage.com/wineadvisor2/
2008/06/the_root_of_the_matter-print.html

This week on WineLoversPage.com
• Oxford Town Wines: The power of the bubble
Sparkling wine can turn any summer time meal into a wonderful event. Columnist John Juergens encourages readers to pop a cork or two as he shares his thoughts on bubbly.
http://www.wineloverspage.com/oxford/bubble08.phtml
• Schaefer on Wine: Chile's organic and biodynamic wine leader
The wine world is "going green." Correspondent Dennis Schaefer files this report from the largest organic grape grower in Chile, Emiliana Organico in the Colchagua Valley.
http://www.wineloverspage.com/schaefer/emiliana08.phtml
• WineBlueBook: Wines compared by score and price
This month's issue of WineBlueBook covers many Bordeaux, West Coast Cabernet Sauvignon, Red Burgundy and West Coast Pinot Noir wines that were scored last month by the wine critics. A total of 1,182 wines are profiled in the June 2008 issue.
http://www.wineloverspage.com/qpr/qprwines.phtml
• WineLovers Discussion Group: East Coast wines
The wines of the Eastern United States and Canada are getting better and better. Join this discussion in the WineLovers Discussion Group and tell us about your favorites from New York, Virginia and elsewhere.
http://www.wineloverspage.com/forum/village/viewtopic.php?f=3&t=16512