This article was published in The 30 Second Wine Advisor on Monday, Jun. 23, 2008 and can be found at http://www.wineloverspage.com/wineadvisor2/tswa20080623.php.
Offbeat grapes - Blauer Zweigelt
A few months ago, we took a look at a relatively obscure Austrian grape, "Blaufränkish," also known (among other things) as "Lemberger" or "Limberger."
Today let's visit an even more offbeat variety, Blauer Zweigelt ("Blau-er Tsvy-gelt"), a modern cross made by introducing Blaufränkish to another ancient but intriguing Austrian red grape, Sankt Laurent.
Named after Dr. Zweigelt, the grape scientist who developed it in 1922, it's a modern variety designed for commercial wine, with a relatively short growing season that helps it thrive even in marginal climates. (It's probably no coincidence that Zweigelt - usually rendered without the "Blauer" prefix - is also grown in New York's chilly Finger Lakes and Ontario.)
Today's tasting, a relative rarity, clearly shows the nature of the variety in juicy red fruit, snappy acid and a marked whiff of fragrant white pepper. My tasting notes are below.
Winzer Krems 2005 "Sandgrube 13" Kremstal Blauer Zweigelt ($24)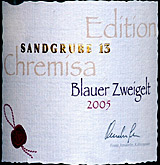 Clear, dark garnet. Intriguing scent of subtle red fruit with a big grind of white pepper. Fresh, fruity and tart, red berries, a whiff of bay leaf and plenty of fragrant pepper, shaped by mouth-watering acidity. U.S. importer: G & G Co., Calabasas, Calif., for California Wine Club's International Selections. (June 16, 2008)
FOOD MATCH: Its ripe fruit makes a natural match with beef, but its relative delicacy also suggests a pairing with poultry. It was fine with pan-seared rib eye steaks.
WHEN TO DRINK: Most will enjoy it within a few years of the vintage, but in Austria it's not unusual to put away a good Blauer Zweigelt for five to 10 years after the vintage.
FIND THIS WINE ONLINE:
This wine is available in the U.S. exclusively through California Wine Club's International Selections,
http://www.cawineclub.com/International-Selections_MT2.html
To browse a wider selection of Zweigelts on Wine-Searcher.com, click:
http://www.wine-searcher.com/
find/Zweigelt/-/-/USD/A?referring_site=WLP

Talk About Wine Online
If you have questions, comments or ideas to share about today's article
or wine in general, you're always welcome to drop by our online WineLovers Discussion Group. This link will take you to the forum home page, where you can read discussions in all the forum sections:
http://www.wineloverspage.com/forum/village
Everyone is free to browse. If you'd like to post a comment, question or reply, you must register, but registration is free and easy. Do take care to register using your real name, or as a minimum, your real first name and last initial. Anonymous registrations are quietly discarded.
To contact me by E-mail, write wine@wineloverspage.com. I'll respond personally to the extent that time and volume permit.
PRINT OUT TODAY'S ARTICLE
Here's a simply formatted copy of today's Wine Advisor, designed to be printed out for your scrapbook or file or downloaded to your PDA or other wireless device.
http://www.wineloverspage.com/wineadvisor2/
2008/06/offbeat_grapes_blauer_zweigelt-print.html

This week on WineLoversPage.com
• Randy's Culinary Wine & Food Adventures: Is Lodi making California's best Zinfandels?
"There are more Zinfandels of truly exhilarating 'Zinfandel-ish' quality coming out of Lodi, Calif. than from any other single American Viticultural Area," reports Randy Caparoso. Here are some of the best he's found.
http://www.wineloverspage.com/randysworld/lodi08.phtml
• WineLovers Discussion Group: Flying with wine
Amid increased security and rising fuel prices, the airline scene is constantly changing. No liquids in carry-ons, and who knows what to expect in checked baggage? If you have recent experiences transporting wine when you fly, please share them with our WineLovers Discussion Group.
http://www.wineloverspage.com/forum/village/viewtopic.php?f=3&t=16282