This article was published in The 30 Second Wine Advisor on Wednesday, Jun. 4, 2008 and can be found at http://www.wineloverspage.com/wineadvisor2/tswa20080604.php.
Barbecue wine
When Columbus first visited American shores (which weren't then called "American"), he encountered the Arawak Indians (who weren't really Indian), and was amazed to find them doing two strange things with fire. First, they stuck lighted cylinders of rolled, dried leaves in their mouths, inhaling the smoke. Second, they put chunks of raw meat on a rack of wooden sticks over hot coals and left the meat to roast ever so slowly until it became smoky and delicious.
The first practice didn't turn out to be all that good an idea, although it was literally addictive. But the second concept has yielded one of nature's most noble foods. The Arawaks called it "barbacoa." We call it "barbecue," and it's mighty addictive, too.
I'm not sure that history records what the Arawaks drank with their specialty, but within a century or two, after American settlers from Europe enthusiastically adopted the new cooking style, the standard beverages were generally sweet iced tea or ice-cold beer in long-neck bottles.
Wine, with its image of elegance, isn't often thought of as a partner for such downscale fare. But that doesn't mean it can't be done. Just about any red wine will do with smoked meat (assuming you don't glop it up too badly with sweet tomato sauce), and Zinfandel has its partisans because of its stature as a particularly "American" wine. Rosé wine has its fanciers, too, for its refreshing, quenching nature.
I'm inclined to favor the red wines of France's Rhône Valley, though, which often show an intriguing "smoked meat" aroma that makes a natural partner with the real thing.
With summer and barbecue season in full swing in the Northern Hemisphere, I'd like to hear your favorite barbecue wines. I've posted today's article in our WineLovers Discussion Group at this link,
http://www.wineloverspage.com/forum/village/viewtopic.php?f=3&t=16093
where you're welcome to reply with comments about your favorites.
Domaine Oratoire St. Martin 2005 Côtes du Rhône ($17.99)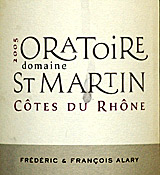 Dark garnet with reddish-violet glints. Good, complex Rhone aroma profile, red-berry fruit backed by touches of grilled meat and earth. Raspberries and maybe a hint of blueberries on the palate, with attention-getting acidity providing food-friendly structure, and soft tannins in the background. Quite a mouthful of Rhone red, excellent structure and balance. U.S. importer: Vintner Select, Mason, Ohio, and other regional importers. (Feb. 11, 2008)
FOOD MATCH: Those Rhone-style "grilled meat" characteristics would make it a natural with barbecued meat. It went well, too, with a less conventional match, a Spanish tortilla with potatoes, onions and garlic and ham.
VALUE: Within the range for good-quality Côtes du Rhône.
WHEN TO DRINK: Ready now, but it's capable of being held under good cellar conditions for two or three more years.
WEB LINK: The winery Website is available in French and English. Click the flag icons at upper left for the language of your choice:
http://www.oratoiresaintmartin.fr/
FIND THIS WINE ONLINE:
Look for vendors and compare prices for Domaine Oratoire St. Martin Côtes du Rhône on Wine-Searcher.com:
http://www.wine-searcher.com/
find/Oratoire%2bMartin%2bCotes/-/-/USD/A?referring_site=WLP

Talk About Wine Online
If you have questions, comments or ideas to share about today's article
or wine in general, you're always welcome to drop by our online
WineLovers Discussion Group. This link will take you to the forum home page, where you can read discussions in all the forum sections:
http://www.wineloverspage.com/forum/village
Everyone is free to browse. If you'd like to post a comment, question or reply, you must register, but registration is free and easy. Do take care to register using your real name, or as a minimum, your real first name and last initial. Anonymous registrations are quietly discarded.
To contact me by E-mail, write wine@wineloverspage.com. I'll respond personally to the extent that time and volume permit.
PRINT OUT TODAY'S ARTICLE
Here's a simply formatted copy of today's Wine Advisor, designed to be printed out for your scrapbook or file or downloaded to your PDA or other wireless device.
http://www.wineloverspage.com/wineadvisor2/
2008/06/barbecue_wine-print.html