This article was published in The 30 Second Wine Advisor on Wednesday, Feb. 27, 2008 and can be found at http://www.wineloverspage.com/wineadvisor2/tswa20080227.php.
When 1 + 1 > 2
From time to time we return to the neverending debate between wine enthusiasts who preach the primacy of single-varietal wines and those who argue for the benefits of blending two or more grapes in a single wine.
The "monovarietal" folks make a strong case with such great 100 percent varietal wines as Pinot Noir or Chardonnay in Burgundy, all-Cabernet reds in Northern California or full-Nebbiolo reds in Northwestern Italy, just to name a few.
Blend-boosters, on the other hand, counter effectively with delicious examples that range from Cote-Rotie (Syrah with a splash of Viognier), Chianti (Sangiovese, Canaiolo and, at the maker's discretion, quite a few more) or even Chateauneuf-du-Pape (which may, although it rarely does, take advantage of Grenache, Syrah, Mourvedre and as many as 13 local and regional grapes).
Today let's take a look at a classic white blend that, in my opinion, makes a compelling argument for blends. The happy marriage of Sauvignon Blanc and Sémillon, pioneered in Bordeaux and replicated around the world, strikes me as clear mathematical evidence that 1 plus 1 is sometimes greater than 2.
The two varieties are stylistically quite different, but in blends it works, it seems to me, as well as the nursery rhyme about Jack Spratt (who could eat no fat) and his wife (well, you know the rest). Each grape brings a different character to the party, and in a well-made wine the results can create a synergy that exceeds the sum of its parts.
In White Bordeaux, Sauvignon Blanc contributes its characteristic "grassy" or "herbaceous" quality and an intense, almost sharp acidity. Sémillon is full-bodied and rich, luscious and sometimes almost oily, fitting in to the Sauvignon Blanc flavor profile like a key in a lock.
The blend or "recipe" varies widely, but blends of about 80 percent Sauvignon Blanc are common in White Bordeaux. For the record, small amounts of Muscadelle, Colombard and Ugni Blanc may also be used as flavor accents, but we'll skim right over that nuance today.
Bordeaux blends with higher proportions of Sémillon are relatively uncommon, but I've tried a couple of 50-50 blends recently that made my socks go up and down if not blow them right off. Today let's have a look at Château les Eymeries 2006 Bordeaux Blanc, an exceptional bargain in a White Bordeaux that blends both grapes in equal proportions. Another day soon I'll introduce you to a first-rate American white made with a similar blend.
Château les Eymeries 2006 Bordeaux Blanc ($13)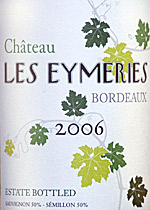 This blend of Sémillon and Sauvignon Blanc in equal parts is a clear light gold color, presented in a clear glass bottle. Good mix of citric and melon aromas, honeydew and tart white grapefruit. Fresh white fruit flavor, crisply acidic but textured, medium-bodied, coats the palate with mouth-watering citrus, tart grapefruit and Meyer lemon. Vinified at a pleasingly sane 12.5% alcohol. Exceptional quality, young and fresh; sealed with a Stelvin-type screwcap, still a bit unusual in a French wine. U.S. importer: Cutting Edge Selections Inc., Fairfax, Ohio. (Feb. 15, 2008)
FOOD MATCH: A natural with seafood and cheeses. I found a way to match it with both, rushing spring by fashioning an upscale pasta salad of cavatappi and Kentucky Bibb lettuce in a Dijon-Meyer lemon vinaigrette, topped with peppered smoked trout and Italian tuna with mild Capriole Indiana goat cheese.
VALUE: A great buy at this lower-teens price, but it may be hard to find.
WHEN TO DRINK: The conventional wisdom advises drinking lower-price White Bordeaux young, and this wine is so delicious now that it's hard to ignore this counsel. On the other hand, its high proportion of Sémillon, excellent balance and clean metal screwcap suggest that an experiment in cellaring wouldn't be a terrible risk.
WEB LINK:
I'm unable to find any Web link for the winery or the importer. If you can dig up a Website for either, please let me know.
FIND THIS WINE ONLINE:
In a rare lapse, Wine-Searcher.com comes up empty-handed on Château les Eymeries, and the importer, as noted, does not make itself easy for consumers to find online. Check with your retailer for the possibility of special ordering, or ask about other Sauvignon Blanc-Sémillon blends with a high proportion of Sémillon.

Talk About Wine Online
If you have questions, comments or ideas to share about today's article
or wine in general, you're always welcome to drop by our online
WineLovers Discussion Group. This link will take you to the forum home page, where you can read discussions in all the forum sections:
http://www.wineloverspage.com/forum/village
Everyone is free to browse. If you'd like to post a comment, question or reply, you must register, but registration is free and easy. Do take care to register using your real name, or as a minimum, your real first name and last initial. Anonymous registrations are quietly discarded.
To contact me by E-mail, write wine@wineloverspage.com. I'll respond personally to the extent that time and volume permit.
PRINT OUT TODAY'S ARTICLE
Here's a simply formatted copy of today's Wine Advisor, designed to be printed out for your scrapbook or file or downloaded to your PDA or other wireless device.
http://www.wineloverspage.com/wineadvisor2/
2008/02/when_1_1_2-print.html