This article was published in The 30 Second Wine Advisor on Wednesday, Jan. 16, 2008 and can be found at http://www.wineloverspage.com/wineadvisor2/tswa20080116.php.
Vintage, more than weather
We've often talked about wine vintage and the way that weather, with its influence on grape ripeness and quality, can dramatically change the quality and character of wine from year to year.
But vintage isn't necessarily only about the weather.
Particularly in New World wine regions where legal regulations don't rule out creative variation, one year's edition of a familiar wine may be quite different from the last simply because the wine maker decided to try something new.
As a case in point, consider today's featured tasting. Laurel Glen's California "REDS," a great-value favorite that I've been following since its inauguration in 1994, is a classic example. Over the years, wine maker Patrick Campbell has almost constantly tinkered with its formula, undertaking frequent changes from year to year in fruit, sources and style, without ever losing sight of its concept - an old-fashioned California red "field blend" that brings together inspiration from California and the Mediterranean in a hearty, robust Old World style.
It is almost always a blend of Zinfandel, Petite Sirah and the Rhone-style varieties Carignane and Syrah. In recent years its sourcing has moved from a wide geographical blend of old California vineyards to Lodi in the Sacramento Delta, a rising wine region that Campbell calls "The California Heartland."
In the past couple of vintages, a dominance of Lodi Zinfandel has made REDS a bit more Zin-like in my estimation; but the just-arrived 2006 vintage returns to an amiable blend that spoke, at least to me, of Petite Sirah as soon as I raised the glass and sniffed its ripe black-plum aroma.
Sure enough, this year's blend is different, as the Laurel Glen Website explains:
"While the zinfandel harvest in Lodi often takes place in early September, this year it began in early October, and astonishingly, a couple of weeks before the Cabernet harvest at coastal Laurel Glen. Our Lodi Petite Sirah and 118-year-old Carignane were picked right on schedule in late September, and were unusually deep and concentrated. So go figure!"
How did this affect the wine? Normally, Campbell wrote, REDS is predominantly Zinfandel, with lesser percentages of Petite Sirah and Carignane. "But in 2006 we blended equal proportions of each variety to add complexity and heft to the blend."
Makes sense to me! Very much in the European tradition, except perhaps for a sturdy 14.5% alcohol content that's so well handled as to pass without notice, it reminds me of the early REDS vintages, which bore a fair resemblance to good Languedoc reds. I liked it then, and I like it now; and with a $9 suggested winery price, it ranks - again - as one of the year's top wine values. My tasting notes are below.
Laurel Glen 2006 "REDS" Lodi Red Wine ($10.99)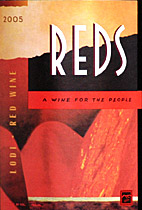 Very dark blackish purple, garnet edge. A lovely mix of fresh but not in-your-face black and red-fruit flavors, blackberries and plums and an intriguing "sweet" aroma note that makes me think, with unusual specificity, of homemade boysenberry jam. Flavors are consistent with the nose, ripe and deep, beautifully structured with snappy acidity and a touch of smooth tannins. Just a wisp of fragrant black pepper adds a finishing accent, and robust 14.5% alcohol is almost imperceptible beneath the luscious yet balanced fruit. (Jan. 14, 2008)
FOOD MATCH: Like the robust reds of the Rhone, Provence and the Languedoc that it somewhat resembles, REDS finds its natural partner with red meat. It was fine with pepper-crusted local rib eyes pan-seared medium-rare.
VALUE: Even at a dollar more than last year's toll, REDS remains one great value in a California table wine.
WHEN TO DRINK: Ready to drink and not really meant for aging, but its hearty Mediterranean style, balance and power suggest that it will hold under its sturdy screwcap without fear of fading over at least a few years.
WEB LINK:
For the wine maker's notes on 2006 "REDS," see the Laurel Glen website:
http://www.laurelglen.com/
laurelglen/catalog/view_product.jsp?product_id=1031&cat_id=1005
FIND THIS WINE ONLINE:
You can order online from the winery for $9 from the link above (shipment available where the law allows), or compare prices and find vendors for Laurel Glen's "REDS" on Wine-Searcher.com:
http://www.wine-searcher.com/
find/Laurel%2bGlen%2bREDS/-/-/USD/A?referring_site=WLP

Talk About Wine Online
If you have questions, comments or ideas to share about today's article
or wine in general, you're always welcome to drop by our online
WineLovers Discussion Group. This link will take you to the forum home page, where you can read discussions in all the forum sections:
http://www.wineloverspage.com/forum/village
Everyone is free to browse. If you'd like to post a comment, question or reply, you must register, but registration is free and easy. Do take care to register using your real name, or as a minimum, your real first name and last initial. Anonymous registrations are quietly discarded.
To contact me by E-mail, write wine@wineloverspage.com. I'll respond personally to the extent that time and volume permit.
PRINT OUT TODAY'S ARTICLE
Here's a simply formatted copy of today's Wine Advisor, designed to be printed out for your scrapbook or file or downloaded to your PDA or other wireless device.
http://www.wineloverspage.com/wineadvisor2/
2008/01/vintage_more_than_weather-print.html