This article was published in The 30 Second Wine Advisor on Friday, Jan. 11, 2008 and can be found at http://www.wineloverspage.com/wineadvisor2/tswa20080111.php.
Mosby goes to Italy
For more than a decade I've had a particularly warm place in my heart for the wines of Mosby Winery, a small, family-owned producer in a pretty valley near Buellton, Calif., the scenic Central Coast region that later became the setting for the movie "Sideways."
Owner and wine maker Bill Mosby and his wife Jeri love Italian wines (as do I), and Bill has spent much of his long career in wine planting Italian varieties in California and making wines that bring together the flavor and style of Italian-heritage fruit and California soil. Bill makes tasty and very food-friendly table wines in the Italian tradition; and if he's never become a "cult" wine maker or a darling of the big-name critics, that just means that there's more for you and me.
You can certainly mark Mosby down as one of my cult items: I generally follow the vintages, try his new releases eagerly when they hit the market, and keep track of what wacky new Italian variety he's planted lately. Teroldego! Lagrein!
Last month, though, this surprising wine maker came out with a new item that surprised even me. At first glance the colorful, arty Mosby label looked like just another new California-Italian venture: Montepulciano? Nice red variety, reminds me more than a little of Tuscany's Sangiovese, but it's planted in Central Italy, all over Abruzzi and its neighbors. I wondered how Mosby would do with it in California.
But wait! There's more! This Mosby Montepulciano isn't from California. Mosby's latest, trademarked "Ossessione" ("Obsession") is an indicazione geografica tipica ("IGT") wine from Italy, made and bottled in the Marche region in a partnership between Mosby and the new Italian winery La Canosa. The Italian group grows the vines and makes the wines, with Mosby's active advice and consultation by phone, Email and occasional site visits.
I got right on the horn and called Mosby to find out more.
"I'm maxed out on vineyard land here," Mosby said from Buellton. "And I'm at the age where ... " He paused, then went on. "Well, it takes a while to get a new vineyard producing."
The Italian opportunity came up, he said, and it excited him to be in a position to bring in an interesting Italian wine that's not very familiar in the United States. Although Montepulciano d'Abruzzo is commonplace in the U.S., and Montepulciano-based Marche reds such as Rosso Conero and Rosso Piceno aren't entirely unknown, a varietally labeled Marche Rosso is not a household word.
He felt an immediate attraction to the Marche hills, Mosby said, because the scene reminds him of home. Not unlike the Central Coast, these Italian valleys run east and west and channel cool breezes in from the sea; and if that sea is the Adriatic, not the Pacific and the ocean lies to the east, no matter, if the wine is good.
I loved this wine ... it's balanced and ripe, expressive and great with food, with soft fruit that hits the palate gently at first but finishes up with cleansing, mouth-watering acidity. Like so many table-ready Italian reds, it's a wine that makes me hungry, and it makes me smile.
What's more, Mosby said, his big smile easy to visualize at the other end of the phone line, "If you liked the 2005, just wait. The 2006 is even more impressive, and the '07 is gorgeous."
I can hardly wait.
Mosby 2005 "Ossessione" Marche Rosso ($26 at the winery)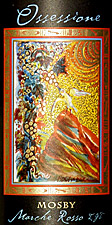 Inky blackish-purple all the way to the garnet edge. In its fresh, ripe but subtle black cherries and delicate hints of spice, it bears some resemblance to an excellent Chianti Classico; but it comes from Marche, the Apennines from Tuscany. Fresh and dry, clack cherries and something like tart cranberries in the flavor; a luscious soft sensation on the first taste quickly gives way to mouth-watering, food-friendly acidity that lasts into a long, clean finish. This is one excellent Italian red, whatever long, strange trip it took to get here. U.S. importer: Mosby Vintners, Buellton, Calif. (Jan. 7, 2008)
FOOD MATCH: It was perfect with penne pasta in a simple fresh-tomato sauce (frozen from last summer's garden) with brown mushrooms and sausage rounds, accented with garlic, black and red pepper and Grana Padano cheese.
VALUE: Not cheap but worth it, certainly competitive with fine Tuscan reds and the best of its neighbor Montepulciano d'Abruzzo at this price point.
WHEN TO DRINK: It's absolutely beautiful now, but there's no reason to assume that it won't show the excellent cellaring capacity of good Montepulciano, which can take five years to hit its stride and last for a decade or more.
WEB LINK:
Mosby's Website offers photos and background information about the winery, plus brief notes on available wines and online ordering where state and local laws permit:
http://www.mosbywines.com
FIND THIS WINE ONLINE:
To order from the winery, click the link below and page down to Ossessione or other wines of interest:
http://www.mosbywines.com/new/pages/orderwine.php
Currently Mosby Winery turns up as the only source for Ossessione on Wine-Searcher.com, but check this link periodically as it may eventually become available at third-party retailers:
http://www.wine-searcher.com/
find/Mosby%2bOssessione/-/-/USD/A?referring_site=WLP

Talk About Wine Online
If you have questions, comments or ideas to share about today's article
or wine in general, you're always welcome to drop by our online WineLovers Discussion Group. This link will take you to the forum home page, where you can read discussions in all the forum sections:
http://www.wineloverspage.com/forum/village
Everyone is free to browse. If you'd like to post a comment, question or reply, you must register, but registration is free and easy. Do take care to register using your real name, or as a minimum, your real first name and last initial. Anonymous registrations are quietly discarded.
To contact me by E-mail, write wine@wineloverspage.com. I'll respond personally to the extent that time and volume permit.
PRINT OUT TODAY'S ARTICLE
Here's a simply formatted copy of today's Wine Advisor, designed to be printed out for your scrapbook or file or downloaded to your PDA or other wireless device.
http://www.wineloverspage.com/wineadvisor2/
2008/01/mosby_goes_to_italy-print.html