This article was published in The 30 Second Wine Advisor on Friday, Jan. 18, 2008 and can be found at http://www.wineloverspage.com/wineadvisor2/tswa20080118.php.
Lemberger? Geez!
Today let's look at an offbeat red grape with as many names as a Russian princess in "War and Peace": Austrians call it "Blaufränkish," Hungarians go with "Kékfrankos," and in Northeastern Italy it's known, if at all, as "Franconia." Germany and New World regions from New York's Finger Lakes to Washington State go with "Lemberger" or "Limberger."
Whatever you call it, and despite the amusing similarity of the latter names to the famously stinky Limburger cheese, there's nothing cheesy about this delightfully peppery red.
The Austrian and Hungarian monikers both translate as "Blue French," going back to an ancient tradition in which grapes thought to stem from Western Europe were named after the Franks, or French.
It's a relatively rare grape everywhere except in Austria's Burgenland region, south of Vienna, where it comes into its own as the predominant red grape. Although it's worth noting that when most wine enthusiasts think of Austria, they are much more likely to envision crisp, "rocky" white Grüner Veltliner and Riesling than any red.
Still, it makes an intriguing red alternative across its range, a relatively light-bodied, complex red, often with a distinct peppery character, that reminds me somewhat of the minerally and lean Chinons (Cabernet Franc) and the very obscure but delicious Pineau d'Aunis of the Loire.
When I judged at the New York State Fair wine competition last year, I was particularly impressed by the Lembergers; and I've also found Washington State Lemberger appealing. Austrian reds are devilishily hard to find in these latitudes, so when I spotted a screw-capped Burgenland Blaufränkish in a local shop recently, I snapped it up, and I'm glad I did.
Prieler 2005 "Johanneshöhe" Neusiedlersee-Hügelland Blaufränkish ($17.99)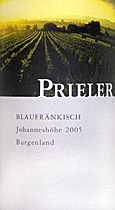 From Austria's Burgenland region, this varietal Blaufränkish adds 15% Merlot to the blend. Dark garnet, almost black at the center. Spicy white and black pepper over red fruit aromas. Distinctly peppery on the palate, with plenty of fresh, juicy red plums and sour cherries to back it up. Fully dry, rather light in body, but mouth-watering acidity and that peppery character provide plenty of structure, with soft tannins joining in the finish. Very interesting and complex, reminds me in overall character, if not the specifics, of a good Loire red. U.S. importer: Michael Skurnik Wines, Manhasset, N.Y.; a Terry Theise Estate Selection. (Dec. 30, 2007)
FOOD MATCH: I built a red-meat dish to match by kicking up a pan-seared flank steak with the aromatic Asian flavors of soy, garlic, ginger and "five spice."
VALUE: Priced a bit above everyday level in the upper teens (and my local price seems a bit below the U.S. median), but if you love the balance of fruit, earth and snappy acidity in this style of Old World red - or if you simply want to add another variety to your life list - it's well worth the toll.
WHEN TO DRINK: It's ready and enjoyable, and you won't go wrong by drinking it over the next year or two. Cellaring is a tougher call, as Blaufränkish is thought to be close kin to the Gamay of Beaujolais, a variety not generally known for ageworthiness. Still, the winery data sheets imply some cellar potential, so if you love this wine, it might be worth a try.
WEB LINK:
Prieler's informative Website is published in both German and English. Click your choice of "Deutsch" or "English" from the home page:
http://www.prieler.at
For more English-language information on Prieler and its wines, see the U.S. importer's Website:
http://www.skurnikwines.com/
prospects.cgi?rm=view_prospect_detail&prospect_id=6
FIND THIS WINE ONLINE:
Click "Sources of Supply" on the winery Website (liked above) to locate distributors in Europe, the U.S., Canada and Japan.
To find retail vendors and compare prices, here's a product link to Wine-Searcher.com:
http://www.wine-searcher.com/
find/Prieler%2bBlaufrankisch/-/-/USD/A?referring_site=WLP

Talk About Wine Online
If you have questions, comments or ideas to share about today's article
or wine in general, you're always welcome to drop by our online WineLovers Discussion Group. This link will take you to the forum home page, where you can read discussions in all the forum sections:
http://www.wineloverspage.com/forum/village
Everyone is free to browse. If you'd like to post a comment, question or reply, you must register, but registration is free and easy. Do take care to register using your real name, or as a minimum, your real first name and last initial. Anonymous registrations are quietly discarded.
To contact me by E-mail, write wine@wineloverspage.com. I'll respond personally to the extent that time and volume permit.
PRINT OUT TODAY'S ARTICLE
Here's a simply formatted copy of today's Wine Advisor, designed to be printed out for your scrapbook or file or downloaded to your PDA or other wireless device.
http://www.wineloverspage.com/wineadvisor2/
2008/01/lemberger_geez-print.html