This article was published in The 30 Second Wine Advisor on Monday, Dec. 3, 2007 and can be found at http://www.wineloverspage.com/wineadvisor2/tswa20071203.php.
Wine Focus - Gewurztraminer
Gewurztraminer ... it's one of those wine names that some people find so hard to pronounce that they shy away from ordering it for fear of humiliation. Maybe even more so if the label uses the scary German form with an umlaut over the "ü": "Gewürztraminer."
Break it into simple parts, and the fear goes away: "Geh-verts-tra-meen-ehr," with only a slight accent on the second syllable.
It's a grape worth getting to know, with a bold, aromatic flavor profile that's well off the beaten path. Unusually full-bodied for a white wine, it breathes potent aromatics that very often evoke a combination of heady rose petals and the odd, pleasant scent of litchees, the tropical fruit (sometimes spelled "Lychee" or "Litchi") that Westerners most often encounter in canned form in Chinese-restaurant desserts.
Indeed, these characteristic flavors are so commonplace, and so easy to recognize, that Gewurztraminer - let's call it "Gewurz" for short - makes an excellent variety to use in wine-tasting education. Once you've had that "click" moment that comes when you realize, "I can recognize that grape with my eyes closed!" then you've taken a long first step down the road to confidence in nailing more elusive varieties.
We're taking on Gewurz as the subject variety in this month's Wine Focus on the WineLovers Discussion Group. You're welcome to drop in any time to post a tasting note, ask a question or share your expertise.
Let's begin with a few quick "bullet points" about the grape, then move on to a tasting report on a representative Gewurz.
• Gewurz is a clone of Traminer, a white grape that originated in the German-speaking Northern Italian Alps ("Sudtirol") more than 1,000 years ago, itself a spontaneous mutation of the Pinot family. Its aromatic form Gewurz appeared much more recently, in the late 1800s, earning its name from the German "Gewurz," literally "spicy" in English.
• The popularity of Traminer (and Gewurz) spread primarily through German-speaking lands and Eastern Europe. You'll find Gewurz in Austria and Germany, with outposts in Hungary, Slovakia and surrounding countries. It's perhaps most common - and in the opinion of many wine enthusiasts, it reaches its quality peak - in Alsace, the German-accented stretch of Northeastern France along the Rhine. You'll also find Gewurz in California and the Pacific Northwest, and - arguably in a more traditional, Old World style - in New York's Finger Lakes and Ontario, Canada. Small plantings also turn up in New Zealand, Australia, and other pockets around the world. We welcome reports on all Gewurz in Wine Focus and look forward to comparing and contrasting regional types.
• Matching Gewurz and food can be a challenge because the wine's exceptionally bold character tends to overpower dishes that would otherwise complement its floral aromatics. For best results, think along the lines of hearty Alsatian fare, sweet caramelized onions, strong to "stinky" cheeses and smoked meats. Many respectable sources still quote the old legend that Gewurz pairs well with Chinese stir-fries because it's, well, "spicy." Take it from me, it's not necessarily so.
• As mentioned, that pesky umlaut - the Germanic double-dot over the "ü" - turns up unpredictably. Curiously, some California Gewurz picks up the accented character, while some Gewurz from German-speaking regions (including today's featured wine) leaves it off. The accented character represents a sound not found in English, best described as a long "u" sound (as in "moon") uttered through tightly pursed lips; the French "u" is somewhat similar. My advice: Don't worry about it.
• The ripe grape is usually quite pink at harvest, and it's possible (though rare) to make a naturally pink Gewurz with extended skin contact. Gewurz is most often made with a bit of residual sugar, ranging from just off-dry to quite sweet. As with the similarly aromatic Muscat, a wine-making decision to take it to complete dryness often yields a distinct bitter character in the wine that many find offputting.
This should be plenty of Gewurz trivia to get us started. Now you're invited to join the online discussions in Wine Focus. Click
http://www.wineloverspage.com/forum/village/viewforum.php?f=18 for Wine Focus, and while you're there, I hope you'll take the time to browse - and participate - in all our online forums.
Now, here's today's Alsace Gewurz, a benchmark example of that off-dry, full-bodied rosy-litchee style made by Les Vignerons Reunis de Kientzheim-Kaysersberg.
The Furst 2005 Alsace Gewurztraminer ($15.99)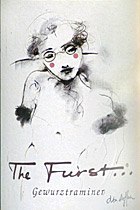 Clear pale gold. Classic Alsace Gewurz aromas: Litchees and roses, potent, fresh and true. Full-bodied, creamy texture, litchees and white fruit, a distinct spiciness on the palate. Good, fresh-fruit acidity cloaks off-dry residual sugar, and its 13% alcohol content, a bit robust for a white, doesn't throw it out of balance. The finish bears a startling resemblance to the light, slightly sweet juice from a can of litchees. U.S. importer: Eagle Eye Imports Inc., Bloomfield Hills, Mich.; a Knysz-Fertal Selection. (Nov. 28, 2007)
FOOD MATCH: Because of its extremely bold aromatics, Alsace Gewurz is a challenging food match. I crafted a Pacific Rim-style dish to match, Kentucky freshwater shrimp with onions, green peppers and tomatoes in a lightly spicy, chipotle-scented sauce over rice, but the potent rose-petal and litchee aromatics were a bit much even for these assertive food flavors. My wife thinks it might go with something like baked sweet potatoes with nutmeg and cinnamon. I say save it for sipping as an aperitif.
VALUE: The supply and demand equation and the strength of the Euro has moved Alsace wine in general toward my threshold of pain for everyday enjoyment, but it's hard to quibble with a mid-teens price tag for this Gewurz.
WHEN TO DRINK: Although Alsace Gewurz doesn't boast the reputation for great longevity of its sibling Riesling, this wine's richness and balance and extracted fruit suggest that it could evolve and trade in some of its in-your-face aromatics for greater complexity over five years of cellaring or more.
WEB LINK:
The U.S. importer's Website has sketchy information about this winery and its wines.
http://www.eagleeyeimports.com
FIND THIS WINE ONLINE:
Unfortunately, Wine-Searcher.com offers only a few vendors and comparative prices for The Furst Alsace Gewurztraminer. Try the link below, or check with local retailers or the distributor Website above for help in tracking down this producer.
http://www.wine-searcher.com/
find/Furst%2bGewurztraminer/-/-/USD/A?referring_site=WLP
To browse a wider variety of Alsace Gewurztraminer at Wine-Searcher.com, try this link:
http://www.wine-searcher.com/
find/Alsace%2bGewurztraminer/-/-/USD/A?referring_site=WLP

Von Strasser Winery 2004 "Rainin Vineyard" Diamond Mountain District Napa Valley Cabernet Sauvignon ($75 retail; $68 per bottle for half or full case orders by Connoisseurs' Series members)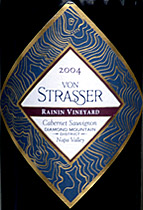 Clear and very dark, blackish almost all the way to the garnet edge. Forward Cabernet blackcurrant meets more subtle Napa eucalyptus; French oak shows its presence as aromatic vanilla and a touch of dark chocolate, appetizing and not at all "woody." It carries its 14.2% alcohol well. Fruit and layered complexity make it a pleasure to drink at this youthful stage, especially with rare beef on the table; but there's so much potential for evolution in the cellar that it would be a shame not to put it away for five years to a decade or more. Only 350 cases were made. Winery Website: http://www.vonstrasser.com
(Dec. 1, 2007)

Longboard Vineyards 2004 Russian River Valley Syrah ($28 retail, $24 per bottle for half or full case orders by Connoisseurs' Series members)
Clear but inky blackish-purple, almost a patent-leather sheen. Plum jam and buttered toast, clean, forward and textured fruit, nicely structured by a firm core of fresh-fruit acidity. Although 18 months in French oak (30% of it new) and a sturdy 14.5% alcohol confer a distinct New World character, it's ultimately balanced and complex; while it doesn't invite direct comparison with a top Northern Rhone Syrah, it's arguable that it reaches a similar peak with a California accent, not French. It meets its natural match in rare beef, specifically a pan-seared, pepper-crusted natural rib eye. Winery Website: http://www.longboardvineyards.com
(Dec. 1, 2007)

Talk About Wine Online
If you have questions, comments or ideas to share about today's article
or wine in general, you're always welcome to drop by our online WineLovers Discussion Group. This link will take you to the forum home page, where you can read discussions in all the forum sections:
http://www.wineloverspage.com/forum/village
Everyone is free to browse. If you'd like to post a comment, question or reply, you must register, but registration is free and easy. Do take care to register using your real name, or as a minimum, your real first name and last initial. Anonymous registrations are quietly discarded.
To contact me by E-mail, write wine@wineloverspage.com. I'll respond personally to the extent that time and volume permit.
PRINT OUT TODAY'S ARTICLE
Here's a simply formatted copy of today's Wine Advisor, designed to be printed out for your scrapbook or file or downloaded to your PDA or other wireless device.
http://www.wineloverspage.com/wineadvisor2/
2007/12/wine_focus_gewurztraminer-print.html

This week on WineLoversPage.com
• Italian Wine Guide: Wine photos
Over the past 10 years, Tom Hyland has been writing about wine. Although he took thousands of photos along the way, he thought of his camera as little more than a hobby. Now Tom counts professional wine photography as a significant part of his work. In this report, he shows off some of his recent wine-country photos.
http://www.wineloverspage.com/italwineguide/photo07.phtml
• Our Internet radio "TalkShoe": Very old wines
Today's Internet Radio TalkShoe won't be open for live call-in, as host Randy R devotes the time to a long, intriguing recorded interview with François Audouze, a Paris wine enthusiast who specializes in very old to ancient wines. This program will soon be available for listening - as are all our previous TalkShoes - in the archives!
http://wineloverspage.com/talkshoe/latest.htm
We'll go live again next Monday, Dec. 10, at Noon US EST (9 a.m. Pacific, 6 p.m. in Western Europe), with another TalkShoe on a wine topic of interest. You're welcome to tune in, or call and talk.
http://wineloverspage.com/talkshoe/
• WineLovers Discussion Group: Dip biscotti in your wine?
In a delicious if offbeat tradition, Italians love to dip hard-toasted biscotti in a glass of sweet wine. What kind of biscotti? What wine works best? Participate in this informative online conversation in our WineLovers Discussion Group:
http://www.wineloverspage.com/forum/village/viewtopic.php?t=11675