This article was published in The 30 Second Wine Advisor on Monday, Dec. 17, 2007 and can be found at http://www.wineloverspage.com/wineadvisor2/tswa20071217.php.
Chablis rehabilitated
When was the last time you heard someone order "A glass of Chablis" when what they really wanted was an anonymous, inexpensive white wine?
After a generation in which the lofty French names "Chablis" and "Burgundy" were co-opted as generic monikers for cheap American wines, order is gradually being restored to the universe. Such abuse nowadays occurs only at the extreme low end of the jug-wine universe, and few people are fooled by the borrowed name.
This is quite a contrast with the situation when I started writing a newspaper column about wine in the early 1980s. In those days it was impossible to discuss "real" Chablis without spelling out the difference between the cheap domestic stuff and the excellent but comparatively pricey white wine from the Burgundy region in Northeastern France.
True Chablis, as I had to explain in those days, is made from 100 percent Chardonnay grapes in a small appellation well to the north of the main Burgundy region. It's bone-dry, acidic, rarely oaked; steely and "stony," an almost classic demonstration of the principle of "terroir," the character inextricably associated with the sense of the place where the grapes were grown. Chablis tastes good because it is good, and it's expensive but worth it.
Domestic Chablis was a lackluster imitation at best. Made by industrial processes from a grape blend that rarely included any Chardonnay (overcropped Chenin Blanc and French Colombard were typical), it was a soft, slightly sweet quaff, often displaying pungent, un-wine-like flavors with no sense of the soil. It tasted cheap because it was cheap, and it was cheap because it was made for the mass market, the vinous equivalent of "lite" beer: drinkable, industrial, primarily of use as an alcohol-delivery system.
The terms do persist on the jug-wine and box-wine shelves, where, for example, both Carlo Rossi, a jug-only product of E. & J. Gallo's vast wine factory in Modesto, Calif., and Inglenook, a once proud but long devalued name now in the hands of giant Constellation Brands, both still produce "Chablis," not to mention "Burgundy," "Rhine" and "Chianti."
Curiously, in an apparent effort to serve more than one audience, both firms now make both a "Chablis" and a Chardonnay, as well as other popular varietally labeled wines such as Pinot Grigio, Merlot and Zinfandel; but not, apparently, the currently fashionable Pinot Noir.
Frankly, I'm just as glad to see the generic names disappearing from the market, or at least the upscale market. Domestic "Champagne" still lingers in the premium category, largely thanks to the marketing efforts of a few major American producers, but even this abuse seems to be fading as more consumers come to recognize it as misleading.
Today I dig down for a few extra bucks to invest in a recently arrived young Chablis, 2005 Domaine de Chantemerle made by A. & F. Boudin. It's a good but perhaps not a perfect benchmark example of classic Chablis; reflecting a more recent trend, it's made in a somewhat more fruit-forward and fat manner than the historical Chablis, a new style that some wine fanciers dub "international" to distinguish it from the more traditional "Old World." My tasting notes are below.
Domaine de Chantemerle 2005 Chablis ($23.99)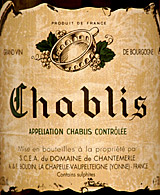 Transparent pale gold. Ripe cooking-apple aroma with hints of honey and delicate spice. Flavors are consistent with the nose, tart green-apple flavor over crisp fresh-fruit acidity and a subtle suggestion of chalky minerality. Flavors persist in a long, clean finish. Good wine if a bit "New World," fruit-forward and fat by the standard of traditional Chablis. U.S. importer: Vintner Select, Mason, Ohio; North Berkeley Imports, Berkeley, Calif., and other regional importers. (Dec. 14, 2007)
FOOD MATCH: Chablis is a natural with a good range of delicate to medium-rich pork, poultry or fish dishes; it was fine with a hearty but not overly cream-rich fish chowder.
VALUE: The $24 price tag might horrify a jug-wine fancier looking for a generic white wine, and wine-price inflation plus the weak dollar have moved "real" Chablis close to special-occasion territory. It should be noted, further, that my local retail price was exceptionally high. Wine-Searcher.com shows several vendors pricing this wine in the $17-$20 range, which is more than fair.
WHEN TO DRINK: The conventional wisdom holds that basic Chablis should be drunk up soon, while the more lofty première cru and grand cru bottles wait in the cellar. I don't see any need to panic about consuming this well-balanced wine in the next year, however, and two or three years in a temperature-controlled cellar should do it no harm.
WEB LINK:
For a short article about the Boudin family's winery, with links to this and other wines, see the North Berkeley Website,
http://northberkeleyimports.com/articles/index.php?id=390
FIND THIS WINE ONLINE:
Compare prices and find vendors for the Chablis wines of A. & F. Boudin on Wine-Searcher.com:
http://www.wine-searcher.com/
find/Boudin%2bChablis/-/-/USD/A?referring_site=WLP

Talk About Wine Online
If you have questions, comments or ideas to share about today's article
or wine in general, you're always welcome to drop by our online WineLovers Discussion Group. This link will take you to the forum home page, where you can read discussions in all the forum sections:
http://www.wineloverspage.com/forum/village
Everyone is free to browse. If you'd like to post a comment, question or reply, you must register, but registration is free and easy. Do take care to register using your real name, or as a minimum, your real first name and last initial. Anonymous registrations are quietly discarded.
To contact me by E-mail, write wine@wineloverspage.com. I'll respond personally to the extent that time and volume permit.
PRINT OUT TODAY'S ARTICLE
Here's a simply formatted copy of today's Wine Advisor, designed to be printed out for your scrapbook or file or downloaded to your PDA or other wireless device.
http://www.wineloverspage.com/wineadvisor2/
2007/12/chablis_rehabilitated-print.html

This week on WineLoversPage.com
• Bucko's Wine Reports: 100 new wines
The holiday season is in full swing now. The Christmas table is filled with a variety of food, which lends itself well to an array of wines. In his monthly report on 100 new wines, Randy "Bucko" Buckner offers many festive options.
http://www.wineloverspage.com/bucko/bucko1207.phtml
• WineBlueBook: Wines compared by score and price
This month's issue of WineBlueBook covers many West Coast Pinot Noir, West Coast Syrah, Piedmont Reds, West Coast Cabernet Sauvignon and Australian Shiraz wines scored last month by the wine critics. A total of 1,113 wines are profiled in this issue.|
http://www.wineloverspage.com/qpr/qprwines.phtml
• Our Internet radio "TalkShoe": Gewurztraminer
We're back live this week with our Internet Radio TalkShoe, talking about Gewurztraminer, not coincidentally the subject of this month's Wine Focus on the WineLovers Discussion Groups. Last week's show featured a recorded interview with François Audouze, a Paris wine enthusiast who specializes in very old to ancient wines. Both programs are now available for listening - as are all our previous TalkShoes - in the archives!
http://wineloverspage.com/talkshoe/latest.htm
Next week we'll celebrate Christmas Eve and the coming New Year with a survey of the world wine scene during 2007. Please join us on Monday, Dec. 24, at Noon US EST (9 a.m. Pacific, 6 p.m. in Western Europe). Callers are invited to share their thoughts on this subject, and tell us the very best wine you enjoyed all year! See our TalkShoe page for information about tuning in:
http://wineloverspage.com/talkshoe/
• Netscape/Compuserve Community Poll: Best wine reference book
With the holiday season in full flow, we're continuing the current poll about your favorite large wine reference book - encyclopedia or atlas. Select among several popular reference books, or tell about your personal favorites, in this week's poll, where you'll also find links to buy a few of the best!
http://community.netscape.com/winelovers?nav=messages&tsn=1&tid=5494