This article was published in The 30 Second Wine Advisor on Monday, Nov. 26, 2007 and can be found at http://www.wineloverspage.com/wineadvisor2/tswa20071126.php.
Mini wine cellars - A skeptical view
TALKSHOE: CALL IN LIVE!
We'll talk about all things Beaujolais, including the recent Nouveau, as our live Internet Radio Talkshoe moves back to Monday at Noon US EDT today. Call in live to listen and ask questions, or download later. See the details under "This Week on WineLoversPage.com" below.
Those fancy "mini" wine cellar units that hold 12 to 16 bottles are a hot item for the holidays. I spotted a giant stack of them on a sale display, surmounted by a giant cutout image of Food Network personality Rachael Ray, going for a cut-rate $99 just the other day.
Sounds like a deal? Frankly, I'm not inclined to buy, or to recommend that you give them serious consideration unless you simply have money to burn.
The unit on sale over the weekend at Target stores - a 16-bottle Vinotemp cellar model VT-16TEDS - looks like a real bargain at a Black Friday weekend sale price of $99, with similar models selling online for $200 or more, I'm skeptical.
Made in China, it's a spiffy looking unit, shiny stainless steel with a blue-tinted thermopane glass door and three shelves inside. As with so many of these smaller cellar units, though, the restrictions of size (It's cubical, a little over 1 1/2 feet per side) clearly limit its insulating power. The small print notes that it's not to be operated at temperatures over 77F, meaning that if you're thinking about using it to keep a few treasured bottles cool all summer, you'll still need to keep your home air conditioning cranked way down so the wine cellar will hold a wine-safe 55 to 60F.
More to the point, though, these little units simply don't hold enough wine to be of much use to anyone. A single case fills it up, making it all but useless for anyone serious enough about wine to have more than a dozen bottles lined up for long-term cellaring.
If you're feeling so flush that you can toss away a hundred bucks (or, off sale, double that amount) on a near-whim, then a unit like this might make a pretty accessory at your wet bar (but don't plan to build it in - the small print warns against that, too). It also might serve as a short-term staging area for a well-heeled wine geek who wants to keep a few bottles cooled and handy without having to go down to the cellar.
But for most of us, my advice remains as in our frequently asked question about wine cellaring: If you want to get very serious about keeping older wines, wait until you can justify a large, free-standing cellar unit or built-in cellar capable of housing several hundred bottles. As a hard-core wine geek, you'll need that space.
Alternatively, if you drink up most of your wine within a year or less of purchase and don't really plan to keep "cult" wines or collectibles for many years, then you don't need a temperature-controlled cellar at all. A wine rack in a cool, quiet, dark room under air conditioning will do just fine - or even keep a few bottles cold in the fridge until you need them.
If you'd like more information on this topic or would like to add a comment or question of your own, I posed a question about mini-cellar units on our WineLovers Discussion Group over the weekend, and it has already inspired a good conversation. Feel free to join in:
http://www.wineloverspage.com/forum/village/viewtopic.php?t=12281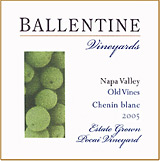 Ballentine Vineyards 2006 Pocai Vineyard Napa Valley Old Vines Chenin Blanc
($16 suggested retail, $10.99 reorder price for California Wine Club members)
Transparent straw color. Musky cantaloupe, pear and apple aromas blend in a pleasant mix. A distinct citric tang of lime and lemon joins the white fruit on the palate in a structured wine with good acidity that seems to cloak a hint of sweetness too subtle to declare the wine anything but dry. Hearty 14.5% manifests itself as a contribution to the wine's muscular body but does not come across hot or harsh. Nicely balanced and good complexity, a fine, old-style California Chenin Blanc. (Nov. 25, 2007)
FOOD MATCH: A sturdy white for rich or robust poultry, pork or seafood dishes. Fine with an old-fashioned chicken pot pie with celery, carrots, peas and onions, biscuit topping and lots of fresh herbs.
VALUE: Good value, if available, at the suggested retail price; a steal for California Wine Club members at the club's restocking price.
WHEN TO DRINK: This young wine is fine now, but based on its structure and balance and Chenin Blanc's exceptional ageworthiness, it would be well worth buying a few extra to cellar for five years or even 10.
WEB LINK:
For information about family-owned Ballentine Vineyards and its wines, see the winery Website,
http://www.ballentinevineyards.com
FIND THIS WINE ONLINE:
To join California Wine Club, call call 1-800-777-4443 in the U.S. or click:
http://www.cawineclub.com/?utm_source=wadv&utm_medium=banner
CWC members seeking to restock Ballentine 2006 Chenin Blanc at $10.99, click this link to the Club's online store:
http://www.cawineclub.com/Ballentine-Vineyards-2006-Chenin-Blanc_PD209.html
Compare prices and find vendors for Ballentine Vineyards Chenin Blanc on Wine-Searcher.com:
http://www.wine-searcher.com/
find/Ballentine%2bChenin/-/-/USD/A?referring_site=WLP

Talk About Wine Online
If you have questions, comments or ideas to share about today's article
or wine in general, you're always welcome to drop by our online WineLovers Discussion Group. This link will take you to the forum home page, where you can read discussions in all the forum sections:
http://www.wineloverspage.com/forum/village
Everyone is free to browse. If you'd like to post a comment, question or reply, you must register, but registration is free and easy. Do take care to register using your real name, or as a minimum, your real first name and last initial. Anonymous registrations are quietly discarded.
To contact me by E-mail, write wine@wineloverspage.com. I'll respond personally to the extent that time and volume permit.
PRINT OUT TODAY'S ARTICLE
Here's a simply formatted copy of today's Wine Advisor, designed to be printed out for your scrapbook or file or downloaded to your PDA or other wireless device.
http://www.wineloverspage.com/wineadvisor2/
2007/11/mini_wine_cellars_a_skeptical-print.html

This week on WineLoversPage.com
• Vino 101: True value
With the holidays approaching, people have a tendency to overspend. Jorge Eduardo Castillo recommends some great value-driven wines that can provide enjoyment without hurting you in the wallet.
http://www.wineloverspage.com/vino101/value07.phtml
• WineBlueBook: Pinot Noir, Australian Shiraz and Piemonte reds
Neil Monnens' long-running publication, lists recent releases on the basis of both critical point scores and price, making it easy to recognize selections of exceptional quality-price ratio. A total of 1,068 wines are profiled in the November 2007 issue.
http://www.wineloverspage.com/qpr/qprwines.phtml
• Our Internet radio "TalkShoe": Nouveau or not nouveau
Did you have your Beaujolais Nouveau this year? Do you care? Is the Nouveau just an excuse for a late autumn party, or a wine to reckon with? We'll talk Nouveau - and Beaujolais in general - in this week's Internet Radio TalkShoe, at a new day and time on Monday, Nov. 26, at Noon US EDT (9 a.m. Pacific, 6 p.m. in Western Europe). You're welcome to tune in, or call and talk.
http://wineloverspage.com/talkshoe/
All our previous TalkShoes, including last week's discussion of sparkling wines, are available for listening or downloading from the archives!
http://wineloverspage.com/talkshoe/latest.htm
• WineLovers Discussion Group: What does "well-made wine" mean?
Sometimes a seemingly negative wine-tasting note will wrap up with the seemingly positive term "well-made wine." though. Is this useful information, or merely damning with faint praise? What exactly does it mean? Read the discussion and add your own thoughts in the WineLovers Discussion Group!
http://www.wineloverspage.com/forum/village/viewtopic.php?t=12227
• Netscape/Compuserve Community Poll: Wine-related holiday gift list
Santa is making his list and checking it twice, so it's time for wine enthusiasts to start making up our wish (and hint) lists. What wine-related goodies do you hope to find in your stockin? Click to vote in this week's poll; then post a note telling us about your wish!
http://community.netscape.com/winelovers?nav=messages&tsn=1&tid=5477