This article was published in The 30 Second Wine Advisor on Wednesday, Oct. 17, 2007 and can be found at http://www.wineloverspage.com/wineadvisor2/tswa20071017.php.
Splash of white
When I announced that we'd be featuring Australian Shiraz as this month's Wine Focus feature, I framed it as a quest for wines of "balance and even elegance."
I knew from experience that such wines exist, but it's sometimes hard to find them in an export market dominated by the "fruit bombs," "blueberry milkshakes" and "blockbusters" that seem to win greater acclaim from U.S. critics like Robert M. Parker Jr. and Wine Spectator.
Today it's my pleasure to report on a delightful finding, a delicious Shiraz from Western Australia that's a revelation on the palate: Alkoomi 2004 Frankland River Western Australia Shiraz Viognier is fruity, yes, as you'd expect a Shiraz to be. But it's clean, fresh and natural, crisp and tart and nicely structured, rational in its alcohol level and subtle use of European oak. It's New World in style, but it's a modern wine that remains in touch with its Old World moorings. You'll find my detailed tasting report below.
Quickly told, this wine holds two brief lessons: First, as some of our online WineLovers Discussion Group experts (and I) had speculated, the cool-climate realms of Australia's far Southwestern corner proved fruitful hunting grounds for Shiraz less "gobby" than South Australia's popular Barossa Valley and McLaren Vale, whence much of the highly rated, blockbuster-style Shiraz seems to flow.
Second, Alkoomi mustered an unusual wine-making trick that's been a long tradition in Côte Rôtie in France's Northern Rhone but that has only recently become popular in Australia (and California and elsewhere): "Co-fermentation," the practice of mixing just a splash of fragrant, floral white Viognier grape juice in with the red Shiraz before the juice is fermented into wine.
This addition - in the Alkoomi, just 5 percent of white juice in the red - doesn't give the finished wine any real Viognier character that I can discern. Rather, by triggering chemical processes that seem mysterious to the non-scientist, the mixture is said to deepen and stabilize the red wine's color; more significantly to the taster, it seems to "lift" and lighten the wine's overall aroma, texture and flavor.
There is certainly a style issue at work here. I know many wine enthusiasts adore the big, blockbuster style, and the Alkoomi might disappoint a taster who prefers that road. But for me, this is one of the few Australian Shiraz that I don't merely respect but sip with real affection.
Alkoomi 2004 Frankland River Western Australia Shiraz Viognier ($22.99)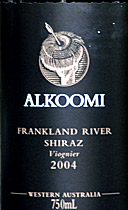 Dark garnet, crimson glints. Particularly attractive dark fruit aromas, black cherries and discreet berries, more elegant than forward; no hint of the "blueberry milkshake" character often found in Shiraz. A revelation on the palate: Certainly fruit-forward, but the fruit is clean, fresh and natural, dark berries and tart cherries nicely framed by mouth-watering acidity and soft tannins. An exceptionally well-balanced wine, with appropriate but not numbing alcohol at 13.5%. U.S. importer: The Ravensvale Group, Manhasset, N.Y. (Oct. 16, 2007)
FOOD MATCH: Where blockbuster Shiraz needs red meat, if any food match at all, this more elegant model served beautifully with a simple chicken saute.
VALUE: Although its $20-plus price point is at the upper limit for everyday drinking for many of us, many a Shiraz (or a Syrah) of this quality will command more.
WHEN TO DRINK: Drinking so beautifully that it's hard to imagine it getting better, but its substance and excellent balance surely wouldn't jeopardize it over a few years in the cellar.
WEB LINK:
You'll find good information about the winery and its wines on the Alkoomi Website,
http://www.alkoomiwines.com.au
The importer has a fact sheet about Alkoomi at
http://www.ravensvale.com/alkoomi.htm
where you'll find further links to various wines including the 2004 Shiraz Viognier.
FIND THIS WINE ONLINE:
For a comprehensive list of Alkoomi distributors around the world, see the winery Web pages,
http://www.alkoomiwines.com.au/default.aspx?id=205
Compare prices and find vendors for Alkoomi Shiraz on Wine-Searcher.com:
http://www.wine-searcher.com/
find/Alkoomi%2bShiraz/-/-/USD/A?referring_site=WLP

Talk About Wine Online
If you have questions, comments or ideas to share about today's article
or wine in general, you're always welcome to drop by our online
WineLovers Discussion Group. This link will take you to the forum home page, where you can read discussions in all the forum sections:
http://www.wineloverspage.com/forum/village
Everyone is free to browse. If you'd like to post a comment, question or reply, you must register, but registration is free and easy. Do take care to register using your real name, or as a minimum, your real first name and last initial. Anonymous registrations are quietly discarded.
To contact me by E-mail, write wine@wineloverspage.com. I'll respond personally to the extent that time and volume permit.
PRINT OUT TODAY'S ARTICLE
Here's a simply formatted copy of today's Wine Advisor, designed to be printed out for your scrapbook or file or downloaded to your PDA or other wireless device.
http://www.wineloverspage.com/wineadvisor2/
2007/10/splash_of_white-print.html