This article was published in The 30 Second Wine Advisor on Monday, Oct. 1, 2007 and can be found at http://www.wineloverspage.com/wineadvisor2/tswa20071001.php.
Quest for elegant Oz Shiraz
Here's a funny thing about Shiraz, the Australian name for Syrah: Whenever I've traveled and judged wine in Australia, and when I read tasting reports that Aussie mates post on our WineLovers' forums, Shiraz almost invariably comes across as an appealing drop. It's robust and full to be sure, but it's generally well balanced and nicely structured with acidity and a bit of flavor and aroma complexity to enhance the fruit.
When I buy Shiraz in the U.S., though, the pricey brands very often come across as huge, monolithic blueberry milkshakes for adults, fruit-forward and loaded with oak, very high in alcohol and surprisingly one-dimensional. More affordable labels tend to shed the musclebound character in favor of a fat-and-happy fruit-bomb sweetness.
What's going on here? Are those crafty Aussies keeping all the Shiraz that I would like back at home for themselves?
Well ... it's not quite that simple, and the good news is that it's possible to find Down Under Shiraz of balance and even elegance. But outside Australia, we may have to do some hunting to find it.
That's the goal of the monthly "Wine Focus" in our online forums for October, wherein wine enthusiasts around the world are invited to seek out, taste and talk about a specific wine in the interest of education and, of course, enjoyment.
If you've been puzzled by "gobby" Shiraz and consider it out of balance, we're hoping that this month's discoveries will come as a pleasant surprise. And even if you enjoy the high-points Shiraz style, I invite you to explore a greater variety of Shiraz styles with us.
Discussions are already well under way. For an excellent overview of suggested producers of more elegant Shiraz and wine regions of interest, click
http://www.wineloverspage.com/forum/village/viewtopic.php?t=11038
For an initial shopping list, here - listed alphabetically - are a few Australian producers that I've found making wines of good balance and flavor interest: Bests, Leeuwin, Mitchelton, Mount Langhi Ghiran, Plantagenet, Tahbilk, Taltarni, Wirra Wirra and Yering Station.
While the top South Australian Shiraz-producing regions Barossa Valley and McLaren Vale can't be ignored, so much of the wine being exported from those valleys falls into the "points-chasing" style that it's tempting to start looking in other places less known for the blockbuster stuff: Margaret River (and Western Australia in general); Yarra Valley and, a leading region better known for Cabernet Sauvignon than Shiraz, Coonawarra.
For much more about the full breadth of Australian wines, I would encourage a visit to the Website of the Sydney International Wine Competition, where I've been lucky enough to serve as a judge now and then. Wines honored in this noteworthy competition's annual "Top 1OO" are judged first in traditional, analytical flights but then must pass a second test, being judged again in the company of food crafted to match. This approach, which I believe to be unique in international wine competition, celebrates wines meant to go with food in favor of the blockbusters, and its results form as good a guide as you'll find to balanced, food-friendly Australian (and other) wines.
Sydney International Wine Competition,
http://www.top100wines.com
Even if you haven't participated in online forums before, I hope you'll join us from time to time in what promises to be an exceptionally interesting "Wine Focus" during October.
Crane Brothers 2003 Crane Ranch Vineyard Napa Valley Syrah ($38 retail [sold out], $34 per bottle for half or full case orders by Connoisseurs' Series members)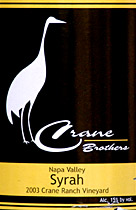 Very dark purple, almost black to the edge. Intense fruit, focused on blueberries, all but leaps out of the glass; a little sniffing tweaks out more complex underlying scents of grilled meat and pepper. Blackberries join the blueberries in a nicely structured flavor; despite its very fruit-forward aromas, this is no mere fruit bomb, but a well-built albeit powerful (15% alcohol) Syrah that pays due respect to the Northern Rhone for all its distinctly New World style. Only 280 cases were made. Winery Website: http://www.cranebrotherswine.com (Sept. 30, 2007)

Vine Cliff Winery 2003 "16 Rows" Oakville Napa Valley Cabernet Sauvignon ($135 retail, $120 per bottle for half or full case orders by Connoisseurs' Series members)
Black, almost a patent-leather shiny black in the glass, shading to deep twilight purple only at the very edge. Classic Cabernet blackcurrant aromas lead the big parade, with a complex impression of both dark and milk chocolate close at hand. Well structured flavors follow the nose, filling the mouth with currant and chocolate flavors nicely balanced by fresh-fruit acidity and big but well-integrated 14.4% alcohol. Youthful tannins add a distinct astringent note that calls for aging, but airing and a good red-meat or cheese food match bring it around for current enjoyment. Still, to earn full value from this investment, cellar it well for a decade and you won't be sorry. For a wine at this price, you have a right to expect something special, and Vine Cliff delivers. Just 288 cases made. Winery Website: http://www.vinecliff.com (Sept. 30, 2007)

Talk About Wine Online
If you have questions, comments or ideas to share about today's article
or wine in general, you're always welcome to drop by our online WineLovers Discussion Group. This link will take you to the forum home page, where you can read discussions in all the forum sections:
http://www.wineloverspage.com/forum/village
Everyone is free to browse. If you'd like to post a comment, question or reply, you must register, but registration is free and easy. Do take care to register using your real name, or as a minimum, your real first name and last initial. Anonymous registrations are quietly discarded.
To contact me by E-mail, write wine@wineloverspage.com. I'll respond personally to the extent that time and volume permit.
PRINT OUT TODAY'S ARTICLE
Here's a simply formatted copy of today's Wine Advisor, designed to be printed out for your scrapbook or file or downloaded to your PDA or other wireless device.
http://www.wineloverspage.com/wineadvisor2/
2007/10/quest_for_elegant_oz_shiraz-print.html

This week on WineLoversPage.com
• Our Internet radio "TalkShoe": Stay tuned!
We'll have another interesting topic in the next TalkShoe, Saturday, Oct. 6, at 1 p.m. US EDT (10 a.m. Pacific, 7 p.m. in Western Europe. Stay tuned, and click for the details:
http://wineloverspage.com/talkshoe/
The French wine word that means "earth" is hard to define, but there is no shortage of opinions about it. We talked terroir in last week's Internet Radio TalkShoe. Play it back in streaming audio, and browse all our archived editions online.
http://wineloverspage.com/talkshoe/latest.htm

• WineLovers Discussion Group: Wine buying factors in order of importance
Price? Producer? Grape? Region? Color? Style? Tell us what specific factors affect your wine-buying decisions and how you rank them. To join this conversation on our WineLovers Discussion Group, click:
http://www.wineloverspage.com/forum/village/viewtopic.php?t=11089

• Netscape/Compuserve Community Poll: What's your restaurant markup limit?
As discussed in Friday's 30 Second Wine Advisor, most restaurants take a substantial profit on wine sales to help cover overall costs. How much of a markup are you prepared to pay before you just say no? Please take a moment to vote in our CompuServe/Netscape forum poll:
http://community.netscape.com/winelovers?nav=messages&tsn=1&tid=5414