This article was published in The 30 Second Wine Advisor on Monday, Oct. 22, 2007 and can be found at http://www.wineloverspage.com/wineadvisor2/tswa20071022.php.
Late bottled bargain
After one of the longest and meanest summers in history around here, it's finally starting to feel a little more like autumn.
This is good news, at least in the food and wine departments, as some of my favorite "comfort" food and drink are finally coming back into season. I'm looking forward to hearty roasts and pots of beans and baking bread; and with Halloween just around the corner and evenings turning cool and blustery, it's even time to think about a warming glass of Port.
As I reported in a quick overview of Port following my last trip there in 2005, Port is the great and historic dessert wine of Portugal, where for more than 200 years the robust red wines of the Douro river valley have dosed with brandy ("fortified"), a procedure that had the happy side effect of creating a wine that's sweet and strong and capable of long-term aging.
It's a great dessert wine, frankly my favorite of the dessert category even though I'm not much of a dessert-wine enthusiast, perhaps because it's a red wine, full and hearty, its sweetness held in balance by steely acidity and potent tannins.
Port comes in a variety of categories that span a fair range of prices, from the simple, non-vintage Ruby Port through wood-aged Tawny and Colheita to high-end Vintage Port, which is indisputably the best of the genre.
As the name implies, Vintage Port made entirely of grapes from a single year, aged only briefly in wooden barrels before being bottled, so it retains its dark red color. This is the Port that collectors prize. Modern Vintage Port can be drunk with enjoyment when it's young and full of fruit, but it's best held in a cool cellar for decades while its tannins soften and its flavors gain the complexity that comes with 20 years of maturity or more.
Vintage Port makes up only about 2 percent of all Port produced, but it's the most expensive 2 percent. Prices vary, but with current high demand for upscale wines, you can expect to pay $75 to $100 or more for an immature bottle from a recent vintage.
Unlike most table wines, Vintage Port isn't produced every year, only in vintages in which most producers agree that quality is sufficient to justify "declaring" the year as a vintage. In the past 20 years, only 1991, 1994, 1997, 2000 and 2003 have been declared, and none, at least under classic standards, are considered ready to drink.
Which brings us, finally, to the subject of today's dissertation: For those of us who love Port and want to be able to enjoy it without a major investment and years of waiting, a relatively recent innovation affords a reasonably close alternative at a fraction of the price.
Late Bottled Vintage Port, often nicknamed "LBV," is Port made from a single vintage, but it's held in oak barrels for four to six years, long enough to soften and mellow the wine without fading it to tawny. This makes a relatively affordable wine with a lot of the style of a Vintage Port and some ageworthiness, but it can be drunk young and needs no decanting. Take care not to confuse it with "Vintage Character Port," which is sort of an upscale non-vintage Ruby. It, too, can make decent drinking, but it rarely approaches LBV quality and offers little or no price advantage over LBV, which can often be had for $20 or less.
Today's featured wine, a 2000 LBV from the giant Spanish wine firm Osborne, which also has a presence in Oporto, is a fine example. It offers an excellent preview of the 2000 vintage, is fully ready to drink, and was available here for a more than reasonable $18.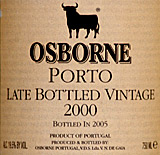 Osborne 2000 Late Bottled Vintage Porto ($17.99)
Very dark blackish-purple, scarlet glints against the light. Typical Port character, dried stone fruit and licorice aromas and flavors with more subtle notes of toasted hazelnuts. Full-bodied and sweet, with sharp, "grippy" acidity holding the fruit sugars in balance. Tannic astringency is present, but it's far from the fierce, bruising tannins you'd expect in a true Vintage Port at this age; bottled in 2005, its four years of oak and more time in bottle has fostered some mellowing, although a plate of cheese will still serve well to smooth out its rougher edges. U.S. importer: W. J. Deutsch & Sons Ltd., Harrison, N.Y. (Oct. 21, 2007)
FOOD MATCH: Perfect for after-dinner sipping, by itself or with cheese or cracked nuts.
VALUE: Comes acceptably close to Vintage Port character for one-fourth Vintage Port price.
WHEN TO DRINK: The point of late-bottled vintage is to have a quality Port that can be consumed young, so there's not much point in extended cellaring. That said, however, I see no reason why this and similar wines won't keep well, and perhaps evolve further, over years under good storage conditions.
WEB LINK:
Here's the importer's fact sheet on Osborne; use the pulldown menu at the bottom of the page to call up a sheet on its Ports.
http://www.wjdeutsch.com/wine_portfolio_list.asp?id=17
The Osborne Website is available in Spanish and English:
http://www.osborne.es/
FIND THIS WINE ONLINE:
Compare prices and find online vendors for Osborne Late Bottled Vintage Oporto on Wine-Searcher.com:
http://www.wine-searcher.com/
find/Osborne%2bLate%2bBottled/-/-/USD/A?referring_site=WLP

Talk About Wine Online
If you have questions, comments or ideas to share about today's article
or wine in general, you're always welcome to drop by our online WineLovers Discussion Group. This link will take you to the forum home page, where you can read discussions in all the forum sections:
http://www.wineloverspage.com/forum/village
Everyone is free to browse. If you'd like to post a comment, question or reply, you must register, but registration is free and easy. Do take care to register using your real name, or as a minimum, your real first name and last initial. Anonymous registrations are quietly discarded.
To contact me by E-mail, write wine@wineloverspage.com. I'll respond personally to the extent that time and volume permit.
PRINT OUT TODAY'S ARTICLE
Here's a simply formatted copy of today's Wine Advisor, designed to be printed out for your scrapbook or file or downloaded to your PDA or other wireless device.
http://www.wineloverspage.com/wineadvisor2/
2007/10/late_bottled_bargain-print.html

This week on WineLoversPage.com
• Dibbern on Wine: Wines for a Sweet Tooth
Life is uncertain: Eat dessert first. It makes sense to start in the only logical place ... with dessert. Columnist Donald Dibbern shares with us a broad overview of the category.
http://www.wineloverspage.com/dibbern/sweet07.phtml
• Our Internet radio "TalkShoe": Wine and cheese!
Why do wine and cheese go together so well? What specific wines and cheeses match? We'll take on this tasty topic in our next Internet Radio TalkShoe on Saturday, Oct. 27, at 1 p.m. US EDT (10 a.m. Pacific, 7 p.m. in Western Europe). You're welcome to tune in, or call and talk.
http://wineloverspage.com/talkshoe/
Last week's discussion of "horizontal" tasting, comparing and contrasting similar wines, is now online. You can hear it, and listen to all our previous TalkShoes, in the archives!
http://wineloverspage.com/talkshoe/latest.htm
• WineLovers Discussion Group: 2005 Burgundies - are the prices nuts?
Is there any hope for budget-conscious Burgundy lovers, or has a booming market moved this niche out of reasonable reach for most of us? Read opinions and add your own in the WineLovers Discussion Group!
http://www.wineloverspage.com/forum/village/viewtopic.php?t=11372
• Netscape/Compuserve Community Poll: Favorite dessert wine
With dessert wines and fortified wines on the seasonal radar again, let's talk about our favorites! This week's ballot offers a short list of usual suspects, plus the usual "other." Click here to vote:
http://community.netscape.com/winelovers?nav=messages&tsn=1&tid=5437