This article was published in The 30 Second Wine Advisor on Friday, Sep. 14, 2007 and can be found at http://www.wineloverspage.com/wineadvisor2/tswa20070914.php.
Italy in a wine glass
Italy may barely trail France in wine production and per-capita consumption, and it lags behind Spain and France in total acres under vine.
But in one key measure, Italy clearly ranks on top: With wine grapes growing near virtually every city, village and town from tip to toe of its boot-shaped map, and every region producing a remarkable array of grapes and wines, there's no country in the world with a more diverse wine scene.
Some people argue that this wild and wacky diversity makes Italian wine almost too complicated to try to learn. I think it makes it fun. As I've said before, many of the world's wines prompt contemplation. Italian wines can do that, too, but better still, they generally make me smile.
This happy response is one that I share, I think, with the Italian-wine importer John Given, a wine buddy whose periodic visits I always anticipate with pleasure, mostly because John is an enjoyable fellow but also because he usually brings along some really interesting Italian wine.
This week he came through town to show off a box full of recent and coming arrivals to local wine shops. We got together over dinner and sampled a dozen goodies that figuratively represented a wine tour of Italy in a glass, from tiny Val d'Aosta in the Alpine north all the way down to the slopes of Mount Etna in Sicily.
There's a lot of wine to talk about, so let's go straight to the tasting notes.
Tenuta Maggiore 2006 "Clelia" Malvasia di Pavia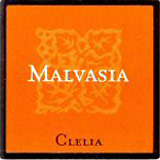 From Oltrepò Pavese in Lombardy, this wine's proprietary name honors the memory of Grandmother Clelia, who worked in the family vineyards until her death at 98. This open, amiable pale-straw-color wine shows off the Malvasia variety with a luscious pink-grapefruit scent scent and full-bodied flavors of grapefruit and citrus, crisp and sufficiently acidic to make its light fresh-fruit sweetness come across as dry.
Accattoli 2006 Verdicchio di Matelica
The Marche region on Central Italy's Adriatic coast is best known for Verdicchio dei Castelli di Jesi, but this much less common regional variant from the Matelica hills may be the Verdicchio that locals reserve for their own enjoyment. It's herbal and intense, with "grassy" and white-fruit aromas and flavors reminiscent of Sauvignon Blanc. Plenty of fruit on the palate and a hint of stony minerality, with mouth-watering acidity to hold it in shape. Tasted later with food, it was a virtual epiphany with a shrimp dish over pappardelle.
Cincinnato 2006 "Illirio" Cori Bianco
The relatively little-known Cori wine region covers volcanic hill country in Lazio, south of Rome. This rich, full white wine, a blend of 40% Malvasia, 30% Trebbiano and 30% Bellone is pale-gold in color. It shows a distinctly "buttery" character, but it's a natural element of the wine, which is vinified in stainless steel and sees no oak. Full and round in flavor, white fruit is shaped by good acidity that cloaks slight residual sweetness.
Cincinnato 2004 "Raverosse" Cori Rosso
Another intriguing oddity from Cori, this regional red comprises 40% Montepulciano, 40% of the local variety Nero Buono di Cori and 20% Cesanese. Butter and red-berry fruit in a luscious, smooth and balanced red that's easy to enjoy.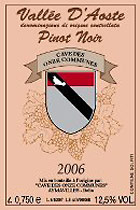 Cave des Onze Communes 2006 Vallée d'Aosta Pinot Noir
Tiny, quaint Val d'Aosta lies high in the Alps above Piemonte, where Italy, Switzerland and France meet not far from Mont Blanc. As the name of the producer suggest, as much French as Italian is spoken here, where locals translate the regional name as "Vallée" d'Aosta. The wine is classic Pinot Noir in a distinct Old World style. Delicate Pinot aromas and flavors focus on red berries, delicate spice and subtle earth as the wine opens up and gains complexity with time in the glass.
Institut Agricole Regional Aoste 2006 Vallée d'Aosta Pinot Noir
Appropriately pale garnet in color. Subtle, intense Pinot aromas, red fruit and earth, beautiful and almost ethereally delicate. Burgundian.
La Mondianese 2004 Ruché di Castagnole Monferrato
The varietal Ruché from Cantine Sant'Agata, which Given also imports, is one of the most unusual red wines, one that I've described as "fruitcake in a glass." This new offering from La Mondianese, perhaps moderated by a few months in oak barriques, is a bit less wacky in style, but it's very appealing. A whiff of high-toned oak on first impression quickly gives way to delicious floral scents - violets for sure, maybe roses - and a crisp, dry impression of cranberries, ripe and tart.
La Slina 2006 "Rocco Rosso" Dolcetto di Ovada
Most Italian-wine fanciers know and love Dolcetto from Alba, Asti and Dogliani. It's less well-known that seven Dolcetto villages are entitled to put the local name on the label, and the most obscure of all may be Ovada, located in the far south of Piemonte close to Liguria. Deep purple in color, its scent of blueberries gains earthy complexity from a discreet, appealing hint "barnyard." Good acid and the fuzzy tannins that you'd expect in Dolcetto provide plenty of structure.
Tenuta Maggiore 2004 "Clelia" Nebbiolo di Pavia
Another Oltrepò Pavese wine honoring Grandmother Clelia, this fine red showcases the varietal character of Nebbolio with deep red fruit and floral violets. Mouth-filling, stylish black fruit adds a whiff of new oak from a year in French barriques, but it's handled well.
Antica Enotria 2005 Nero di Troia Puglia Rosso
The producer, Azienda Agrobiologica di Tuccio Raffaele makes all its wines under the Antica Enotria label without the use of industrial pesticides, herbicides or fertilizers, but regulatory red tape discourages it from seeking organic certification on the U.S. labels. Intense black fruit is framed by sappy and herbaceous aroma notes, with whiffs of anise and leather carrying over on the palate in a nicely structured, dry and acidic red.
Tenuta Scilio Di Valle Galfina 2000 "Phiale" Etna Rosso
From the northeastern slopes of volcanic Mount Etna, this hearty red (formerly marketed under a similar label as "Orpheus") is made from two indigenous Sicilian grapes - Nerello Mascalese (80%) and Nerello Cappuccio (20%) - and sees both French and American oak. Dark garnet in color, it breathes smoky, meaty black fruit in the aroma and full, balanced, tart and tannic flavor. Outstanding with grilled lamb chops with a bourbon-molasses reduction sauce.
WEB LINK:
Detailed information and label photos of all these wines are available on the John Given Wines Website,
http://www.jgwines.com
Click to "Wines in the Portfolio," where you can find specific wines by region or producer or by clicking on an interactive map of Italy.
FIND THESE WINES ONLINE:
The most frustrating aspect of artisanal wines like those in Given's portfolio is that they are made in tiny quantities, often as little as 1,000 cases or fewer in a year, so there's not enough to go around, and distribution can be spotty. Given's wines are distributed in many states of the U.S., however, and his office will be happy to help you find local or Internet sources. Click "Contact Us" on the John Given Website,
http://www.jgwines.com
or send E-mail to info@jgwines.com
To look for online retailers around the world, plug in key words in the databases at Wine-Searcher.com:
http://www.wine-searcher.com/?referring_site=WLP
Talk About Wine Online
If you have questions, comments or ideas to share about today's article
or wine in general, you're always welcome to drop by our online WineLovers Discussion Group. This link will take you to the forum home page, where you can read discussions in all the forum sections:
http://www.wineloverspage.com/forum/village
Everyone is free to browse. If you'd like to post a comment, question or reply, you must register, but registration is free and easy. Do take care to register using your real name, or as a minimum, your real first name and last initial. Anonymous registrations are quietly discarded.
To contact me by E-mail, write wine@wineloverspage.com. I'll respond personally to the extent that time and volume permit.
PRINT OUT TODAY'S ARTICLE
Here's a simply formatted copy of today's Wine Advisor, designed to be printed out for your scrapbook or file or downloaded to your PDA or other wireless device.
http://www.wineloverspage.com/wineadvisor2/
2007/09/italy_in_a_wine_glass-print.html