This article was published in The 30 Second Wine Advisor on Friday, Aug. 17, 2007 and can be found at http://www.wineloverspage.com/wineadvisor2/tswa20070817.php.
Readers talk back
Our recent discussions about chilling wine and sharing your glass with a fly have generated a lot of E-mail and online forum discussions, so let's open the mailbag today and give readers a chance to talk back. Then we'll finish up a sizzling summer work week by staying on theme with another tasting report on an aromatic, refreshing California Sauvignon Blanc.
First, in Wednesday's dissertation on chilling wine quickly by stashing it in the refrigerator freezer or an ice bucket, I expressed some puzzlement about why an ice bucket chills wine somewhat more quickly than a freezer. This seems counter-intuitive, given that the ice bucket holds a constant 32F (0C), while a properly set freezer holds a much colder 0F (minus-18C)
I'm indebted to the many scientists among you who offered quick tutorials about thermal transfer and heat capacity in fluids, explaining how cold (or heat) transfers much more efficiently in a liquid than in the air.
Steven R., of Utah, explained: "Thermal transfer is typically faster when the cooling medium is a liquid than when it is a gas. As a result, 32F water in an ice bucket will suck the kilocalories out of your bottle faster than the same temperature air in your freezer."
In a forum post, Californian Gary B. put it simply: "Think of this: You stick your arms into a 450F pizza oven to remove your pie. It takes a while before your arms burn. Stick them, however, into a bucket of 450F liquid and you will see just how much better water conducts heat than air."
Point taken. But don't try this experiment at home!
Personally, based on real-world testing that suggests it takes 20 minutes in an ice bucket to achieve the same cooling as 30 minutes in the freezer, I'm inclined to stick with the freezer and avoid the mess.
To read and participate in the online forum discussion on this topic, click
http://www.wineloverspage.com/forum/village/viewtopic.php?t=10179
Meanwhile, last Friday we started a light-hearted poll asking, "Would you share your wine with a fly?" We asked men and women to vote separately, testing the hypothesis that women, being more squeamish (or more sensitive, depending on your point of view), would be more likely than men to discard a bug-afflicted glass.
As it turned out, though, the results showed little if any gender difference. Only 7 of 74 respondents indicated that they would invariably toss the wine, while 51 of the group reported that they would keep on drinking (after removing the offending insect, of course). There didn't seem to be any statistical difference between women and men. So much for gender-role stereotyping!
Indeed, forum participant Graeme G., of Sydney, seemed to speak for both sexes with his simple recommended procedure:
1. Lift insect just above liquid surface
2. Holler "SPIT IT OUT, YER BUGGER"
3. Dispose of insect
4. Continue drinking.
To follow this forum conversation (and cast your vote, if you haven't done so already), click
http://www.wineloverspage.com/forum/village/viewtopic.php?t=10078
Finally, wrapping up a week of California Sauvignon Blanc that began Monday with the outstanding, limited-production Iron Horse Vineyards 2005 T Bar T Vineyard "Cuvée R" Alexander Valley Sauvignon Blanc and continued Wednesday with the surprisingly attractive Bonterra Vineyards 2006 Lake-Mendocino County Sauvignon Blanc, we conclude the series today with the affordable, widely distributed Kenwood Vineyards 2006 Sonoma County Sauvignon Blanc. If not quite up to the other two wines for complexity or flavor interest, it's nonetheless a crisp, refreshing summer sipper and a particularly good companion with seafood or fish. My tasting notes are below.
Kenwood Vineyards 2006 Sonoma County Sauvignon Blanc ($11.99)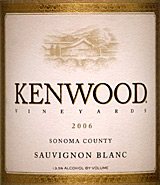 Transparent light straw color with a hint of greenish hue. Fresh, rather delicate scents, citrus and melon. Fresh, dry, crisp and tart, honeydew melon and a surprisingly sharp acidic edge that makes it a natural table wine. (Aug. 16, 2007)
FOOD MATCH: An obvious pick with seafood and fish, it was fine with fresh red snapper sauteed with onions, green peppers and garlic with a dash of Caribbean hot-pepper sauce.
VALUE: Prices range widely on this nationally distributed wine, which shows up on Wine-Searcher.com from $7 to $13. Even at the upper end of the range, however, its freshness and balance make it a reasonable value.
WHEN TO DRINK: Light and fresh and sealed with a plastic cork that's not made for long-distance running; I'd drink it up within a year or two.
WEB LINK:
Here's a link to the winery's fact sheet on the 2005 Sauvignon Blanc; it does not appear to have been updated with information on the 2006:
http://www.kenwoodvineyards.com/
wine.asp?s=sonoma&w=SAUVIGNON%20BLANC
FIND THIS WINE ONLINE:
Look up retail vendors and compare prices for Kenwood Sauvignon Blanc on Wine-Searcher.com:
http://www.wine-searcher.com/
find/Kenwood%2bSauvignon%2bBlanc/-/-/USD/A?referring_site=WLP

Talk About Wine Online
If you have questions, comments or ideas to share about today's article
or wine in general, you're always welcome to drop by our online
WineLovers Discussion Group. This link will take you to the forum home page, where you can read discussions in all the forum sections:
http://www.wineloverspage.com/forum/village
Everyone is free to browse. If you'd like to post a comment, question or reply, you must register, but registration is free and easy. Do take care to register using your real name, or as a minimum, your real first name and last initial. Anonymous registrations are quietly discarded.
To contact me by E-mail, write wine@wineloverspage.com. I'll respond personally to the extent that time and volume permit.
PRINT OUT TODAY'S ARTICLE
Here's a simply formatted copy of today's Wine Advisor, designed to be printed out for your scrapbook or file or downloaded to your PDA or other wireless device.
http://www.wineloverspage.com/wineadvisor2/
2007/08/readers_talk_back-print.html