This article was published in The 30 Second Wine Advisor on Wednesday, Jul. 25, 2007 and can be found at http://www.wineloverspage.com/wineadvisor2/tswa20070725.php.
Ribolla Gialla
Getting back on the beaten path, sort of, after Monday's excursion into the wacky world of Korean mushroom wine and Armenian pomegranate wine, today's otherwise rather offbeat grape looks almost mainstream in comparison: We're tasting Ribolla Gialla, an unusual but highly regarded variety from Northeastern Italy's Friuli-Venezia Giulia.
The grape's full name, Ribolla Gialla ("yellow") signals its distinct yellow color at ripeness. Just across the border in neighboring Slovenia's Goriska Brda region, the same grape makes similar wines under the sound-alike Slovene name "Rebula"; and Jancis Robinson asserts that the Robola of the Greek islands is "almost certainly" the same grape.
Its history dates back to the 1200s, and for the sake of tradition many Friuli wine makers continue to make and grow a bit of it, although production is almost lost in the tide of Pinot Grigio and Sauvignon Blanc that comes pouring out of the region. As with so many Friuli wines, the best examples tend to come from Collio and Colli Orientali, the hilly regions along Italy's border with Slovenia ... and Brda on the Slovene side.
Some Ribolla is made with plenty of skin contact and oak aging to produce a full-bodied wine that can develop with cellar time. Today's featured wine, however - from Girolamo Dorigo in Colli Orientali del Friuli - is made with no oak and no malolactic fermentation. It's a light, fresh white made for early drinking, but crisp white fruit, steely acidity, a hint of minerality and a distinct taste of lemons in the finish elevate it well above ho-hum status. My tasting notes are below.
Girolamo Dorigo 2005 Colli Orientali del Friuli Ribolla Gialla ($17.99)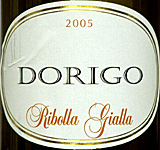 Clear light gold. Grapefruit and white pepper on the nose and palate; juicy and fresh, clean fruit over a hint of stony minerality, wrapped up with a high note of fresh-fruit acidity and a distinct scent of lemon. Very attractive wine, more than just a summer sipper. U.S. importer: Panebianco LLC, NYC. (July 6, 2007)
FOOD MATCH: Made to go with seafood, it was beautiful with sea scallops and jumbo Alabama shrimp pan-seared in butter and olive oil over linguine.
VALUE: My high-teens price is appropriate for a wine of this quality, but try shopping around among its limited sources, as Wine-Searcher.com shows retail prices ranging from $14 to $21 for the 2005.
WHEN TO DRINK: Although Ribolla Gialla can be vinified for aging, the wine maker produces this one as a drink-me-now item, made in stainless steel without malolactic fermentation. Enjoy it this year and next, then look for more recent vintages.
PRONUNCIATION:
Ribolla = "Ree-bol-lah"
Gialla = "Jahl-lah"
WEB LINKS:
Girolamo Dorigo has its Website in Italian and English. Here's a link to the English home page:
http://www.montsclapade.com/
english/home%20page%20english.htm
FIND THIS WINE ONLINE:
For the winery's list of distributors in Europe, North America and Asia, click
http://www.montsclapade.com/english/distribution%20network.htm
Find vendors and compare prices for Dorigo Ribolla Gialla on Wine-Searcher.com:
http://www.wine-searcher.com/
find/Dorigo%2bRibolla/-/-/USD/A?referring_site=WLP
For a broader range of Ribolla Gialla from Dorigo and other producers, try this link:
http://www.wine-searcher.com/
find/Ribolla%2bGialla/-/-/USD/A?referring_site=WLP
Or go to my source and search for it directly at Chambers Street Wines in NYC. It's the third and last item on the following list of Dorigo wines:
https://www.chambersstwines.com/
Search.asp?search=go&kw=dorigo

Talk About Wine Online
If you have questions, comments or ideas to share about today's article
or wine in general, you're always welcome to drop by our online
WineLovers Discussion Group. This link will take you to the forum home page, where you can read discussions in all the forum sections:
http://www.wineloverspage.com/forum/village
Everyone is free to browse. If you'd like to post a comment, question or reply, you must register, but registration is free and easy. Do take care to register using your real name, or as a minimum, your real first name and last initial. Anonymous registrations are quietly discarded.
To contact me by E-mail, write wine@wineloverspage.com. I'll respond personally to the extent that time and volume permit.
PRINT OUT TODAY'S ARTICLE
Here's a simply formatted copy of today's Wine Advisor, designed to be printed out for your scrapbook or file or downloaded to your PDA or other wireless device.
http://www.wineloverspage.com/wineadvisor2/
2007/07/ribolla_gialla-print.html