This article was published in The 30 Second Wine Advisor on Monday, Jul. 30, 2007 and can be found at http://www.wineloverspage.com/wineadvisor2/tswa20070730.php.
Recent rants
For most of us who prize elegance and balance in our wine, there's no news, and certainly no good news, in the recent trend toward higher and higher levels of alcohol in table wines. Some big reds are getting up over 15 percent alcohol and almost approaching the strength of fortified wine ... or Night Train Express.
I've written about this repeatedly over the past decade, and I know I'm not alone: A large proportion of wine lovers who prefer our wines food-friendly and balanced have been yelling for years about "alcohol creep" and the big-name wine critics who seem to encourage it by awarding high points ratings to monolithic, mouth-searing high-alcohol blockbusters.
There's been no shortage of critical disdain for these wines among European wine enthusiasts and writers and New World wine lovers who don't care for a kerosene character in our wines. But it's been a particular pleasure in recent weeks to see some respected voices in California starting to say "Enough!"
Quickly told, Darrell Corti, a long-time Sacramento wine-shop owner who's never been shy about expressing his opinions, recently declared that he won't even allow table wines over 14.5 percent alcohol by volume on his shelves. Although Corti acknowledged that he might make exceptions, this decision (according to the Sacramento Bee newspaper) drew anguished screams from critic Robert M. Parker Jr. himself, a response that seemingly left Corti unmoved.
Last week, I got an E-mail (as, apparently, did hundreds of other wine writers and wine-industry people) from wine maker Randy Dunn, singing in harmony to Corti's refrain: "It is time for the average wine consumers, as opposed to tasters, to speak up," Dunn wrote. "The current fad of higher and higher alcohol wines should stop."
Dunn, once wine maker at Caymus and now owner of his own Dunn Vineyards, went on: "I don't believe the average person is so insensitive to flavors and aromas that they must have a 15% Cabernet, Chardonnay, or Pinot Noir to get the aromas and flavors. Influential members of the wine press have led the score-chasing winemakers/owners up the alcohol curve and now I hope that it soon will lead them down."
It should be noted that critical points-chasing alone is not entirely responsible for alcohol creep. A tendency toward warmer temperatures in world wine-growing regions in recent decades has increased ripeness and thus potential alcohol; modern yeast strains also have increased the amount of alcohol that producers can squeeze out of a grape. Indeed, there's a cottage consulting industry using high-tech techniques in the winery to keep wine alcohol from going even higher. But critical acclaim for BIG wines certainly hasn't slowed the trend, and as Dunn points out, it would be a fine thing to see critical voices start to slow it down.
(This week's online poll seeks your opinion about upward alcohol "creep" in wines. Click here for the link.)
While I'm still in rant mode, a word about the Disney studio's recently announced decisions to market - and then not to market - a modest brand of French Chardonnay as a product tie-in with its recently released (and excellent) animated movie, Ratatouille. Disney's quick capitulation to anti-alcohol forces didn't really surprise me, but I'm a more irritated about the California Wine Institute's pathetic eagerness not to offend the "neo-Prohibitionists."
As I wrote in our WineLovers Discussion Group, I'd have a lot more respect for the industry if it would take a tough position and say, "Look, if you want to be a teetotaler, fine, but we will not cooperate in your efforts to impose your Puritanical morality on the rest of us. If you don't want your children drinking alcohol, then make your children your business. Frankly, wine in moderation is beneficial to adults, and it's actually not the end of the world if a youngster takes a taste."
Rant over. For this week's tasting, enjoy with us a delicious Chianti marked at just 12.5% alcohol. As Hamlet said, "'tis enough. 'twill serve." My notes are below.
Castello di Farnetella 2004 Chianti Colli Senesi ($11.99)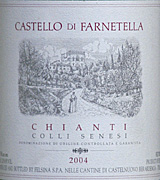 Very dark reddish-purple with ruby glints. Good, benchmark Chianti aromas and flavors: Black cherries are up first on the nose and palate, with an overtone of leather and a back note of subtle spice. Fresh and bright, mouth-watering acidity and soft, barely perceptible tannins. A fine wine, and it doesn't require excessive alcohol to please. Tart black-cherry fruit in a long, appetizing finish. U.S. importer: Polaner Selections, Mount Kisco, N.Y. (July 27, 2007)
FOOD MATCH: A natural with pan-seared natural lamb chops; it wasn't bad, either, with the accompanying flavors of fresh heirloom tomatoes and spaghetti with butter and sage.
VALUE: Not only is the 12.5% alcohol moderate, but so is the price: A buy-it-by-the-case choice in the low teens.
WHEN TO DRINK: A couple of years in the cellar won't hurt it, but it's drinking beautifully now and probably won't ever get any better than this.
WEB LINK:
The Felsina Website is available in Italian, English, French, German and Japanese. Here's the English-language start page for its Farnatella property:
http://www.felsina.it/eng/farnetella/intro.htm
Here's a fact sheet on this wine from Polaner Selections, a U.S. importer:
http://www.polanerselections.com/portfolio.php?pID=2222&prodID=2210
FIND THIS WINE ONLINE:
Check prices and find vendors for Farnetella Chianti on Wine-Searcher.com:
http://www.wine-searcher.com/
find/Farnetella/-/-/USD/A?referring_site=WLP

Talk About Wine Online
If you have questions, comments or ideas to share about today's article
or wine in general, you're always welcome to drop by our online
WineLovers Discussion Group. This link will take you to the forum home page, where you can read discussions in all the forum sections:

http://www.wineloverspage.com/forum/village
Everyone is free to browse. If you'd like to post a comment, question or reply, you must register, but registration is free and easy. Do take care to register using your real name, or as a minimum, your real first name and last initial. Anonymous registrations are quietly discarded.
To contact me by E-mail, write wine@wineloverspage.com. I'll respond personally to the extent that time and volume permit.
PRINT OUT TODAY'S ARTICLE
Here's a simply formatted copy of today's Wine Advisor, designed to be printed out for your scrapbook or file or downloaded to your PDA or other wireless device.
http://www.wineloverspage.com/wineadvisor2/
2007/07/recent_rants-print.html

This week on WineLoversPage.com
• For The Love of Port: Roy's 2004 Port Wine Forecast
The trend toward more frequent releases of "second label" Vintage Port seems here to stay, and it looks to be a positive for both the Port trade and consumers, says Port expert Roy Hersh, who offers this extensive report on the Vintage Ports of 2004.
http://wineloverspage.com/port/2004forecast.phtml
• Our Internet radio "TalkShoe": Learning German wine
Our resident specialist David Bueker promises to gently transform us from novice to connoisseur level German wine expert in two episodes. We'll talk about German label deciphering and the basics in our next Internet Radio TalkShoe on Saturday, Aug 4, at 1 p.m. US EDT (10 a.m. on the U.S. West Coast and 19:00 in Western Europe).
http://wineloverspage.com/talkshoe/
On the last TalkShoe, we covered wine service, both serving wine at home and dealing with the sommelier or wine steward when dining out. It's now available, with all our archived editions, in streaming audio online. Click to listen:
http://wineloverspage.com/talkshoe/latest.htm
• WineLovers Discussion Group: $300 a bottle ... on futures!?
Yes, we know, supply and demand and critical acclaim equals rising prices. Still, $300 per bottle seems a bit like a sign of the End Times. Join this spirited conversation and add your opinion in our WineLovers Discussion Group!
http://www.wineloverspage.com/forum/village/viewtopic.php?t=9819

• Netscape/Compuserve Community Poll: Rising alcohol trend
Just about every wine enthusiast has an opinion about the modern tendency toward higher alcohol, as many wines have crept from 12 percent alcohol by volume to 14 or more. Some of the big-name critics seem to love it, but the development isn't universally hailed, and some voices are starting to cry, "Enough!" What's your opinion about rising alcohol in table wines? Evil, great, unfortunate or somewhere in-between? Cast your ballot in this week's CompuServe/Netscape forum poll!
http://community.netscape.com/winelovers?nav=messages&tsn=1&tid=5350