This article was published in The 30 Second Wine Advisor on Monday, May. 7, 2007 and can be found at http://www.wineloverspage.com/wineadvisor2/tswa20070507.php.
Wine Focus - Grüner Veltliner
Lovers of opulent, fat and happy "fruit bombs" may wish to look elsewhere, but for those who fancy sharp-edged, minerally white wines, Austria's signature Grüner Veltliner grape ranks right up there with Muscadet from the Loire and Mosel Riesling for its austere transparency, with extra credit for being just plain refreshing.
Don't let the unfamiliar name throw you: Even if you don't speak German, you can skip the umlaut on the first syllable and call it "Green-er Felt-leen-er" and everyone will know what you're talking about.
Or call it "GV" for short, as the grape's growing band of fanciers do. Indeed, a generation after an unfortunate adulteration scandal rocked the Austrian wine industry during the 1980s, GV is leading a resurgence in Austrian wine that has won a small but growing and very enthusiastic "cult" following.
Grüner Veltliner deserves that attention, not only because of its distinctive character but thanks to its easy food-friendliness. It makes a fine match with seafood and fish, stands up to poultry and pork, and, increasingly, is becoming a go-to wine for Southeast Asian fare, particularly Vietnamese and "fusion" Pacific Rim cuisine. And to put the icing on the cake, with the possible exception of a few of the most sought-after labels, GV remains delightfully affordable.
GV was such a popular topic in our online forums' "Wine Focus" feature last spring at this time that we thought we'd herald the arrival of warmer weather by doing an encore again this month. Throughout May, we invite you to share your tasting notes, talk about the wine and ask questions in the Wine Focus section of the WineLovers Discussion Group,
http://www.wineloverspage.com/forum/village/viewforum.php?f=18
Here are my quick notes on three recently tasted GVs, each somewhat different in style but all invitingly affordable in the $10 range:
Domäne Wachau 2004 Terrassen Federspiel Grüner Veltliner ($9.99)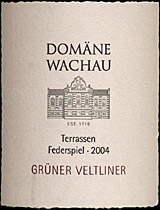 This is a transparent straw-color wine with a simple and fresh citric limey scent that invites a taste. I find tart limes on the palate, too, along with an appealing, subtle "rainwater over rocks" minerality. On the simple side, perhaps, but clean, fresh acidity makes it a fine food wine with a long, refreshing finish. It makes a good match in a sometimes difficult pairing, fresh asparagus, simply steamed with salted Normandy butter. U.S. importer: Vin Divino Ltd., Chicago. (May 6, 2007)
Find it on Wine-Searcher.com:
http://www.wine-searcher.com/
find/Domane%2bWachau%2bGruner/-/-/USD/A?referring_site=WLP
Freie Weingärtner Wachau 2004 Grüner Veltliner ($11.99)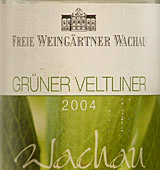 Described as "Qualitätswein Trocken" ("dry wine of quality") on the back label, it's a clear, pale straw color with a light greenish hue. The aromas start with limey citrus, but it's overshadowed by a strongly earthy element of damp wool or dried green peas or lentils ("lentil" is a common descriptor in GV, though not one I often choose. Lime, white pepper and stony "rainwater" come together on the palate a bit more attractively than in the somewhat awkward nose, with tart structural acidity lingering in a long finish. It made a fine match with sauteed fresh halibut with Japanese spice. U.S. importer: Vin Divino Ltd., Chicago. (May 4, 2007)
Find it on Wine-Searcher.com:
http://www.wine-searcher.com/
find/Freie%2bWeingartner%2bGruner/-/-/USD/A?referring_site=WLP
Loimer 2004 Grüner Veltliner "dry" ($9.99/1 liter)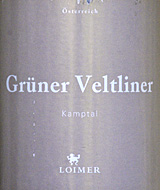 Transparent straw color. Fresh citrus and a whiff of characteristic Grüner "green pea" on the nose. Intense limey citrus and subtle white pepper in the mouth. Snappy acidity adds structure, especially in the finish. Demonstrating GV's affinity for Asian-accented fare, it was a fine match with the "tofu steaks" smothered with fresh spinach sauteed with bacon, soy and lime featured in last week's 30 Second Wine Advisor FoodLetter. Great value for less than $10 in the oversize liter bottle. U.S. importer: Vin diVino Ltd., Chicago. (April 30, 2007)
Find it on Wine-Searcher.com:
http://www.wine-searcher.com/
find/Loimer%2bGruner/-/-/USD/A?referring_site=WLP
This week on WineLoversPage.com
• Our Internet radio "TalkShoe": Sweet wines, vintage talk, and a new, easy hotlink!
Looking for something sweet? We talked about a world of dessert wines on last week's Internet Radio TalkShoe. Coming up next time: Vintage. What does it mean, and why is it important? Now streaming audio is available so it's easier than ever to listen to last week's show (and all past editions)! Click to tune it in ...
http://wineloverspage.com/talkshoe/latest.htm
To participate in the live TalkShoe, now at a new time for your convenience, you can call in live on Saturday, May 12, at 1 p.m. US EDT (19:00 in Western Europe). For all the details, click to the TalkShoe page,
http://wineloverspage.com/talkshoe/
• WineLovers Discussion Group: Would you pay $150 for a wine that Parker rated 96?
As usual, questions about the world's most controversial wine critic, like this post from an Argentine wine lover, can kick off an enthusiastic discussion. Happily, our WineLovers Discussion Group participants kept it civil. Read the comments, and add your own, in this hot topic:
http://www.wineloverspage.com/forum/village/viewtopic.php?t=7943
• Netscape WineLovers Community Poll: Favorite cork puller
Assuming that you haven't gone over entirely to screw caps, the cork extractor is still perhaps the wine enthusiast's most indispensible tool. But which cork extractor? Do you favor the old-fashioned two-wing puller? The so-called "waiter's model" that resembles a pocket knife? The two-pronged "Ah-So" that works its prongs down opposite sides of the cork? Or maybe a fancy hand-held or table mounted lever model? Everyone has a favorite, and we invite you to tell us yours in this week's Netscape/CompuServe Community poll.
http://community.netscape.com/winelovers?nav=messages&tsn=1&tid=5239