This article was published in The 30 Second Wine Advisor on Friday, May. 11, 2007 and can be found at http://www.wineloverspage.com/wineadvisor2/tswa20070511.php.
Exploring Burgundy - Mercurey
As we continue our recent quest for (relative) value in the pricey realms of Burgundy, I think it's becoming increasingly clear that enjoying these wines at prices that most of us can afford involves both careful searching and some compromise.
If we can't justify the price of grand crus or top vineyards, we can at least turn to wines from broader village appellations and slightly less favored properties. We rely on trusted producers and importers to guide us to comparative value, accepting that if we can't justify an investment in greatness for everyday drinking, we can still enjoy wines that are very, very good.
Last month, in my April 20 report on Givry, we talked about the Côte Chalonnaise, the hillside vineyard region that lies just south of the more sought-after Côte de Beaune region of the Côte d'Or, not much more than 15 kilometers (about 10 miles) south of Beaune.
Today let's return to the Côte Chalonnaise for a tasting report on a Mercurey, another Burgundy village known for red Burgundy that's consistently fine - and sometimes better than just fine.
Mercurey produces almost as much wine (most of it red) as its Chalonnaise neighbors Givry, Rully and Montagny together, and nearly 30 of its vineyards - including today's featured wine - are designated premier cru. The critics are all but unanimous in declaring it the best of the Chalonnaise. And while this reputation is reflected in rising prices, it would nevertheless be difficult to find a premier cru from anywhere in the Côte d'Or that comes close to the quality-price ratio of today's Mercurey at its lower $30s price.
François Raquillet 2005 Mercurey 1er Cru "Les Naugues" ($31.99)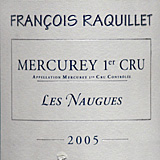 Like many of the 2005 Burgundies we've encountered, this wine is dark for the genre, a very dark reddish-purple color that shades from a garnet rim to an almost black center. Plum and black-cherry aromas add a whiff of an attractive rosy floral note. Flavors are consistent with the nose, black fruit beautifully balanced by fresh, crisp acidity; soft tannins gently blanket the finish. U.S. importer: Vintner Select, Mason, Ohio, and other regional importers. (April 26, 2007)
FOOD MATCH: Versatile and food-friendly like all Pinots, it found its natural partner in a traditional pairing with a locally produced grass-fed rib eye steak pan-seared medium-rare.
VALUE: Like the other Burgundies that we've been surveying in this weekly series, it's priced above the everyday level in the lower $30s, but in competition with more sought-after Burgundies - or for that matter, other world-class reds - it's more than fairly priced in the lower $30s.
WHEN TO DRINK: Drinking beautifully now, but tannins and good balance suggest that it will benefit from careful cellaring for five years or more.
PRONUNCIATION
Mercurey = "Mehr-coo-ray"
WEB LINK:
The importer Vintner Select has a fact sheet (in Adobe PDF format) about François Raquillet and his wines at this link:
http://www.vintnerselect.com/Producer_Sheets/France/RAQUILLET.pdf
FIND THIS WINE ONLINE:
Check prices and find vendors for François Raquillet's wines on Wine-Searcher.com:
http://www.wine-searcher.com/
find/Raquillet/-/-/USD/A?referring_site=WLP