This article was published in The 30 Second Wine Advisor on Monday, Mar. 12, 2007 and can be found at http://www.wineloverspage.com/wineadvisor2/tswa20070312.php.
Short stuff
The three steps of analytical wine tasting are simple and fairly well-known: First we look at the wine. Then we smell the wine. Only then, after we've absorbed its appearance, color and aromatic profile, do we finally taste the wine and mentally put all our impressions together.
Not so fast!
Along with all the other elements of this pleasant sensory ritual, don't neglect to give a moment of attention to what happens after a taste of wine goes down the hatch.
The wine's "finish" - also known as its "aftertaste" - offers yet another data point in the effort to bring purported objectivity to a tasting process that's necessarily subjective.
Although it might seem awfully finicky to worry about what a wine tastes like after it's no longer in your mouth, the concept is not altogether trivial.
Wine judges generally evaluate finish on two criteria: Whether the flavors detected in the aftertaste are similar to the wine's flavor in your mouth or if they change in some way (and, if so, whether that change is for the better or for the worse); and how long the aftertaste lasts before the last hint of flavor finally disappears. (The French actually seek to measure this persistence, using the term "caudalie" or "tail" to record the exact number of seconds that the post-tasting flavors last.
Of course most of us don't take a stopwatch to a tasting session. And I wouldn't argue that finish is one of the more important elements in tasting. But there's no real debate that a long, clean finish is a positive thing. Conversely, an unusually short finish may end your tasting with a disappointing sensation even if the wine was good.
So it was with today's featured wine, an earthy, rather tannic 2005 Dolcetto d'Alba from Giovanni Rosso. The wine was decent, and typical of its Northwestern Italian genre. It was surprisingly "short," though, its flavors disappearing surprisingly fast after each taste.
Call it "short stuff," and knock it down a point or two.
Giovanni Rosso 2005 Dolcetto d'Alba "Le Quattro Vigne" ($15.99)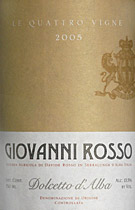 Very dark garnet in color, this Northwestern Italian red puts earthy red-clay minerality forward in the aroma, with black plums and blueberries lurking more shyly beneath. Rather light-bodied, tart and tannic; "dusty" black-fruit flavors follow the nose. Earth and tannins mark it as a fairly typical Dolcetto, but it's a bit short in the finish. This is not a fatal flaw, but it's a bit disappointing when lingering flavors go "poof" shortly after you swallow. U.S. importer: Sherbrooke Cellars, NYC. (March 11, 2007)
FOOD MATCH: A Tuscan-influenced dish, duck and wild-mushroom ragu over fusilli in an aromatic sauce over fusilli pasta, makes a fine partner with the earthy character of this wine.
VALUE: The mid-teens appears to be the standard price point for Dolcetto these days.
WHEN TO DRINK: In my experience, Dolcetto debunks the conventional wisdom that tannic wines benefit from aging. It's best drunk up young, before the fruit fades to imperceptibility.
PRONUNCIATION:
Dolcetto = "Dol-CHET-toe"
WEB LINK:
Giovanni Rosso has a brief, somewhat outdated Website in English, German and Italian at this link:
http://www.giovannirosso.com/
FIND THIS WINE ONLINE:
Giovanni Rosso Dolcetto comes up with only limited hits on Wine-Searcher.com:
http://www.wine-searcher.com/
find/Giovanni%2bRosso%2bDolcetto/-/-/USD/A?referring_site=WLP
It's currently in stock at my source, Chambers Street Wines in NYC, which will ship to many parts of the U.S.:
http://www.chambersstwines.com/