This article was published in The 30 Second Wine Advisor on Monday, Feb. 12, 2007 and can be found at http://www.wineloverspage.com/wineadvisor2/tswa20070212.php.

Pinot versus Pinot

In Burgundy, they've been growing and making great wine from Pinot Noir grapes for at least 500 years, a heritage that clearly has not been lost on vine growers and wine makers around the world.

But Pinot Noir is a notoriously tricky grape, and as recently as 20 years or so ago, wine writers - including me - would routinely dismiss New World Pinot as a riddle, an enigma that California and other places would love to solve if only they could.
What a difference a couple of decades makes!
Long before the movie Sideways turned Pinot Noir into a household name, producers in Oregon, and California's cooler valleys - not to mention similar ventures in New Zealand, here and there in Australia and beyond - were learning more and more about the climates, soils and clonal selections that would foster excellent Pinot.
And if much of the new wave of Pinot didn't exactly resemble Burgundy in its character and style, there's not really anything wrong with that, particularly from the point of view of wine lovers who value variety over conformity, as long as the wine is good.
Now that Sideways-inspired marketing has turned "Pinot Noir" into the modern equivalent of "a glass of red wine," some high-end New World bottlings are approaching the price levels of all but the most ethereal Burgundies. Sadly, some industrial producers are producing cheap, forgettable and barely varietally identifiable Pinot all over the world, too.
But how about the relatively affordable mid-range? In price ranges that most serious wine enthusiasts will at least consider for everyday enjoyment, how do New World Pinots stack up against the Old? To find out, I compared-and-contrasted two established labels from large but respected producers in France and California: Louis Jadot of Beaune in Burgundy, and Saintsbury of Carneros, the cool, bayside wine region that straddles the southern end of both Napa and Sonoma.
I didn't open them side-by-side in a "blind" tasting, choosing instead to enjoy them in a more informal setting as wine with dinner, sampling them on separate nights in fairly close proximity and taking careful notes in order to compare.
Viewed in that light, I'd rank both wines quite closely for both quality and value. The Burgundy, as you might expect, showed a bit more earthy minerality and tannic structure; the California wine held to its regional model with a bit more forward fruit and softer, but still ample, acidity. I enjoyed both wines very much, and while I'd like to seem them both selling closer to the low teens in an ideal world, had no complaints about either. I'd drink 'em again.
Louis Jadot 2004 Bourgogne Pinot Noir ($17.99)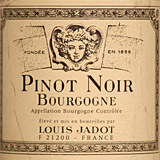 Dark garnet with a clear edge. Fresh bing cherries, clean if simple fruit, gains depth from a stony mineral backdrop that's impressive for a relatively modest Bourgogne. Crisp acidity and soft but perceptible tannins provide balance. U.S. importer: Kobrand Corp, NYC. (Feb. 11, 2007)
FOOD MATCH: A simple but credible Burgundy, it makes a fine pairing with a simple winter dinner, vegetable soup made with fresh veggies, beef shank meat and a strong beef stock.
VALUE: The rising price of Burgundies, and wines priced in Euros in general, takes its toll on a wine that once sold for $10 or below, but it's certainly competitive at this price in 2007. Note also that individual merchants quote widely variable prices for this label, so shop around.
WHEN TO DRINK: Meant for short-term enjoyment, but excellent balance and perceptible tannins suggest that it wouldn't suffer from a few years under good cellar conditions.
WEB LINK:
The Louis Jadot Website is published in French and English. Choose the French or British flag for the language you prefer:
http://www.louisjadot.com/
FIND THIS WINE ONLINE:
For Jadot's distributors in six continents, click "Distributors" from the Home Page.
Look up vendors and compare prices for Louis Jadot Pinot Noir Bourgogne on Wine-Searcher.com:
http://www.wine-searcher.com/
find/Jadot%2bPinot%2bBourgogne/-/-/USD/A?referring_site=WLP

Saintsbury 2005 "Garnet" Carneros Pinot Noir ($17.99)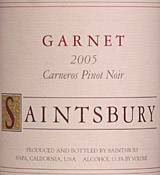 Ruby, clear and rather light, typical of cool-climate Pinot. Subtle but pleasant red-cherry aromas; crisp and fresh flavor, bright fruit and zippy acidity. Excellent food wine. It holds its own in this "shootout" against a comparably priced Bourgogne Pinot Noir: It's a little more fruity, a little more extracted, but pure flavors and good acidic balance serve it well. (Feb. 2, 2007)
FOOD MATCH: This Pinot shows its food-friendly nature, making a beautiful match in a red-wine-with-fish pairing, ahi tuna seared sushi-rare with garlic, ginger and a soy-lime marinade.
VALUE: I remember with nostlgia when Saintsbury Garnet was a great value at $10 or less, but that's not going to happen with a quality California Pinot in the age of Sideways. Even so, it justifies a high-teens price with quality.
WHEN TO DRINK: Although it's not a wine made for aging (Saintsbury fans enjoy it while waiting for the winery's "Carneros" bottling to mature), its balance and fruit will hold it for a reasonable term on the wine rack. Pinot is unpredictable in the cellar, but gamblers might give it a try.
WEB LINK:
The Saintsbury Website offers an article and fact sheet about Garnet Pinot Noir here:
http://www.saintsbury.com/wine_GarnetPinot.html
FIND THIS WINE ONLINE:
Look up vendors and compare prices for Saintsbury Garnet on Wine-Searcher.com:
http://www.wine-searcher.com/
find/Saintsbury%2bGarnet/-/-/USD/A?referring_site=WLP
TALK ABOUT WINE ONLINE:
To read and comment on today's column in our non-commercial WineLovers Discussion Group, click:
http://www.wineloverspage.com/forum/village/viewtopic.php?t=6425
Today's article is cross-posted in our Netscape WineLovers Community, where we also welcome comments and questions.
http://community.netscape.com/winelovers?nav=messages&tsn=1&tid=5103
To contact me by E-mail, write wine@wineloverspage.com. I'll respond personally to the extent that time and volume permit.
PRINT OUT TODAY'S ARTICLE
Here's a simply formatted copy of today's Wine Advisor, designed to be printed out for your scrapbook or file or downloaded to your PDA or other wireless device.
http://www.wineloverspage.com/
wineadvisor2/2007/02/pinot_versus_pinot-print.html

This week on WineLoversPage.com
• Oxford Town Wine: Celebrity wines
You've probably noticed some familiar names of celebrities on wine bottles. Wines have been made by movie, TV and sports personalities from the Smothers Brothers and Fess "Davy Crockett" Parker to Francis Ford Coppola and Greg Norman. Columnist John Juergens amuses himself - and us - with a little speculation about imagined wines from such luminaries as Paris Hilton, Britney Spears, Hillary clinton, Dick Cheney and George "Dubya" Bush.
http://www.wineloverspage.com/oxford/celeb07.phtml
• QPRwines: 2000-2002 West Coast Merlot
When we combine all the vintages by score and price, the 2001 has the only "Outstanding Value." The 2002 vintage has 13 of the 29 "Great Value" wines, the 2001 vintage has 11 and the 2000 has five. For detailed analysis of 401 Merlots, check out Neil Monnens' QPRwines.
http://www.wineloverspage.com/qpr/qprwines.phtml
• Today's Live "TalkShoe": Languedoc and more


On our interactive Internet radio TalkShoe today, we'll talk about the up-and-coming Languedoc wine region, the social aspects of wine and food, and how we describe such subjective impressions as smell and taste. You can listen to it at any time from the archives; and mark your calendar to catch next week's TalkShoe live on Monday, Feb. 12, at 1 p.m. US EST (10 a.m. PST, 18:00 in the UK, 19:00 in Western Europe). See our TalkShoe page for instructions, information and hotlinks.
http://wineloverspage.com/talkshoe/
• Our Wine Videos: Languedocs at Crus du Soleil
This week our world-roving vidcams enter one of our favorite neighborhood haunts, Crus du Soleil (Paris XIV arrondissement), where there's usually something new and surprising. We checked out a few wines from Pic Saint Loup and asked the expert how to pronounce "Languedoc."
http://www.wineloverspage.com/winevideo/
• WineLovers Discussion Group: Breaking Screwpulls?
The ScrewPull brand wine opener is popular because it's simple and foolproof. But how many of them have you broken? Tell your Screwpull stories in our WineLovers Discussion Group!
http://www.wineloverspage.com/forum/village/viewtopic.php?t=6369
• Netscape WineLovers Community Poll: Red or white?
You don't have to be a wine expert to join in this week's Netscape/CompuServe WineLovers Community poll: Do you prefer to drink (and collect) red wine, white wine or other ... or a little of each? Fill in the ballot, then see how your response compares with wine lovers around the world.
http://community.netscape.com/winelovers?nav=messages&tsn=1&tid=5102