This article was published in The 30 Second Wine Advisor on Wednesday, Feb. 21, 2007 and can be found at http://www.wineloverspage.com/wineadvisor2/tswa20070221.php.
Global warming and wine
The growing drumbeat of warnings about global climate change, a.k.a. "warming," is becoming increasingly difficult for any rational person to ignore. Last week the respected American Association for the Advancement of Science joined the chorus, declaring global climate change "a growing threat to society."
For wine lovers, the evidence is in the glass. As we've noted in past articles - "Global Warming in your glass," Oct. 9, 2006, and "Alcohol: Creeping upward?," Feb. 18, 2002, among others - heat-wave vintages around the world have fostered idiosyncratically inky, powerful wines from many world wine regions.
This gift of nature has played directly into increasing market demand based on high ratings by U.S. critics - particularly Robert M. Parker Jr. and Wine Spectator's writers - who seem to prefer fruit-forward "blockbuster" wines to more traditional styles focused on earth and elegance.
Hot vintages like 2000 and 2003 in Europe and 2001 in Northern California have yielded wines of critical acclaim, and prices seem to rise in tandem with alcohol levels and fruit extract. Meanwhile, the world of wine lovers is falling into opposing camps, separating those who love the jammy style from those who prefer the subtle complexity of more traditional wines.
With this as background, the higher-end wines of Europe's 2005 vintage are coming into the market, heralded by critical acclaim declaring it one of the greatest vintages ever. Based on my own negative reaction to some of the big, fruity but bizarrely atypical 2003s from Burgundy, the Northern Rhone and the Loire, I'm reserving judgment.
But that said, my first exposure to a 2005 Chinon - the usually earthy and elegant Cabernet Franc-based red wine of the Loire Valley - has me wondering. The Charles Joguet 2005 "Cuvée Terroir" Chinon, a Kermit Lynch import that's a perennial favorite for me - proved to be inky dark, surprisingly tannic, and atypically robust at a hefty 14% alcohol. Pleasurable, yes, but very idiosyncratic, prompting me to wonder if 2005 is shaping up as another 2003 in the Loire.
Joguet seems to think so, putting it with a merchant's positive spin on the winery Website: "Pure Gold for the Winegrower! A first assessment of the 2005 wine harvest: ideal climate and record degrees ... Could it be a sign of the global warming that we hear so much about these days? For our vines, in any case, drought and generous sunshine have once again placed this vintage in the firmament of great Loire wines. ... The first grapes analysed on 16 September heralded a record 13 to 14.5 (percent alcohol), as well as a somewhat high acidity level: a bit more time was needed to achieve the ideal balance."
Maybe. I'll be watching the '05s, and passing along my impressions. But based on this early taste, I suspect this may be one of those vintages in which I check the Usual Suspects' ratings ... then buy the wines they rate 89 and below.
Charles Joguet 2005 "Cuvée Terroir" Chinon ($18.99)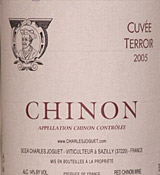 Very dark reddish-purple color, unusually inky for a Loire Cabernet Franc. Earthy nuances of red clay and dust dominate the first sniff, but abundant red-berry fruit quickly follows the mineral opening. Medium-bodied, full in flavor; snappy red fruit and soft but substantial tannins shaped by a surprising 14% alcohol make this an impressive red wine but a rather idiosyncratic Chinon. U.S. importer: Kermit Lynch Wine Merchant, Berkeley, Calif. (Feb. 6, 2007)
FOOD MATCH: The Joguet Website suggests pairing it with rillettes (potted meat), fresh goat cheese or poultry. It was a great match with chicken Musakhan, the Palestinian-style chicken dish baked with onions and sumac that I featured in the Feb. 8, 2007 Wine Advisor FoodLetter.
VALUE: Particularly under upward pressure from publicity about the quality of the 2005 vintage across France, it's hard to quibble with the upper teens for a wine of this quality, particularly if you also liked the fruity, powerful 2003s.
WHEN TO DRINK: The producer suggests drinking before 2010 and says there's no need to wait. I'm inclined to agree, although the tannins might be a bit smoother after a year or two.
PRONUNCIATION:
Chinon = "Shee-nohN"
WEB LINK:
Charles Joguet's in-depth Website is offered in French, German and English. Click the name of the language you prefer.
http://www.charlesjoguet.com
For a detailed sheet on the Cuvee Terroir, including notes on the 2005 and other recent vintages, see
http://www.charlesjoguet.com/en/les-vins/les-cuvees-desc.php?cuv=2
FIND THIS WINE ONLINE:
Check prices and locate vendors for Charles Joguet Chinon on Wine-Searcher.com:
http://www.wine-searcher.com/
find/Joguet%2bChinon/-/-/USD/A?referring_site=WLP