Global warming in your glass
As much as I might enjoy it, I'm not planning to get into the great political debate over global warming today. But I'll say this: It's mighty hard to be a wine lover in the 2000s and not suspect that something chaotic is going on with Earth's climate.
Wine, after all, as an agricultural product that's highly sensitive to the weather, makes a sensitive barometer for climate change. Hot summers foster quick and complete ripeness in the fruit, which translates to more sugar. Sugar turns to alcohol, thanks to the magic of fermentation, in the finished dry wine. And it can hardly pass without notice that the past 10 to 15 years in most of the world's temperate zones have seen a progression of record-hot summers unmatched through the 20th century, and an undeniable trend toward more alcoholic wines.
This trend was already attracting notice when I wrote about it four years ago ("Alcohol: Creeping upward?" in the Feb. 18, 2002 Wine Advisor.) This, of course, was before the summer of 2003 brought the hottest vintage on record through much of Europe, not to mention the chaotic, if not overheated, weather that flooded out some Europe's top wine regions in September 2002.
While 2004 and 2005 saw a return to still-warm but not record temperatures, "alcohol creep" continues, and even in northerly wine regions where attaining full ripeness in short, cool summers used to be the primary challenge, one rarely hears much any more about "chaptalization," the practice of adding sugar to the fermenting grapes to bring alcohol up to normal levels.
I've encountered a string of surprisingly alcoholic wines lately, including a 2003 Chateauneuf-du-Pape, a 2001 Vino Nobile di Montepulciano, a 2003 Napa Chardonnay and a 2002 Stags Leap Merlot that all came in over 14 percent. Perhaps even more surprising, even more modest wines seem to be trending in a similar direction, including the wines featured in today's tastings, a simple 2005 Côtes-du-Rhône and a decidedly low-end Spanish red blend at 14 percent.
I opened this topic on our WineLovers Discussion Group and prompted a good discussion, which you're welcome to join at
http://www.wineloverspage.com/forum/village/viewtopic.php?t=3837
Hitting a few of the high points:
• Bear in mind that higher alcohol is not necessarily a bad thing. Historically, some of the French appellations - Bordeaux Supèrieur, for instance - were established specifically to distinguish wines that reached an appropriate level of alcohol from their "lesser" comrades that couldn't make that grade. Alcohol contributes significantly to a wine's texture and mouthfeel, and wines lacking alcohol due to underripeness are generally "green," thin and less than pleasant.
• High-alcohol wines aren't necessarily unpleasant. As an obvious example, dessert wines such as Port - fortified with brandy to a heady 20 percent alcohol - offer delicious testimony to the contrary. And in fairness, I've had some fine, well-balanced high-alcohol wines, including Turley Zins and Petite Sirahs in the 15-16 percent range, and the well-balanced if powerful Stolpman Stags Leap Syrah (14.8%) and Robert Young Vineyard Napa Chardonnay (14.3%) featured in Friday's Wine Advisor. But it takes real wine-making skill to hold high alcohol in balance, and such seeming travesties as a 16.2 percent Viognier from a California Central Coast producer tend to inspire more hilarity than admiration.
• High alcohol may not always be under the vine grower's or wine maker's control. Overheated summers may foster quick, early ripeness before the grapes have been on the vines long enough to achieve the "phenolic maturity" that brings complex, interesting flavors, forcing a tough decision between picking early to avoid overripeness or waiting for phenolic maturity at the cost of very high sugar and alcohol.
• Climate change may not be the only variable. Modern wine-yeast strains have been developed that yield higher alcohol levels. The art of "canopy management," pruning grapevine leaves so as to increase or decrease the amount of ripening sunlight that reaches the grape bunches, can also be used to influence ripening. And modern, high-tech winery manipulation such as "spinning cone" technology and "reverse osmosis" may be used, among other things, to tweak alcohol levels.
• Although the techniques enumerated above were originally intended mostly for cool regions where natural ripeness needs a boost, critical praise for overweight "blockbuster" wines may inspire producers to get all the alcohol they can squeeze out of the grapes. There's no question that many wine enthusiasts like high-alcohol wines, but many more - particularly those who prefer more subtle wines in the "Old World" style - find wines in the 12 to 13.5 percent range generally better balanced and more compatible with food than their more potent brethren.
---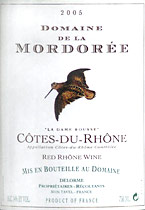 Domaine de la Mordorée 2005 Côtes-du-Rhône "La Dame Rousse" ($12.99)
A blend of 40% Grenache, 30% Syrah, 15% Cinsault, 10% Carignan and 5% Counoise, this is a very dark garnet wine, blackish at the center. Deep, plummy fruit, a whiff of woodsmoke and a shake of black pepper come together in a classic Rhône aroma profile. Flavors are consistent with the nose, intense and juicy black plums, pepper and mouth-watering acidity. It's full and rather warm at 14% acidity, but good balance carries it well. It's muscular but stylish. U.S. importer: Kysela Père et Fils Ltd., Winchester, Va. (Oct. 5, 2006)
FOOD MATCH: Any red meat will do, but for this robust item, a little aromatic spice helps the dish meet the wine. It was fine with "deconstructed" lamb shanks in a simple pan sauce with a hint of curry, over basmati rice and baby lima bean pilaf with a touch of cumin.
VALUE: No complaints at this low-teens price, which is a couple of bucks under the importer's suggested national retail, $15.99. Note that this producer also makes a Lirac that usually sells for a few dollars more.
WHEN TO DRINK: Although Côtes-du-Rhône is not traditionally rated as a cellar keeper, I'm in no doubt that this one won't suffer from a few years' aging.
WEB LINK:
The importer's Website features a detailed page on Domaine de la Mordorée, including fact sheets on its various wines and, in the spirit of today's report, a quote from Robert M. Parker Jr. praising its limited-edition, $300-a-bottle 2003 Chateauneuf-du-Pape "La Plume du Peintre" ... at 16 percent alcohol. Hmm.
http://www.kysela.com/rhone/mordoree.htm
FIND THIS WINE ONLINE:
Compare prices and find vendors for Domaine de la Mordorée on Wine-Searcher.com:
http://www.wine-searcher.com/
find/Mordoree%2bRousse/-/-/USD/A?referring_site=WLP

---
America's Oldest and Most Trusted Wine Club:
The California Wine Club!
Since 1990 The California Wine Club has featured California's best artisan winemakers. Why the focus on small wineries? Because we realized that smaller producers can handcraft wine in ways just not possible for larger wineries, and it's a difference you can taste in the first sip.
Try The California Wine Club for yourself and if you're not happy, we'll refund your money. In fact, for this week only, 30 Second Wine Advisor readers who join any club will receive half off the first month. Whether you are searching for award-winning value priced California wines, highly-rated and sought-after gems or international wines of elegance, The California Wine Club has a club to fit!
Choose to receive wines monthly, every other month or quarterly. Club prices start at just $32.95/month plus shipping and include:
Two bottles of hand-selected, limited-production wine
Informative and entertaining newsletter
Discounts of up to 50% on reorders
100% satisfaction guarantee
To take advantage of this week's HALF OFF offer, call 1-800-777-4443 and mention you are a 30 Second Wine Advisor reader. You may also visit our website at www.cawineclub.com for more information or to join a club.
---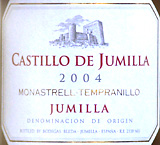 Castillo de Jumilla 2004 Jumilla ($7.99)
This Spanish red blend, a 50-50 mix of Monastrell and Tempranillo, is a very dark purple color, almost black in the glass. Shy aromas, delicate black cherries and plums plus earthy "tree bark," are reflected in a more fruit-forward flavor shaped by tart acidity and raspy tannins. Warming 14% alcohol imparts a touch of heat, but it remains within acceptable limits if a bit warm for food. U.S. importer: Bryant Distributing Co., Lexington, Ky. (Oct. 8, 2006)
FOOD MATCH: This hearty, strong red needs bold flavors to stand up to it, and finds them in a quick Franco-Italian creation, chicken sauteed in an aromatic mix of caramelized onions, garlic, bay leaf and thyme over short pasta.
VALUE: If you're a fan of the high-alcohol, full-bodied style, you'll be hard-pressed to find a better bargain than this low-end Spanish red.
WHEN TO DRINK: Both grape varieties make strongly cellar-worthy wines, and at this price, it wouldn't be a costly experiment to sock a few bottles away to see what happens.
PRONUNCIATION:
Jumilla = "Hoo-MEE-yah"

WEB LINK:
For basic information, click to the Spanish wine trade association site, Wines From Spain,
http://www.winesfromspain.com/
then enter "Castillo Jumilla" in the search block.
FIND THIS WINE ONLINE:
Find vendors and check prices for Castillo Jumilla on Wine-Searcher.com:
http://www.wine-searcher.com/
find/Castillo%2bJumilla/-/-/USD/A?referring_site=WLP

---
TALK ABOUT WINE ONLINE:
To read and comment on today's column in our non-commercial WineLovers Discussion Group, click:
http://www.wineloverspage.com/forum/village/viewtopic.php?t=3872

Today's article is cross-posted in our Netscape WineLovers Community, where we also welcome comments and questions.
http://community.netscape.com/winelovers?nav=messages&tsn=1&tid=4846
To contact me by E-mail, write wine@wineloverspage.com. I'll respond personally to the extent that time and volume permit.
PRINT OUT TODAY'S ARTICLE
Here's a simply formatted copy of today's Wine Advisor, designed to be printed out for your scrapbook or file or downloaded to your PDA or other wireless device.
http://www.wineloverspage.com/wineadvisor1/print061009.html
---
This week on WineLoversPage.com
Some highlights of recent articles on WineLoversPage.com that I hope you'll enjoy:
• QPRWines: 2001-2004 White Burgundy
When we compare these four recent White Burgundy vintages by score and price, the 2002 vintage has four "Outstanding Values" and 57 "Great Value" wines, the 2004 has one "Outstanding Value" wine and 31 "Great Values", the 2003 has 12 "Great Values," and the 2001 vintage has nine "Great Value" wines. For specific ratings and QPR reports on 1,152 White Burgundies, visit Neil Monnens' QPRwines.
http://www.wineloverspage.com/qpr/qprwines.phtml
• Hot topics in our WineLovers Discussion Groups
Our WineLovers' Discussion Groups are the best places online to ask wine questions and participate in the civil and intelligent discussion of good things to eat and drink. Our WineLovers Discussion Group (WLDG) is the Internet's original wine forum, a non-commercial venue intended for wine-related conversations that range from apprentice-level to wine professionals. Our WineLovers Community on the Netscape/CompuServe service is dedicated to wine education, a friendly place to get quick answers to your questions about wine, beer, spirits and all good things to drink.
Poll: Preferred alcohol content
This week's Netscape/CompuServe WineLovers Community poll follows up on today's topic with a simple question, in which we invite you to select the range of alcohol content that you generally prefer in your table wines. (Excluding fortified wines, which fall in a different normal range.) It's easy to vote - there's no need to register or log in - so we hope you'll take a moment to express your preference. Feel free to add a comment if you like!
http://community.netscape.com/winelovers?nav=messages&tsn=1&tid=4845
Screwcaps "faultless"?
The debate over screwcaps, synthetic closures and natural cork goes on. And on, and on, and on. There's a lot of light (and just a little heat) in this extended conversation on the WineLovers' Discussion Group. Read it and please feel free to add your own tuppence-worth, at this link:
http://www.wineloverspage.com/forum/village/viewtopic.php?t=3619
---
Last Week's Wine Advisor Index
The Wine Advisor's daily edition is usually distributed on Mondays, Wednesdays and Fridays (and, for those who subscribe, the FoodLetter on Thursdays). Here's the index to last week's columns:
• Corked? (Oct. 6, 2006)
http://www.wineloverspage.com/wineadvisor1/tswa061006.phtml
• Translating Teroldego (Oct. 4, 2006)
http://www.wineloverspage.com/wineadvisor1/tswa061004.phtml
• Bandol and a great book (Oct. 2, 2006)
http://www.wineloverspage.com/wineadvisor1/tswa061002.phtml
• Complete 30 Second Wine Advisor archive:
http://www.wineloverspage.com/wineadvisor1/thelist.shtml
• Wine Advisor FoodLetter: Encyclopedia or cookbook? (Oct. 5, 2006)
http://www.wineloverspage.com/wineadvisor1/tsfl061005.phtml
• Wine Advisor Foodletter archive:
http://www.wineloverspage.com/wineadvisor1/foodlist.phtml
---
SUBSCRIBE:
• WineLoversPage.com RSS Feed (free)
• 30 Second Wine Advisor, daily or weekly (free)
• Wine Advisor FoodLetter, Thursdays (free)

ARCHIVES:
For all past editions, click here

CONTACT US
E-mail: wine@wineloverspage.com

SPONSORSHIP OPPORTUNITIES:
For information, E-mail wine@wineloverspage.com

---