Wine Advisor's Premium Edition:
Cellarworthy Napa Cabernet

The next biweekly Wine Advisor Premium Edition goes out in E-mail tomorrow, and I'll be telling subscribers about a cellarworthy "boutique" Napa Valley Spring Mountain Cabernet that drinks like a wine worth two to three times its $30 price.

The Wine Advisor Premium Edition is my only fee-based publication. A subscription is just $24 for a full year of biweekly E-letters that focus on finding the best values among wines in more upscale price ranges. This modest charge, only $1 per issue and less than the price of a single bottle of high-end wine, will more than pay for itself in savings over the course of a year's quality-and-value recommendations ... and it's a great way to express your tangible support for everything we do here at WineLoversPage.com.

Subscribe now!
Free sample: Read last year's high-end tasting report.

Call me a cynic, but more often than not, when a wine merchant or wine maker spins me a tale like "This wine is actually declassified [fill in the blank}" or "That wine is grown just next door to [enter fabled vineyard here]," I'm inclined to make sure my wallet pocket is buttoned up tight.

On occasion, though, such claims are legitimate, and in my experience, when someone shows you a Southern Rhône wine from Alain Jaume's Domaine Grand Veneur, you can feel comfortable about popping it into your shopping cart.

This two-century-old family property near the historic village of Orange includes about 120 acres of vineyards that spread across parts of the Cotes-du-Rhône, Cotes-du-Rhône Villages and Lirac appellations as well as the fabled Chateauneuf-du-Pape. Grand Veneur's top-of-the-line Chateauneuf is a consistent favorite for me, and retains some vestige of value even in today's rising market, with the much-hyped 2003 going for a suggested retail price of $44 even after garnering a "90-92" preliminary rating from Robert M. Parker Jr.

But for a real deal, call "Domaine-Grand-Veneur-2003-Cotes-du-Rhône-Villages-"Les-Champauvins," a wine that makes a credible claim to "baby Chateauneuf" status with its vineyard just across the appellation line from Grand Veneur's Chateauneuf vineyard, sharing similar exposure and soil and much the same blend of grapes: 70 percent Grenache, 20 percent Syrah and 10 percent Mourvèdre. At a list price of $17.99 and a street price that may be a few dollars less, this is the closest that you're going to come to "genuine-imitation" Chateaneuf for under a double sawbuck. And to Jaume's considerable credit, he's handled the challenge of the overheated summer of 2003 in a wine that manages to carry its sturdy structure with very good balance. Highly recommended.

TALK ABOUT WINE ONLINE
If you'd like to ask a question or comment on today's topic (or any other wine-related subject), you'll find a round-table online discussion in our interactive Wine Lovers' Discussion Group, where you're always welcome to join in the conversations about wine.
http://www.myspeakerscorner.com/forum/index.phtml?fn=1&tid=67339&mid=578728

If you prefer to comment privately, feel free to send me E-mail at wine@wineloverspage.com. I'll respond personally to the extent that time and volume permit.

PRINT OUT TODAY'S ARTICLE
Here's a simply formatted copy of today's Wine Advisor, designed to be printed out for your scrapbook or file or downloaded to your PDA or other wireless device.
http://www.wineloverspage.com/wineadvisor1/print051017.html
---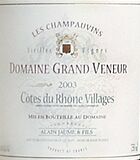 Domaine Grand Veneur 2003 Cotes du Rhône Villages "Les Champauvins" ($15.99)
Clear dark ruby with a reddish-violet edge. Very ripe black fruit, plums and spice, wafts of Provence herbs and fennel in the background. Bold flavors follow the nose, ripe Grenache raspberries and black plums over tart acidity and somewhat rough tannins. A big wine, typical of '03, but producer Alain Jaume has solved the vintage's challenge with structure and balance in a wine that's likely to improve for several years to come. U.S. importer: Kysela Père et Fils Ltd., Winchester, Va. (Sept. 12, 2005)
FOOD MATCH: Full-bodied, tannic red Rhones find their natural match in rare red meat; we paired it effectively with a pan-seared rib eye steak.
VALUE: My local price in the mid-teens beats the importer's possibly inflated "suggested retail" by two bucks; in any case, this very fine "Baby Chateauneuf" looks like a buy at well under half the price of its bigger brother.
WHEN TO DRINK: As noted, this gutsy, upper-tier Cotes-du-Rhone is likely to improve under at least a few years' cellaring, and I wouldn't bet against it with more extended cellar time.
WEB LINK:
Alain Jaume & Fils, the producers of Domaine Grand Veneur, publish an informative Website in English and French.
http://www.domaine-grand-veneur.com
For more about Domaine Grand Veneur, see the U.S. importer's Website,
http://www.kysela.com/rhone/grandveneur.htm
FIND THIS WINE ONLINE:
Check vendors and prices for Grand Veneur "Les Champauvins" on Wine-Searcher.com:
http://www.wine-searcher.com/find/Veneur%2bChampauvins/-/-/USD/A?referring_site=WLP
---
CellarTracker!
Cellar management software and community tasting notes
Whether you have 20 bottles or 2,000, a good cellar management system will allow you to better stay in touch with what you have and what you like and what you should be collecting. The innovative CellarTracker system doesn't just organize your cellar; it links you to a vibrant international community of wine lovers. It's fast and easy to use, and you can try it out for free!
With thousands of users, a database of 100,000 wines and more than a million bottles being tracked, it is easy to create your own virtual cellar. Once registered, you can search their virtual wine cellar by producer, vintage, varietal and maturity, as well as log personal tasting notes, price, valuation data and more. You can even barcode your bottles and print a professional looking, restaurant-style wine list. CellarTracker! is accessible from any Web browser as well as a PDA or web-enabled cell phone. You can record as little or as much information as you care to track.
For more information or for a free trial (no install required), please visit
http://www.cellartracker.com
---
California Wine Club: 100% Focus ... 100% Varietals
From acclaimed winemaker, Bill Arbios, who states ... "Winemaking defines the essence of my life," The California Wine Club's Special Edition for October features two incredible wines: Arbios Cellars 2000 "Alexander Valley" Cabernet Sauvignon is Bill's signature wine. Made from 100 percent Cabernet Sauvignon grapes, this wine received 90 points from Wine Enthusiast; Wine Spectator writes "Graceful, with a fine balance of currant, cherry and roasted herb nuances ..." It is paired with sister winery Praxis Cellars 2003 "Sonoma County" Sauvignon Blanc, a Silver Medal, 87-point-rated wine of, again, 100 percent varietal grapes. Both wines are available this month for $32.95 plus shipping. Call 1-800-777-4443 or shop online at
http://www.cawineclub.com?Partner_ID=winelovers
---
This week on WineLoversPage.com
Here are links to some of our recently published articles that I think you'll enjoy:
• Wood on Wine: Not the End of the Road
Writer Linwood Slayton thought his lifelong wine journey was over this summer when he was diagnosed with bladder cancer and faced a long and arduous path to recovery and wellness. He was unable to drink a drop of wine for well over two months.
http://www.wineloverspage.com/wood/gusto.phtml
• Wine Lovers' Discussion Group: Visiting Paso Robles and Santa Ynez Valley
Visiting "Sideways" country, a reader requests, and receives, a boatload of advice about wineries, eateries and accommodations.
http://www.myspeakerscorner.com/forum/index.phtml?fn=1&tid=67290&mid=578275
---
Last Week's Wine Advisor Index
The Wine Advisor's daily edition is usually distributed on Mondays, Wednesdays and Fridays (and, for those who subscribe, the FoodLetter on Thursdays). Here's the index to last week's columns:
• Blonk, not plonk (Oct. 14, 2005)
http://www.wineloverspage.com/wineadvisor1/tswa051014.phtml
• Tuscany meets 2003 (Oct. 12, 2005)
http://www.wineloverspage.com/wineadvisor1/tswa051012.phtml
• Happy (Canadian) Thanksgiving (Oct. 10, 2005)
http://www.wineloverspage.com/wineadvisor1/tswa051010.phtml
• Complete 30 Second Wine Advisor archive:
http://www.wineloverspage.com/wineadvisor1/thelist.shtml
• Wine Advisor FoodLetter: Santoku! (Oct. 13, 2005)
http://www.wineloverspage.com/wineadvisor1/tsfl051013.phtml
• Wine Advisor Foodletter archive:
http://www.wineloverspage.com/wineadvisor1/foodlist.phtml
---
SUBSCRIBE:
• WineLoversPage.com RSS Feed (free)
• 30 Second Wine Advisor, daily or weekly (free)
• Wine Advisor FoodLetter, Thursdays (free)
• Wine Advisor Premium Edition, alternate Tuesdays ($24/year)

ARCHIVES:
For all past editions, click here

CONTACT US
E-mail: wine@wineloverspage.com

SPONSORSHIP OPPORTUNITIES:
For information, E-mail wine@wineloverspage.com

---