Raising a glass to Karl Haas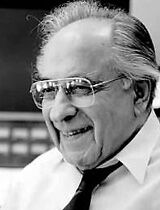 I never got around to sending a fan letter to Dr. Karl Haas, and now I deeply regret that I didn't do so before it was too late: The grand old man of classical-music radio died last month at the ripe old age of 91, having actively produced his daily public-radio program, Adventures in Good Music, until he was in his late 80s in 2003.
Why am I writing a belated memorial to a music educator in a column about wine? There's a connection, for me a deep and lasting one, and I'll ask you to indulge me in a brief, personal reminiscence that takes us away - but not too far away - from wine.
A native of Speyer-am-Rhein in Germany who fled the Nazis to come to the U.S. with his family as a young man in 1936, Haas was a lifelong musician, trained at the universities of Mannheim and Heidelberg and a student of the great pianist Artur Schnabel. He began his radio program in Detroit, his American home, in 1959, and was on air virtually daily for almost 45 years.
Adventures In Good Music
became one of the most popular classical-music programs in the English-speaking world, broadcast across the United States, Canada, and as far away as Australia and the worldwide Armed Forces Radio network.
I first heard him on WUOL-FM in Louisville in the late 1970s and became an instant fan ... his rumbling voice, with just a hint of his native German barely coloring otherwise perfect English, was as instantly recognizable as his theme - the slow movement of Beethoven's Pathetique sonata - which he played, himself, on the piano, as he did many musical passages to illustrate his topics.
When I later came to public-radio broadcasting myself in a very small way, talking about classical music - and a few words about food and wine - on tiny Radio Catskill in Jeffersonville, N.Y., with maybe a few hundred year-round listeners swelling to a couple of thousand during the summer vacation season, I quite consciously modeled my program on Dr. Haas, joking that I lacked only his German accent and, of course, his musical knowledge to make the emulation work.
But in a very deep and serious way, I loved the way that the man communicated, and I'm in no doubt that his approach to sharing his deep knowledge and love of music has informed and inspired my own approach to sharing what little I know and love about food and wine.
He was erudite, used big words and salted his talk with literary and historical references that stretched his listeners' minds, declining to "dumb down" his words for the sake of popularity; yet he remained chatty and conversational, never difficult to understand, never stuffy, never a snob. He loved puns, the crazier the better, and often titled his daily programs with wordplay so groanworthy ("The Joy of Sax," "Rare and Well-Done" and, um, "Baroque and in Debt") that you couldn't help but laugh. Most important, his passion for his subject, and his eagerness to share it, showed through in every line he uttered. Here was a man who brought humor and intelligence to his work. He was having great fun and loved what he was doing, and it showed.
These are not bad things for any communicator to learn, and every time I start this column with a bad pun, or drop in a multi-syllabic word or obscure reference just to see how many of you will get it, or even just come to the keyboard in the morning thinking, "Oh, boy, I get to write another Wine Advisor today," I owe a small debt to Dr. Haas for showing the way. And I only hope that I can communicate a fraction of the love for my subject - and my eagerness to share it - that he brought to his creative work.
"Adventures in Good Music" continues in reruns on more than 100 public-radio stations in the U.S. and Australia, so Dr. Haas's gentle voice and great good humor is likely to remain on the air for many years to come.
But I personally regret that for all the times I thought I ought to write that guy and tell him how much I admired him, I never got around to doing that. So if there's any lesson to be gleaned from today's off-topic discussion on a chilly, rainy Good Friday, it might be this: If there's someone out there who you admire, who's quietly influenced your life in some way, and you've never got around to telling him so, why not go ahead and do it?
Farewell, Dr. Haas. We're going to miss you.
WEB LINKS:
Here is Dr. Haas's obituary on the Website of WCLV-FM in Cleveland, which had produced Adventures in Good Music since 1970:
http://www.wclv.com/skin/blurb.php?sectionId=180&contentId=52071
Another Haas memorial tells of the professor at Southern Indiana University in Evansville who was Dr. Haas's "biographer, researcher, producer, manager, editor and devoted friend."
http://www.courierpress.com/ecp/entertainment/article/0,1626,ECP_738_3607873,00.html
PRINT OUT TODAY'S ARTICLE
Here's a simply formatted copy of today's Wine Advisor, designed to be printed out for your scrapbook or file or downloaded to your PDA or other wireless device.
http://www.wineloverspage.com/wineadvisor1/print050325.html
TALK ABOUT WINE ONLINE
If you'd like to ask a question or comment on today's topic (or any other wine-related subject), you'll find a round-table online discussion in our interactive Wine Lovers' Discussion Group, where you're always welcome to join in the conversations about wine.
http://www.myspeakerscorner.com/forum/index.phtml?fn=1&tid=59817&mid=512063
If you prefer to comment privately, feel free to send me E-mail at wine@wineloverspage.com. I'll respond personally to the extent that time and volume permit.
---
A special tribute to a special person demands a tasting report for a special wine. Here's an unusual item, received as a gift, that I enjoyed last month but hadn't thought suitable for publication as an everyday tasting report since it's no longer available in the marketplace and because its upper-double-digit value is well above our usual budget range. A 28-year-old Malbec from a respected Argentine producer, it was held at the winery for nearly two decades before its release in the late 1990s.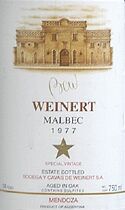 Weinert 1977 Mendoza Malbec
Very dark, blackish-purple in color with a bright red-violet edge, this wine shows absolutely no visual signs of age. Black-fruit aromas are framed by leather and discreet "horsey" notes akin to a well-aged Rhone red. Flavors are consistent, ripe black fruit shaped by tart acidity, with earthy elements that follow the nose. Going strong, in no way over-the-hill, it actually opens up with extended airing in the glass, adding complex nuances of cocoa and a floral perfume. Very fine wine, demonstrates the best that was coming out of Argentina a generation ago. U.S. importer: Vinos USA Inc., Waynesville, N.C. (Feb. 14, 2005)
FOOD MATCH: In a salute to its natural accompaniment, Argentine beef, we paired it with great success with a pepper-crusted natural ribeye steak from a Kentucky producer, Green River Cattle Co.
FIND THIS WINE ONLINE:
Find vendors and compare prices for Weinert 1977 Malbec on Wine-Searcher.com:
http://www.wine-searcher.com/find/Weinert%2bMalbec/1977/-/USD/A?referring_site=WLP

---
SUBSCRIBE:
• WineLoversPage.com RSS Feed (free)

• 30 Second Wine Advisor, daily or weekly (free)
• Wine Advisor FoodLetter, Thursdays (free)
• Wine Advisor Premium Edition, alternate Tuesdays ($24/year)

ARCHIVES:
For all past editions, click here

CONTACT US
E-mail: wine@wineloverspage.com

SPONSORSHIP OPPORTUNITIES:
For information, E-mail wine@wineloverspage.com

---
Administrivia
To subscribe or unsubscribe from The 30 Second Wine Advisor, change your E-mail address, or for any other administrative matters, please use the individualized hotlink found at the end of your E-mail edition. If this is not practical, contact me by E-mail at wine@wineloverspage.com, including the exact E-mail address that you used when you subscribed, so I can find your record.
We do not use our E-mail list for any other purpose and will never give or sell your name or E-mail address to anyone. I welcome feedback, suggestions, and ideas for future columns. To contact me, please send E-mail to wine@wineloverspage.com
All the wine-tasting reports posted here are consumer-oriented. In order to maintain objectivity and avoid conflicts of interest, I purchase all the wines I rate at my own expense in retail stores and accept no samples, gifts or other gratuities from the wine industry.
Friday, March 25, 2005
Copyright 2005 by Robin Garr. All rights reserved.
Subscribe to the 30 Second Wine Advisor
Wine Advisor archives