Bordeaux primeurs
There's a lot of activity going on in Bordeaux today, and even a hint of nervousness in the air, my friends in the region say.
The occasion? The primeurs ("Pree-mur") begin today. This two-week-long annual institution in Bordeaux is open only to invited wine-industry professionals and a handful of journalists. It doesn't get a lot of immediate publicity, but it may be one of the more important wine-related events that most wine consumers never see, because the primeurs set the scene for the annual sales of Bordeaux, one of the world's market-leading red-wine regions, and it's the first opportunity for wine buyers and a few wine writers to taste samples of last autumn's vintage.
(Although visiting VIPs may have been offered random "barrel samples" during earlier visits, the varietal components - the Cabernet Sauvignon, Merlot and Cabernet Franc and other permitted grapes that make up red Bordeaux - were only blended into what will be their final form last month. This makes the Bordeaux primeurs unusual because of the importance of blending to the wines of the region, as compared with Burgundy, for example, where the wine is all Pinot Noir for the reds and all Chardonnay for the whites.)
Starting today, and for the next two weeks, key representatives of major importers, distributors and wine merchants will make their way to Bordeaux for visits by appointment with virtually all of the major wineries, where they'll take notes and start thinking about what to buy, and how much they're willing to pay for it, when the producers announce their prices for the 2003s after the primeurs end. This is why the primeurs are so important to both the producer and the consumer: The opinions that wine professionals form during these two weeks will strongly influence the prices that each winery decides to set for its first "tranche" or price offering.
Once the prices are set and the bids made, consumers - or at least those affluent and passionate enough about Bordeaux to want to play - will be able to purchase the wines as "futures," paying now for future delivery. The wine itself will remain in barrels for another year or so before being bottled and shipped to merchants around the world next year.
Consumers will also soon begin seeing tasting notes and preliminary ratings on the 2003 Bordeaux from the big-name producers as visiting writers begin publishing their barrel-tasting reports. Take care, though, as youthful wines in barrel are hard to judge and likely to change significantly through natural evolution between now and their eventual appearance in stores. Barrel tastings offer only a shadowy forecast of the wine that is to be, and even the leading critics have often published barrel notes that required dramatic revision when the finished product arrived.
Although "barrel tasting" may imply a trek through a dark cellar, drawing tastes of wines directly from the casks, the scene at the primeurs isn't quite so romantic. The events occur in well-lighted tasting rooms, where samples drawn earlier are presented in fresh bottles with hand-written labels stuck on to identify the specific wine and its vintage along with the "tirage," the date when the wine sample was taken from the barrel.
Winery representatives, usually including top management and the chateau's "technical director" or chief wine maker, will be present and ready to answer questions, with translators available if necessary to ensure that information is available at least in French and English. Distributors from countries speaking other languages may bring along their own translator, so the scene may become a bit like a mini-United Nations.
Tastings are brief - there's a lot of ground to be covered in a short time - typically requiring no more than 10 to 15 minutes for each visitor. But they are also very thorough. A visiting wine-buyer's day in Bordeaux may begin shortly after breakfast and continue until evening, with 25 wineries or more on each day's itinerary. At each stop, they will taste the "grand vin" or leading label of the chateau as well as secondary labels, and may also request samples of earlier vintages for side-by-side comparison.
That's going to be doubly significant in Bordeaux this year because buyers, critics and consumers alike have been debating what the wines will be like after the hottest summer in more than half a century. The torrid summer of '03 yielded a relatively light harvest with smaller and more thick-skinned grapes than usual. The wines may be unusually concentrated, but will they be typical? It's a challenge to wine makers, and every producer hopes that the technical skills of their trained experts will take the fruit that nature provided, and present it at its best.
The world of wine lovers will be watching with considerable interest. For a preview, I'm delighted to have the fine and historic Château Palmer join today's 30 Second Wine Advisor as a commercial sponsor. The brief introduction below includes a link to a detailed Vintage 2003 report by Chateau Palmer's Technical Director Philippe Delfaut.
TALK ABOUT WINE ONLINE
You're always welcome to join in the conversations about wine in our interactive Wine Lovers' Discussion Group, where you'll find a round-table online discussion on today's topic here:
http://www.myspeakerscorner.com/forum/index.phtml?fn=1&tid=49659&mid=420052

If you prefer to comment privately, feel free to send me E-mail at wine@wineloverspage.com. I'll respond personally to the extent that time and volume permit.
---
Chateau Palmer 2003 Vintage Report
The 2003 vintage in Bordeaux was characterized by several very hot spells, reports Chateau Palmer's Technical Director Philippe Delfaut, in an exclusive report on the chateau's Website. He says this unusual weather accounted for a very low volume of small grapes with thick skins. Their perfect ripeness is reflected in high-class, well-balanced wines, which are sure to reveal the extraordinary character of this vintage in years to come.
To learn more about the remarkable vintage of 2003, "The year of the heat wave," we invite you to read M. Delfaut's
Château Palmer Chronicle

---
Now, for today's tasting report, we move from Bordeaux to a very good value in a Late Bottled Vintage (LBV) Port, a style of Port that is held in barrels for years after the vintage, to make a wine that can be enjoyed in the short term without the lengthy cellaring require to mature true Vintage Port.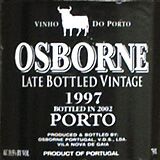 Osborne 1997 Late Bottled Vintage Porto ($16.99)
This LBV Port was bottled in 2002, five years after the vintage. Clear but very dark reddish-purple in color, it shows pleasantly complex aromas with plums and anise in the foreground, cherries and spice lurking behind them, with a sharp "vinous" edge that hints at its fortification with brandy. Full and round, sweet black-fruit flavors seem almost soft on the first taste, but "grippy" acidity and rather coarse tannins fill in structure as the wine crosses the palate. It ends as it began, with plums, anise and light spice in the finish. U. S. importer: W. J. Deutsch & Sons Ltd., Harrison, N.Y. (March 24, 2004)
FOOD MATCH: I like sweet wines best as dessert rather than with dessert, but it's also fine with a chunk of blue cheese, from Roquefort to Stilton to California Point Reyes blue, and very dark, not-too-sweet chocolate desserts can also make a persuasive match with young Port.
VALUE: Although LBV may lack the style and grace of true Vintage Port, particularly with maturity, this under-$20 price is a fraction the cost of the real thing, and a significantly better value than simple, non-vintage Ruby Ports that sell for only a few dollars less.
WHEN TO DRINK: Unlike Vintage Port, LBV doesn't particularly gain from cellar time; but its fortified strength will certainly keep it for years if you don't wish to consume it soon.
FIND THIS WINE ONLINE: Look for vendors and prices for Osborne 1997 Port on Wine-Searcher.com:
http://www.wine-searcher.com/find/Osborne/1997/-/USD/A?referring_site=WLP

---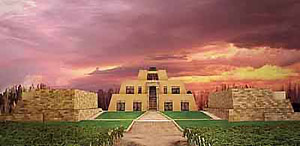 Tour participants will visit Nicolás Catena's new state-of-the-art winery at Agrelo, Mendoza.
Rancho San Diego Travel:
Wine Tour of the Andes
Louise and Bernard Streiff's Andes Wines Tour is designed to provide you with both a complete cultural experience and an appreciation of South American wines. With expert wine writer and consultant Michael Schachner as host, this memorable tour will visit wineries in Argentina and Chile at the best time, the southern hemisphere's early summer.
Wineries have been selected by Michael Schachner, who will add to your understanding and enjoyment of South American wines. Our small-group tour will be limited to 12 to 16 participants to ensure an intimate scale.
The tour begins in Buenos Aires on Dec. 1, then flies to the beautiful Mendoza wine region for visits and tastings at Catena Zapata, La Rural, Terrazas de los Andes and Norton wineries, with evening dinners at Norton and the famous "1884" restaurant.
Following a spectacular day of driving through the Andes Mountains, the group will arrive at Santiago de Chile on Sunday, Dec. 5. Chilean winery tastings will include Haras de Pirque, Concha y Toro, Viu Manent, MontGras, Casa Lapostolle, Santa Rita and Miguel Torres, with dinners at "Kilometre" in Santiago, one of the best restaurants in the city, and winery dinners at MontGras and Miguel Torres, concluding in Santiago for flights home on Dec. 11.
For the itinerary and more information about this unforgettable wine and cultural tour, see the Rancho San Diego Travel page on WineLoversPage.com,
http://www.wineloverspage.com/tour/ranchosandiego.shtml
For details and a brochure, contact Bernard Streiff, E-mail ranchobernard@yahoo.com
---
This week on WineLoversPage.com
Here are links to some of our recently published articles that I think you'll enjoy:
• Guide to Italian Wines: The latest from Amarone
Wine lovers can't seem to get enough of Amarone. Whether it's the big, ripe, almost sweet fruit or the raisiny character or the fact that it's a big wine with ample alcohol, it's more popular than ever these days. Italian wine expert Tom Hyland provides a quick overview of the latest from Amarone, with tasting notes on a baker's dozen of new releases.
http://www.wineloverspage.com/italwineguide/amarone1.phtml
• Wine Lovers' Discussion Group: From "corkage" to "bloatage"
Sacramento Bee wine writer Mike Dunne recently reported that Paul Bodington, a radio host in Brisbane, Australia, was so intrigued by the notion of "corkage" as a fee charged those who bring their own wine to a restaurant that he invited listeners to suggest similar charges. Some of their recommendations. They responded enthusiastically, coining such new terms as "spillage" for spilling your wine, and "message" for cleaning it up; "bloatage" for dining at the all-you-can-eat buffet, and "pillage" for taking a cold tablet. Well, you get the idea. Wine Lovers' Discussion Group participant Tom Hill invited our forum participants to contribute still more, and at last count up to 70 or so had responded. You can, too. Read the nominees, and add your own in the topic "Restaurant Charges":
http://www.myspeakerscorner.com/forum/index.phtml?fn=1&tid=49549&mid=419112
---
California Wine Club
Time is running out!
Your chance to save on some of California's most highly rated and hard-to-find wines ends in three days! All month we've been telling you about The California Wine Club's March Wine Sale and now you have just three days left to order! Visit
http://www.cawineclub.com/store/winesale?Partner_ID=winelovers
to view the full list of wines available. Super Savers for just $5.50 per bottle! Award-winning California wines just $99 per case! And all of their upper-level club wines are discounted between 20 and 58%.
Place your wine sale order online at
http://www.cawineclub.com?Partner_ID=winelovers
or call 1-800-777-4443. Either way, when you order be sure to mention The 30 Second Wine Advisor and they'll include an Engraved Collector's Wooden Wine Crate - free!
TASTING NOTES! To view Robin Garr's tasting reports on six of the wines featured in California Wine Club's sale, see the March 15 Wine Advisor,
http://www.wineloverspage.com/wineadvisor1/tswa040315.phtml#TN1
---
Last Week's Wine Advisor Index
The Wine Advisor's daily edition is usually distributed on Mondays, Wednesdays and Fridays (and, for those who subscribe, the FoodLetter on Thursdays). Here's the index to last week's columns:
• The many faces of Pinot Noir (March 26, 2004)
http://www.wineloverspage.com/wineadvisor1/tswa040326.phtml
• More talk about "talkers" (March 24, 2004)
http://www.wineloverspage.com/wineadvisor1/tswa040324.phtml
• Do shelf "talkers" talk to you? (March 22, 2004)
http://www.wineloverspage.com/wineadvisor1/tswa040322.phtml
• Complete 30 Second Wine Advisor archive:
http://www.wineloverspage.com/wineadvisor1/thelist.shtml
• Wine Advisor FoodLetter: Corned beef hash (March 25, 2004)
http://www.wineloverspage.com/wineadvisor1/tsfl040318.phtml
• Wine Advisor Foodletter archive:
http://www.wineloverspage.com/wineadvisor1/foodlist.phtml
---
SUBSCRIBE:
• 30 Second Wine Advisor, daily or weekly (free)
• Wine Advisor FoodLetter, Thursdays (free)
• Wine Advisor Premium Edition, alternate Tuesdays ($24/year)

ARCHIVES:
For all past editions, click here

CONTACT US
E-mail: wine@wineloverspage.com

SPONSORSHIP OPPORTUNITIES:
For information, E-mail wine@wineloverspage.com

---