Wine Focus - Viognier
It's been just over 2 1/2 years since we took our last close look at Viognier, the increasingly popular aromatic white grape that many of us who didn't grow up speaking French find easy to like but profoundly difficult to pronounce.
Practice saying it as "Vee-ohn-yay," though, and you should be able to order a glass without drawing a sneer from the snootiest sommelier; indeed, you may win praise for your sophisticated taste buds.
As I wrote in January 2004, when we took on Viognier as topic for our monthly Wine Tasting 101 feature, it hasn't been all that long when wine lovers thought of Viognier (if we thought of it at all) as a painfully rare grape variety, seen only occasionally in the offbeat, and expensive, Northern Rhone appellations Condrieu and Chateau-Grillet.
During the 1990s, though, the grape gained increasing attention - not least as an "Anything-But-Chardonnay" alternative - in California and other New World regions.
Some of the New World versions aren't easy to warm up to, particularly when producers choose to make it as a powerfully alcoholic, oak-infused points-chaser. But at its best, in California and France alike - Viognier shows luscious peach and apricot aromas with distinct floral overtones that serve as a trademark of the variety. (It may not be lost on offbeat-grape fanciers that the Spanish/Portuguese Albariño/Alvarinho, also an aromatic white that's gaining its own growing band of fans, bears a surprisingly similar aroma profile. A Viognier-Albariño matchup might make an appetizing and educational tasting.)
This fresh and aromatic quality shows at its best when the wine is young. With the possible exception of Chateau-Grillet, Viognier is not recommended as a candidate for cellaring. Drink it within two years of the vintage if you can, and don't consider it past its fourth birthday.
Viognier most often shows up in single-varietal bottlings, but it occasionally appears in blends, including a few splendid Chenin Blanc-Viognier bottlings from the Golden State. Less obviously, Viognier is a minor player in the blend of Cote-Rotie, a robust red wine from the Northern Rhone that gains a bit of complexity and heightened flavor from a splash of this aromatic white in the mix.
Our focus on Viognier this month also marks a slight evolution in the long-running Wine Tasting 101 feature, which this month moves from the Netscape WineLovers Community to our non-commercial WineLovers Discussion group and takes on a new title, "Wine Focus," to emphasize that the monthly grape variety or regional discussions are open to wine novices and more advanced enthusiasts alike. Meanwhile, the former "WT101" forum in the Netscape WineLovers Community also evolves a bit, with the new title "Wine of the Month" highlighting community tastings of a specific wine. More about that later this week.
---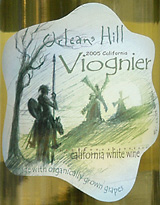 Orleans Hill 2005 California Viognier ($10.99)
Clear light gold. Peach nectar and vanilla aromas, ripe and full. Luscious texture and a hint of sweetness on the first taste segues to a finish that's more dry and tart, with medium body and a hint of alcohol (it's listed at 13.5%). Pleasant enough if just a bit awkward. It's from the same producers as the no-sulfites-added "Our Daily Red" featured last week, but the label language "Made from organically grown grapes" indicates that this wine is normally sulfited. (July 1, 2006)
FOOD MATCH: Viognier's heady aromatics call for bold flavors to match, and Cantonese shrimp with lobster sauce made a fine choice.
VALUE: Nothing at all the matter with this affordable price.
WHEN TO DRINK: Viognier in general is not for aging, and this fresh and fruit-forward model is no exception. It will last through the year, but don't cellar it.
WEB LINK:
Here's a link to the winery fact sheet on Orleans Hill Viognier:
http://www.ourdailyred.com/html/oh_viognier.html
FIND THIS WINE ONLINE:
Look for vendors and compare prices for Orleans Hill Viognier on Wine-Searcher.com:
http://www.wine-searcher.com/find/Orleans%2bHill%2bViognier/-/-/USD/A?referring_site=WLP