This article was originally featured in The 30 Second Wine Advisor's FoodLetter on Thursday, June 1, 2006.


Summer reading: Fire and Heat

You know you're obsessed with food and cooking, at least a little, if your idea of good, light summer reading is a cookbook.

"Cookbook," of course, is broadly defined. I've just finished two excellent new books, neither of which is a cookbook by the standard of, say, "Joy of Cooking," which translates the term as, essentially, "a collection of recipes."

Bill Buford's new "Heat" isn't a cookbook at all. It's a literary autobiography of a writer and editor who took a short-term, unpaid job as a "kitchen slave" in Mario Batali's restaurant for a New Yorker story and ended up so obsessed with the restaurant life that he changed careers. There's not a formal recipe in it ... but Buford's entrancing descriptions have given me ideas for a dozen Italian dishes that I've just got to reconstruct at home.

Joseph Carey's "Chef On Fire" is no recipe book either, even though it contains a couple of hundred of them. At the core, it's not about recipes but about procedure, introducing a concept that's brilliant for its simplicity: All cookery can be neatly organized into five fundamental processes that, once mastered, can turn any home cook into an expert.

Here's a little more information about both books. As usual when I review books, I have included links to Amazon.com, both for additional information and for your convenience if you should choose to buy either or both. If you do, your purchase through these links will return a small commission to WineLoversPage.com and help us pay the rent on our Internet servers.
Order Chef Joseph Carey's "Chef on Fire" from Amazon.com in paperback for $12.89, a 32 percent discount.

Regular readers will recall Joseph Carey as author of "Creole Nouvelle," (reviewed in the Jan. 27, 2005 FoodLetter). A New Orleans native and graduate of Indiana University, he was an executive chef in San Francisco for 16 years and now lives and works in Memphis, where he has opened several restaurants and owns and operates the Memphis Culinary Academy. Joseph is also an active participant in our online FoodLovers Discussion Group, where he's generous in sharing his cooking knowledge with fellow "foodies."

He brings his considerable teaching skills to bear in this new book, fully titled "Chef on Fire: The Five Techniques for Using Heat Like a Pro." It's built on the simple but compelling premise stated above: There are essentially just five basic methods of applying heat to food, and once you've mastered them, you can handle any dish.

So what are they? I thought you'd never ask.
Cooking with dry heat (Roasting, grilling and baking)
Cooking with wet heat (Boiling, simmering, poaching)
Cooking with fat (Frying, sautéeing)
Cooking with fat and liquid combined (Braising)
Extraction (Stocks, sauces and soups)
Carey describes each of these methods in detail, in language that's erudite yet clear, and illustrates them all with anecdotes and on-point recipes that work, an eclectic set of dishes that start down home (yeast rolls) and range around the world (bollito misto), with more than a touch of a Louisiana accent.
Definitely more than just a recipe book, it packs a remarkable amount of information into a food reference volume that may just change the way you look at cooking.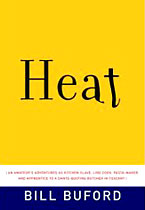 Order Bill Buford's "Heat" from Amazon.com in the hardcover edition for $15.57, a 40 percent discount.

I'll confess that I first came to Buford's "Heat, which is subtitled "An Amateur's Adventures as Kitchen Slave, Line Cook, Pasta-Maker, and Apprentice to a Dante-Quoting Butcher in Tuscany," with a bit of an attitude problem. Buford, a respected fiction editor and staff writer for The New Yorker, was getting so much advance publicity from his friends and neighbors, not excluding a lengthy excerpt in his own magazine and a glowing pre-publication review in The New York Times Book Review, that I skeptically wondered how much incestuous cheerleading might be going on.

But it only took about two pages of reading in my own advance copy to become captivated, and suddenly I realized: This guy wasn't just telling one whale of a food story in prose that flowed like a well-made bechamel, he was living my dream! Or maybe just about any crazed food-lover's dream, but still.

The story begins when FoodTV chef/personality Mario Batali turns up for a dinner at Buford's home and soon takes over the kitchen, and the party, with the force of a vividly portrayed personality. Buford quicly follows up by arranging to spend a few weeks as an unpaid "kitchen slave" in the kitchen of Batali's restaurant, Babbo; and before long he's in hot pursuit of a new career in restaurant kitchens, making repeated trips to Italy to work with and learn from Batali connections there. Each change of scene brings a new topic upon which to lavish a deep but entertaining digression, from the traditional method for fashioning tortellini (erotic little pasta belly buttons, who knew?) to an extended inquiry into the exact historical reference point at which eggs first replace water as the source of liquid in fresh pasta, a quest that actually required him to learn medieval Italian in order to peruse 16th century manuscripts.

Woven through the book is a thorough, irreverent and, perhaps, unauthorized biography of Batali that paints an entirely different and frankly more pardon-the-expression well-rounded portrait than the carefully groomed Food Network persona. We're also given considerable insight into the life and times of the network, with a few critical flashes that won't surprise many of us who don't find the network nearly as entertaining as it used to be.

In short, it's a wide-ranging, well-told story by and about an obsessed foodie, and if you share a similar obsession in even a smallish way, I think you'll love this book.

BUY THE BOOKS ONLINE:
Chef Joseph Carey's "Chef on Fire" is available from Amazon.com in paperback for $12.89, a 32 percent discount. Click
http://www.amazon.com/exec/obidos/ASIN/1589793064/robingarrswineloA/ to order online.

You can order Bill Buford's "Heat" online from Amazon.com in the hardcover edition for $15.57, a 40 percent discount.
http://www.amazon.com/exec/obidos/ASIN/1400041201/robingarrswineloA/

Again, at the slight risk of sounding like one of those interminable public-radio pledge drives, if you should choose to buy either or both books through these direct links, we'll earn a small commission that helps cover the costs of distributing this E-letter and maintaining the Website. For which I thank you.

WineLoversPage.com