WT101 - Austria
If German wine remains a surprisingly hard sell for many international wine enthusiasts, how do you think Austria feels? This smallish, German-speaking nation on Germany's southeastern flank produces only a tiny fraction of all the world's wine, and even some wine-savvy retailers who ought to know better will carelessly stock the Austrian wines in with the Germans, in the apparent belief that consumers won't mind.
But Austrian wines are different - different, I tell ya! In spite of the common language and a few shared grapes (most notably Riesling), Austria's wines boast a splendid character all their own, a character that - a full generation after an unfortunate adulteration scandal rocked the Austrian wine industry during the 1980s - is finally beginning to win a small but growing and very enthusiastic "cult" following.
We hope to expand that following, and learn a thing or two about Austrian wine together, as we declare Austria the featured topic for this month's interactive Wine Tasting 101 Forum. We hope you join us as we look more deeply into Grüner Veltliner ("GV"), the white grape variety that may make Austria's most distinctive wines, and examine the other wines and grapes of this small but surprisingly diverse wine region.
Because Austrian wines tend to be made in limited quantities and distributed spottily, we're not declaring specific "benchmark" wines for tasting this month. In general, though, if you'd like to participate in WT101 by tasting and talking about wine, I suggest you begin with a Grüner Veltliner, or several. In the U.S., it's hard to go wrong with any Austrian wine imported by Terry Theise, whose wines are represented in different parts of the country by various regional distributors.
Some of the Austrian producers whose wines I've been able to find locally in recent years, listed alphabetically, include Berger, Bründlmayer, Hiedler, Hirsch, Höpler, Loiben, Mantlerhof, Nikolaihof, Söllner, Undhof and Weingärtner.
WEB LINKS:
WT101 Guest Host David M. Bueker has posted a thoughtful summary about Austrian wines on our Netscape WineLovers Community, where you're welcome to read, comment or ask questions. Look for it at
http://community.netscape.com/winelovers?nav=messages&tsn=1&tid=4308
For more advanced discussions, David's post is also mirrored on our non-commercial WineLovers Discussion Group at this link: http://www.wineloverspage.com/forum/village/viewtopic.php?t=868
For more information, Julia Sevenich, a sommelier and chef in Austria, has contributed several articles about Austrian wine producers:
http://www.wineloverspage.com/julia/index.phtml
I published a quick overview of Austria and its wines in the April 12, 2004, Wine Advisor:
http://www.wineloverspage.com/wineadvisor1/tswa040412.phtml
and trip reports from a short visit to several Austrian wineries in 1998,
http://www.wineloverspage.com/wines/austria.shtml
For links to my occasional tasting reports on Austrian wines, click
http://www.wineloverspage.com/wines/austria.phtml
For extensive information about Austria and its wines, available in German, French, Chinese and English, see the Austrian Wine Marketing Board's Website. For the English pages, click
http://www.winesfromaustria.com/
Finally, if you can handle a little German, you don't have to be fluent to glean the basics and winery contact information from this database of wine reports published by the Austrian magazine A la Carte:
http://www.alacarte.at/cgi-bin/wein06.pl?act=search
---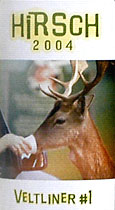 Hirsch 2004 "Veltliner #1" Kamptal Grüner Veltliner ($10)
This wine's clear golden color is transparent and very pale, typical of GV, and its white-fruit and green-pea aromas are similarly characteristic of the grape. Crisp and citric, dry and tart, it's a bit on the simple side, but mouth-watering and food-friendly, with an attractive touch of "rainwater" minerality developing as the wine warms in the glass. (The producer numbers this screw-capped bottling sequentially, by the way; the 2004 vintage is marketed in Europe as "Veltliner #3," but the U.S. label retains "#1" for all vintages.) U.S. importer: Michael Skurnik Wines, Syosset, NY; a Terry Theise Estate Selection. (April 3, 2006)
FOOD MATCH: One of the most versatile and food-friendly of wines, GV pairs well with veal or pork, poultry and fish, and it's developing a reputation as an exceptional match with Asian fare. It passed that test well with a simple "fusion" dish that added a touch of Southeast Asian spice to light veal polpettone in brodo.
VALUE: Although more dollars might bring more lean and structured and perhaps more complex GV, it's going to be hard to find a better white wine than this in the $10 range.
WHEN TO DRINK: Drink it now or hold it for 5 to 10 years under good cellar conditions: Another aspect of GV's appeal is that you can drink it young or drink it old with satisfaction.
WEB LINK: The Hirsch Website is colorful and content-rich, available in German and English. (The home page comes up in German; click the "English" link in the right-hand column to summon the alternate site.)
http://weingut-hirsch.at/
FIND THESE WINES ONLINE:
Find vendors and compare prices for Hirsch Grüner Veltliner on Wine-Searcher.com:
http://www.wine-searcher.com/find/Hirsch%2bGruner/-/-/USD/A?referring_site=WLP