Drinking rocks
In an age that places a high value on fruit in wine, some of us still admire the more subtle virtues of minerality.
If we don't go quite as far as the Austrian wine makers who joyously proclaim "Why drink fruit when we can drink rocks," there's certainly something to be said for those deliciously subtle characters in minerally wines that evoke the impression of chalk or red clay or a memorably evocative sense of rainwater spilling over stones.
Minerality is an element of "terroir," the concept that a vineyard's total environment manifests itself in the wine in a consistent and identifiable way. It's particularly easy to stir controversy among wine enthusiasts by postulating that inorganic minerals in the soil do (or do not) literally express their flavors in the wine by being taken up into the grapes through the roots of the vine. I'm not even going there today, although you're welcome to take on this issue, if you like, by clicking to this discussion in our WineLovers Community using the link below.
For now, let's simply celebrate minerality in a fruit-forward world with a look at a couple of recently tasted wines from two world wine regions particularly known for "drinking rocks" - the Loire Valley in France and the Danube Valley in Austria.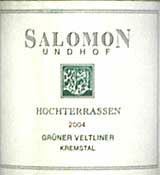 Salomon Undhof 2004 "Hochterrassen" Kremstal Grüner Veltliner ($12)
Transparent straw color. Apple aromas and crisply acidic, snappy citrus flavors are enhanced by GV's characteristic stony "rainwater" minerality, clean and long. Fresh and subtle, showing youthful fruit. U.S. importer: Michael Skurnik Wines, Syosset, N.Y.; a Terry Theise Estate Selection. (Feb. 14, 2006)
FOOD MATCH: GV is gaining a reputation as an exceptional match with a wide variety of Asian fare. It passed this test with flying colors in a pairing with Filipino chicken adobo, chicken thighs long-simmered in soy sauce and rice wine vinegar with plenty of aromatic star anise.
VALUE: Happily for those of us who love to "drink rocks," mineral-driven wines generally escape the attention of the big-name critics, so prices stay reasonable. This one's a great value in the lower teens.
WHEN TO DRINK: Ready to drink, but GV can show surprising longevity, lasting and gaining complexity for 10 years or more, but it's best not to risk it unless you have excellent cellar conditions.
PRONUNCIATION:
The German u-umlaut ("ü"), like the French "u", is difficult for English speakers; we can approximate it by saying "oo" through pursed lips, creating a sound that strikes my ears as a cross between a "u" and a long "e." Last time I reported on a GV, I offered "GREEN-er" as an approximation, an assertion that brought me a lot of grief from my peers. Unfortunately, "GROON-er" doesn't cut it either. Frankly, I don't think it's possible to represent the term exactly in English, but let's try it this way today. Bring on the grief!
"Grüner Veltliner" = "GREW-er Felt-LEEN-er"
WEB LINK:
The U.S. importer has a fact sheet on the Salomon winery here, with links to the 2004 Hochterrassen GV and others:
http://www.skurnikwines.com/prospects.cgi?
rm=view_prospect_detail&prospect_id=21
FIND THIS WINE ONLINE:
Look up prices and locate sources for Salomon Hochterrassen GV on Wine-Searcher.com:
http://www.wine-searcher.com/find/Salomon%2bHochterrassen/-/-/USD/A?referring_site=WLP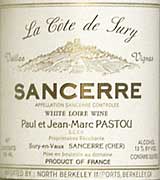 Paul et Jean-Marc Pastou 2004 "La Côte de Sury" Sancerre ($21)
This 2004 vintage returns to a traditional Sancerre profile following the recently tasted and more fruit-forward 2003 Côte de Sury. It's a transparent light-gold color. Apple and pineapple aromas are clean and youthfully fresh. Flavors are consistent with the nose, intense but not over-ripe. Tart, steely acidity meets chalky minerality in a bone-dry wine that's balanced and very fine. U.S. importer: North Berkeley Imports, Berkeley, Calif. (Feb. 9, 2006)
FOOD MATCH: Sancerre calls for seafood and reaches its peak with oysters; it was fine with a New England fish chowder made with fresh cod.
VALUE: Quality justifies the price, but competitively I'd like to see it for a few dollars less.
WHEN TO DRINK: Not usually a cellar keeper, but quality Sancerre will certainly last five years under good storage conditions.
WEB LINK:
For the importer's fact sheet on this wine, click
http://www.northberkeleyimports.com/articles/index.php?id=140
FIND THIS WINE ONLINE:
Look up prices and locate sources for Paul and Jean-Marc Pastou's wines on Wine-Searcher.com:
http://www.wine-searcher.com/find/Pastou/-/-/USD/A?referring_site=WLP