This article was published in The 30 Second Wine Advisor on Wednesday, Nov. 16, 2005.
• A taste of Bourbon A friendly encounter and a wine-shop tasting afford an opportunity for one of our rare diversions from wine into other libations.
• Administrivia Change E-mail address, frequency, format or unsubscribe.

• Learn about our RSS Feed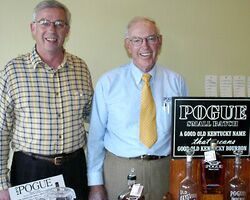 Jack Pogue Jr. and Jack Pogue Sr. beam as they show off their small-batch Bourbon.
A taste of Bourbon
A few months back, in a rare excursion away from the world of wine, I asked your leave to change the subject briefly for a talk about tequila. I did this somewhat cautiously, fearing that all you wine enthusiasts would be irritated about any departure from our beverage of choice. But as it turned out, nobody complained, and a surprising number of you wrote back saying, "Hey, great change of pace! Do it again some time."
Well, OK, then. Today let's take a little taste of Bourbon, a libation that ought to be more natural to me than wine. As a deeply rooted native of Louisville, I grew up in the epicenter of Bourbon country, an industrial city where a main highway used to be dubbed Distillery Row for its line of famous-name Bourbon producers with their massive, thick-walled warehouses. From the Ohio River Valley through the Bluegrass to Bourbon County - which took its name from the French royal house and in turn passed it along to the local libation - Kentucky is Bourbon country, and a glass of Bourbon and branch water is as much a part of local lore as burgoo or colonels in white linen suits. Not to mention the traditional mint julep at Derby time.
So, even though I may make my living as a wine guy, I'll rarely say no when someone offers me a taste of Kentucky's finest. And the samples that the amiable father-and-son team of Jack Pogue Jr. and Sr. were pouring at a local wine shop the other day were just about as good as corn squeezin's get. (Bourbon is not mere corn whiskey, of course. Under federal law, which enshrines tradition under regulation, Bourbon whiskey must be made from at least 51 percent corn, but it also contains barley, often rye and sometimes smaller amounts of other grains. This "grain bill" or recipe, often held as an industrial secret, accounts for the subtle but much-discussed differences among brands and bottlings, as does the amount of time the liquor spends mellowing and extracting color and flavor from charred, new oak barrels.)
In the old days, many of Kentucky's Bourbon producers were small, family-owned operations. Nowadays - not unlike the wine industry - most of the biggest names are mega-corporate brands, even if they go out of their way to market their wares as artisan-look products.
The Pogues, however, are running a real family operation. They're the fourth and fifth generations of a family that had operated the old H.E. Pogue distillery in Maysville, Ky., on the Ohio River upstream from Cincinnati, from 1876 until Prohibition, then reopened in 1935, closing during World War II when the factory was sold and switched over from distilling liquor to making industrial alcohol for military use.
Now the Pogues are back. More than a decade ago, Jack Sr. and Jr. began making Bourbon again, launching Old Pogue Distillery in Bardstown, Ky. (the locale of Stephen Foster's original My Old Kentucky Home), using an old Pogue family recipe. Their product, a top-tier 91-proof Bourbon, requires a full nine years of barrel age (compared with just two years for mass-market Bourbons and five years or so for upscale consumer brands like Woodford Reserve and Maker's Mark), so they've only come to market with their first public offerings in the last year or two.
It's not a cheap drop by any means - it was offered for $43 for a 750 ml "fifth" bottle at Louisville's Gemelli Wines - but a quick taste revealed a memorable spirit indeed, bold but not brash, subtle but not "dumbed down." Some drinks fanciers regard Bourbon lightly, declaring it a relatively coarse beverage alongside such classy tipples as single-malt Scotch or fine Cognac. But I'd say that a spirit as fine as Old Pogue has no need to hang its head in such company ... and that's not just my Kentucky roots talking.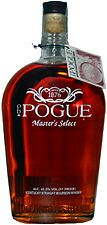 Old Pogue "Master's Select" 9-year-old 91-proof Bourbon ($43)
This is a transparently clear Bourbon with a rich bronze-amber color. The aromas are subtle and delicate, the characteristic caramel and brown-sugar scent that charred barrels impart, backed by attractive herbal notes. On the palate, it's smooth as a fine Cognac, needing neither water nor ice to tame it. Clean and warming, it finishes with appetizing nuances of caramel and maple syrup that seem to linger for long minutes. An excellent drink, one that even the most dedicated wine lover might consider as an alternative to Port or Madeira for after-dinner sipping. (Nov. 12, 2005)
WEB LINK:
The Old Pogue Website offers a choice of high-speed and low-speed views, starting at:
http://www.oldpogue.com/
FIND THIS BOURBON ONLINE:
Old Pogue is not yet widely available around the nation, but it's available at retail in Kentucky, Indiana, New York, Washington, D.C., and Rhode Island. For more information see "Where to Find" on the distillery Website,
http://www.oldpogue.com/WhereToBuyPage.htm
or send E-mail to info@oldpogue.com
WineLoversPage.com