This article was published in The 30 Second Wine Advisor on Monday, June 27, 2005.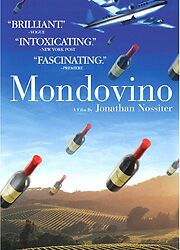 Wine at the movies
Move over, Sideways: Here comes Mondovino.
The second movie of the year with a strong wine-related focus, Mondovino ("World of wine") is no clone of Alexander Payne's award-winning dark comedy about two over-served wine enthusiasts touring the Santa Barbara wine country in search of wine and women, never mind the song.
Although the Mondovino producers aren't loath to publicize the film's upcoming (July 12) DVD release with a blurb from Vogue declaring it "A brilliant extended footnote to Sideways," the only real connection between the two movies is that they both have a lot to do with wine.
But you don't have to be a serious wine "geek" to enjoy Sideways, while I would assert that anyone who is not deeply into wine and wine-industry trends might find Mondovino an extended exercise in excruciating boredom. If you're sufficiently interested in wine to subscribe to this publication, however, I believe you'll find Mondovino very interesting indeed. I thought the 2-hour, 15-minute film just flew. My long-suffering bride, on the other hand, fell asleep in the middle of it and said it was "interesting but way too long."
Directed and filmed by Jonathan Nossiter, an American expatriate indie filmmaker who lives in France and loves wine, it's an extended non-fiction documentary filled with talking heads (who talk in at least four languages, most of them subtitled) and only the occasional wine-country scene, all of it filmed in a jerky hand-held-camera style that's trendy but that might foster carsickness.
In short, it's the kind of narrow-interest niche film that its cult followers (like me) will play over and over again, but so obscure that it played in theaters in only a handful of selected markets in the U.S. I didn't get to see it in Louisville until I was able to wangle a special videotape from the producers so I could preview the DVD edition, which will become available to anyone who wants it on July 12.
Mondovino's theme, briefly told, is globalization in the world wine business, and the tension between internationalists, "flying wine makers," big-name wine critics, industrial producers and artisanal wine makers (some earthy peasants, some quite well off), expressed in quick-cut interviews filmed in an "arty" style that features close-up facial shots that linger on every wart and crease, plus lots of cutaways to dogs (including Robert M. Parker Jr.'s flatulent bulldog), an odd leitmotif that becomes almost surreal after a while.
Nossiter's method is more like Michael Moore than Alexander Payne, using selectively edited interview clips to nudge the viewer toward a conclusion ... he's clearly no proponent of globalization and admires the philosophy and effort of small, local producers (as, in fact, do I). But Mondovino is hardly polemic. Nossiter's editing clearly casts "flying wine maker" Michel Rolland as a massive ego; Parker as a bland suburbanite at home with his dogs; Wine Spectator's James Suckling as a languid sybarite enjoying la dolce vita with Italian friends; California's Mondavis as an Italian-American family turned multinational corporation; Napa's Staglins as Stepford dot-com yuppies, and wealthy Italian nobles-turned-winemakers as crypto-Fascists pining for Mussolini. But the slant is much more subtle than, say, Fahrenheit 9/11, and Nossiter leaves plenty of room for intelligent viewers to draw their own conclusions.
My conclusion: If you're looking for a hard-hitting investigative piece that asks tough questions and unveils the smoking gun, you won't find it here; nor will you be impressed if you're in the mood for a barrel-of-laughs wine comedy like Sideways. But if you're interested enough in the wine business to care whether artisanal wine making gradually dies out in a globalizing economy, or whether Michel Rolland encourages his client producers to make standardized international wines that mask terroir, or whether Parker and Wine Spectator accelerate the trend by promoting such wines, then you will find Mondovino well worth the price of admission.
Interested? You can order the Mondovino DVD now from Amazon.com, to be shipped on the July 12 release date, for $20.99, a 30 percent saving from the $29.99 list price. (Purchases made using this exact link will pay a small commission to WineLoversPage.com).
http://www.amazon.com/exec/obidos/ASIN/B0009OL8E4/robingarrswineloA/
SIDEWAYS DVD CONTEST WINNERS:
Meanwhile, you may recall that a couple of months ago we hosted a Sideways DVD contest in which I invited readers to bid for a free DVD by trying to tickle my fancy or my funnybone with a good reason why you should win. We ended up with more than 250 entries from more than 200 countries, from the U.S. across the English-speaking world and Europe to India, China and Vietnam. As a result of this outpouring, it took longer than planned to sort through them all. But I'm pleased to announce that the winners have been notified; the DVD's, I'm told, are in the mail from the producer, and the winners have all granted permission to post their names and their submissions online. If you'd like to read them, check our new Sideways DVD winners page,
http://www.wineloverspage.com/wineadvisor1/sidewaysdvd.phtml
If you haven't seen Sideways yet, or if you'd like your own copy so you can watch Virginia Madsden orate about Pinot any time you like, Amazon.com now offers it for just $19.49, a full 35 percent saving from the $29.98 list price. (Purchases made using this exact link will pay a small commission to WineLoversPage.com).
http://www.amazon.com/exec/obidos/ASIN/B0007TKOAA/robingarrswineloA/
In the spirit of today's talk about wine and the movies, here's a tasty wine with an international flair and a French-American accent, made from Rhone-style grapes in California's Sideways country.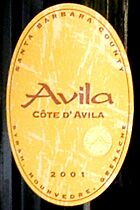 Avila Winery 2001 Santa Barbara County "Cote d'Avila" ($13)
This Rhone-style blend of Syrah (65%), Mourvedre (20%) and Grenache (15%) is an inky dark reddish-violet color in the glass, almost black at the center. Ripe berry fruit aromas gain interest from grace notes of menthol and anise over a discreet background of green herbs and brown spice. Mouth-filling, "sweet" black fruit hints at time in oak in a full flavor that's a bit on the lush side but shows plenty of fresh-fruit acidity to hold it together, fading to a lemon-squirt tang in a long finish. (June 21, 2005)
FOOD MATCH: It worked well with a hearty preparation of pork chops braised with onions and garlic, and would serve with any red meat, even burgers from the picnic grill.
VALUE: Good balance and interesting complexity make it a good buy in the lower teens.
WHEN TO DRINK: No hurry to drink it - it will keep on the wine rack for a year or two - but it's not really a candidate for long-term cellaring.
WEB LINK:
Here's a link to the producer's Website; the producer also offers a toll-free telephone number in the U.S., 1-888-809-VINE.
http://www.avilawine.com
FIND THIS WINE ONLINE:
Compare prices and seek vendors for Avila Cote d'Avila on Wine-Searcher.com.
http://www.wine-searcher.com/find/Avila%2bCote/-/-/USD/A?referring_site=WLP

Full contents of today's Wine Advisor
WineLoversPage.com