This article was published in The 30 Second Wine Advisor on Monday, April 18, 2005.
What's the matter with Merlot?

Merlot, a classic French wine grape and a key player in the Bordeaux varietal blend, a grape of noble lineage and even gravitas, suddenly a laughingstock? Who knew?

Indeed, one of the biggest laugh lines in the movie Sideways, at least for the cognoscenti, comes when the twitchy, neurotic character Miles, looking for an excuse to avoid a sociable dinner with his buddy Jack and a pair of wine-country hotties, announces, "If anyone orders Merlot, I'm leaving. I am not drinking any #%*$ing Merlot!"

Although the wine industry hasn't reported a dip in Merlot sales to correspond with the trendy status that the recent wine-geek movie inspired for Pinot Noir, there's little question that Pinot is in while Merlot is out these days.

What's up with that? As one reader wrote recently, "May be a dumb question, but why did the wine geek hate Merlot so much?"

The short answer, I told him, is that Miles probably doesn't really hate Merlot as much as he thinks. In fact, the most prized bottle in his collection is not a Pinot Noir at all but 1961 Cheval Blanc, the wine that he hoarded, then finally opened and consumed from a paper cup in a diner, signaling perhaps that his life is finally moving on. This great wine, in fact, is one-third Merlot and two-thirds Cabernet Franc, another grape that Miles spoke of with disdain.

What we really see in Miles's anti-Merlot rant is a bit of wine snobbery. Merlot has become one of the most popular cheap, mass-market wine varieties - some wits nickname it "the Red Chardonnay" because so many casual wine drinkers call for it by name. And in its least-common-denominator form, a lot of Merlot is indeed sourced from greedily over-produced vineyards and vinified in a soft, sweetish and blowzy crowd-pleasing style that does not please "connoisseurs" like Miles.

But you don't have to pay Cheval Blanc prices to get decent Merlot. Check published tasting reports or compare notes with wine-loving friends, in person or online, and you can find plenty of Merlot that shouldn't make any wine lover run away.

Today's wine, for example, Clos Pegase 2000 Mitsuko's Vineyard Carneros Napa Valley Merlot, has nothing to apologize for. Grown in the cool climate of Carneros, the bayside southern edge of Napa and Sonoma, it's easy-to-drink, all right, but presents luscious chocolate-covered-cherry Merlot character in a wine of good balance and subtlety, with sufficient personality to reward contemplation ... fully competitive with, well, Pinot Noir in the same price range.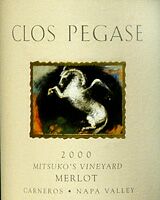 Clos Pegase 2000 Mitsuko's Vineyard Carneros Napa Valley Merlot ($19.99)
This is an inky dark reddish-purple wine with the classic chocolate-covered-cherry aroma profile of a good New World Merlot, not over-the-top but pleasant and inviting. Similar on the palate, it opens with ripe black fruit, plums and tart cherries with a rich, earthy back note of bittersweet dark chocolate. Fruit and acidity are in good balance; tannins are present but so smooth that they fade seamlessly into the fruit, which remains clean and consistent in a long finish. There's no need to snob on this Merlot: It's eminently drinkable and finds a good midpoint between New World and Old World styles. (April 16, 2005)
FOOD MATCH: Fine with an herbal, aromatic Italian-style chicken dish from Marcella Hazan, a split chiclen pan-roasted with herbs and garlic, then finished in a hot oven with a coating of grated Parmigiano.
VALUE: A decent value at this price, although some online merchants offer it for a few dollars less.
WHEN TO DRINK: There's no hurry to drink up this nicely balanced wine. It's delicious now, and its good fruit-acid balance suggests that it will hold and perhaps gain complexity with a few years of cellar time.
PRONUNCIATION:
Merlot = "Mair-lo"
Clos Pegase = "Cloh Peh-gahss"
WEB LINK
The Clos Pegase Website (another of those corporate sites that requires the visitor to click an entry button swearing that you're over 21), offers good content and depth about the winery and its wines as well as online and wine club sales where the law permits.
http://www.clospegase.com/
FIND THIS WINE ONLINE:
Find vendors and compare prices for Clos Pegase Merlot on Wine-Searcher.com:
http://www.wine-searcher.com/find/Pegase%2bMerlot/-/-/USD/A?referring_site=WLP

Full contents of today's Wine Advisor
WineLoversPage.com