This article was published in The 30 Second Wine Advisor on Friday, March 18, 2005.
Who are you calling a geek?

As I pack for a quick trip to New York City to meet and share wine and food with a group of wine-grape enthusiasts who are just as enthusiastic as I am about exploring offbeat and unusual varieties, it just seems to make sense to top today's short (and slightly early) edition with a quick look at a rare one.

As I've pointed out before in our frequent discussions about less-familiar wine grapes and regions, some of these odd fruits are relatively unknown for a good reason: They are (shhh!) not very good. Some indigenous grapes and wacky crosses and hybrids were traditionally used because, well, that's the way grandfather did it; or because the more popular and commercially viable varieties wouldn't grow well in the local climate.

But here and there around the world, rare grapes toil in ill-deserved obscurity, varieties that make wine so good that it leaves you scratching your head and wondering why the grape hasn't conquered the world of commerce and become as ubiquitous as Chardonnay or Merlot or maybe Pinot Noir.

I'm inclined to nominate Lagrein ("La-GRINE") for this short list. It hails from the Dolomite Alps of Trentino in far northern Italy, where the regional heritage combines Italian and Austrian ancestry, making German names (like "Lagrein," for instance) almost as commonplace as words with vowels on their ends.

This dark-red, slightly bitter grape sports a history of at least 300 years in the region, and much of it goes into modest table wines that don't travel much outside the region and don't really deserve to. But grown with attention to controlled yields and vinified with respect in a traditional style sometimes called "Dunkel" in Italian or "Scuro" in Italian, meaning "dark" in either language, it can be a memorable wine.

Perhaps it's the relative scarcity of quality Lagrein that has kept its fame near home, although a handful of experimental types around the world, including a few California producers, have tried growing it. I'll report on a Lagrein from my pals at Mosby in Central Coast California one day soon.

Today's wine, though, comes from the heart of the Dolomites. Bottega Vinaia, a 50-year-old property in the scenic Valley of the Lakes in Trentino, was purchased in the early 1990s by Giacinto Giacomini and Anselmo Martini, who were executives of the giant Italian mass-market winery Cavit. There's nothing downscale about this memorable Lagrein, though: Balanced, rich and expressive, it's drinking beautifully now but is likely to last a decade.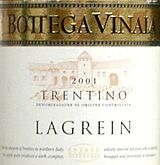 Bottega Vinaia 2001 Trentino Lagrein ($17.99)
This wine is very dark reddish-purple, almost black in the glass. Dark, brooding aromas focus on black plums and earth with a very subtle, pleasant "barnyard" note in the background. Ripe, juicy fruit seems almost sweet on the first taste impression, but crisp, lemon-squirt acidity enters on the mid-palate and turns the flavor steely and bone-dry. Ripe plums and a citric snap persist in a very long finish. An excellent wine, demonstrates Lagrein's potential to rank among the big-name grape varieties. U.S. importer: Palm Bay Imports Inc., Boca Raton, Fla. (March 10, 2005)
FOOD MATCH: The wine is dark and rich enough to stand up to red meat, but subtle enough to work and play well with more delicate fare. It made an exceptional match with ossobuco bianco, its lemon-squirt acidity echoing the snappy flavors in the gremolata (lemon zest, garlic and parsley blend) used to finish the dish.
VALUE: Wines of this quality from more familiar regions and better-known grapes would sell significantly above this upper-teens price point. Excellent value.
WHEN TO DRINK: I can claim no personal experience with older Lagrein, but the conventional wisdom is that bottlings of good quality will benefit from five years of cellar time and can continue to improve for 10 or more. As enjoyable as this model is now, it might be hard to wait!
PRONUNCIATION:
Lagrein = "La-GRINE" (rhymes with "wine")
WEB LINK
For information on Bottega Vinaia, see the U.S. importer's Website,
http://www.palmbayimports.com/xq/asp/VID.141/qx/brands.html
FIND THIS WINE ONLINE:
To search for Bottega Vinaia Lagrein on Wine-Searcher.com, click:
http://www.wine-searcher.com/find/Vinaia%2bLagrein/-/-/USD/A?referring_site=WLP

Full contents of today's Wine Advisor
WineLoversPage.com