This article was published in The 30 Second Wine Advisor on Monday, Feb. 28, 2005.
When skepticism is warranted

"When life gives you lemons, make lemonade." This old folk wisdom makes sense in much of life, but things get a little more iffy when it comes to farming wine grapes in the world's great vineyards.

Consider the vintage of 2002 in the Southern Rhone.

As we discussed at the time (Sept. 18, 2002 Wine Advisor), the terrible autumn of 2002 with its rain, winds, storms and hail was so bad in some vine-growing regions that many respected producers wrote off the vintage entirely. In Châteauneuf-du-Pape, where some of the vineyards stood knee-deep in floodwater early in the month, much of the season's fruit was lost, and most of what remained was "declassified," sold off in bulk to be bottled as mere Côtes-du-Rhône or even anonymous table wine. It was the kind of season that might tempt even the most passionate wine maker to consider a career change.

A few persevered, however, and in at least one respected Châteauneuf property - Vieux-Télégraphe - the father-and-son producers Henri and Daniel Brunier decided to produce and bottle a 2002 vintage, even though their Syrah and Mourvedre fruit was lost, limiting them to a relatively small output of Grenache. And, knowing full well that this beverage would not be up to the historic quality of Vieux-Télégraphe, they put their Gallic tongues firmly in their cheeks and bottled it as "Télégramme," labeling it, presumably with a hearty chuckle, with the new name slapped on a diagonal across what appears to be the reverse side of the Vieux-Télégraphe label, its face turned away from the viewer perhaps in shame. (It's pictured below in our HTML/Graphics edition or available online in the Wine Advisor archives.)

The wine is being sold in much of the U.S. in the lower $20 range, about half the toll for V-T in better years. Judged in a recent tasting, it's certainly palatable. But to be fair yet frank about a property and producer that I dearly love, they would have been better advised to declassify the stuff. As first-rate wine makers, they did the best that they could under troubled circumstances. But "the best they could," in a year so bad, results in a wine that's competitive with - and should properly be priced against - a simple $10 Côtes-du-Rhône.

That's my story, and I'm sticking to it, and I hope that, in spite of it, the Bruniers will still make me welcome if I visit Vieux-Télégraphe during my upcoming Northern and Southern Rhone tour in June with French Wine Explorers in June (click the link for more details).

But here's where the story gets interesting. When I searched the Web for more information about this off-year effort, I was intrigued to notice how many high-quality, respected wine merchants are advertising this wine with what I can only call "delicately spun" commercial prose.

I'm tempted to name names, but it's best not to irritate too many people on the same day, so let's just attribute this tasting report to "a popular upscale restaurant in upstate New York:"
2002 was not a fantastic vintage in the Southern Rhone (heavy rains), so the venerable winemakers at Vieux Telegraphe "declassified" their wine ... calling it "Telegramme" instead. They kept their yields extremely low in order to make an extremely tasty wine that shadows the same personality as its bigger brother: ripe red and black fruits, concentrated, smooth and silky, juicy and stony with generous alcohol.
Uh huh.
Here's one from "a respected wine shop in the Midwest:"
Vieux Telegraphe's syrah and mourvedre crop ... was ruined. But its old-vines grenache ... produced fruit too good to sell off ... so the Bruniers decided to keep the best of the grenache and bottle it under the title Telegramme, a one-time-only cuvee. Henri Brunier likes it so much that it's all he wants to drink these days, according to his son Daniel.
Quel dommage!
Even "my favorite British wine shop" explains the vintage problem in the kindest possible language ...
Unperturbed by a potentially weaker vintage, Daniel Brunier has posted a delicious and approachable winner. Eschewing the dangers of enforced extraction, he has made an unabashedly and uncharacteristically fruity Grenache-based wine. Virtue oozes out of necessity, ripe and honest, serendipity offering something delicious to drink as its four powerful antecedents evolve gracefully.
The lesson here, if there is one, is that as wine consumers, it's appropriate to bring a frank skepticism to the job of analyzing tasting notes from the people who would sell us wine, even when they are people we like and admire.
My tasting notes are below, followed by a report on a much more modest 2003 Côtes-du-Rhône at half the price. As you'll see, having no ax to grind and no wine to sell, I'm more closely aligned with the opinion of Chris at TheWineDoctor.com, an excellent British consumer Website:
A one-off cuvée reflecting the wash-out quality of this vintage. A light colour. Forward vegetal nose. Quite full on the palate, balanced, forward, with a little grip and tannic structure showing just on the midpalate. But it lacks appeal for me. The Brunier brothers are to be commended for not bottling Vieux Telegraphe, but I feel the declassification should have been absolute; this is little more than supermarche Côtes du Rhône. Shop elsewhere for your Rhône bargains. 13.5/20
Amen. I hope Chris is still welcome at Vieux-Télégraphe, too. And I think we will be. The Bruniers, after all, did not choose to hype their own product. The Website featuring the family's properties, online in French and English (link below) is discreetly silent about the entire affair.
Here's a link to The Wine Doctor's full report on Vieux-Télégraphe:
http://www.thewinedoctor.com/rhone/vieuxtelegraphe.shtml
---
Brunier "Télégramme" 2002 Châteauneuf-du-Pape ($22.99)
This wine from the disastrous 2002 vintage pours clear garnet, very light in color for a Châteauneuf-du-Pape. It seems light on the nose and palate, too, opening with a vinous scent of raspberries, spice, faint vegetal notes and a high-toned whiff of volatile acidity. It's a little more inviting in its flavor, juicy and very tart, simple red fruit and white pepper over almost sour acidity, on the thin side. More like a rustic, everyday Côtes-du-Rhône than a Châteauneuf, it's probably as good as a skilled wine maker could do with the best fruit available after the vintage's autumn rains and flooding. But I won't be buying another bottle of this one. U.S. importer: Kermit Lynch Wine Merchant, Berkeley, Calif. (Feb. 26, 2005)
FOOD MATCH: Foreseeing the wine's lightness, I went with something lighter than the beef or pork that I would normally choose with a Southern Rhone, going instead with an Italian-style dish of pork chops braised on a battuto of fennel, celery and onions.
VALUE: Sorry, but $20-plus is too much to pay for a wine of this quality, even with a respected name like Vieux-Telegraphe (sort of) displayed on the label.
WHEN TO DRINK: Soon or never.
PRONUNCIATION:
Télégramme = "Teh-leh-grahm"
Châteauneuf-du-Pape = "Shot-toe-nuff doo Pop"
WEB LINK:
Domaine Brunier's Website, which requires the Flash plug-in and high-speed access for its extensive animations and music, is available in French and English:
http://www.vignoblesbrunier.fr/
FIND THIS WINE ONLINE:
Find vendors and compare prices for Télégramme on Wine-Searcher.com:
http://www.wine-searcher.com/find/Vieux%2bTelegraphe/2002/-/USD/A?referring_site=WLP

---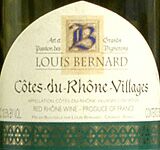 Louis Bernard 2003 Côtes-du-Rhône-Villages ($11.99)
Clear garnet in color, not overly dark, this simple Southern Rhone red offers scents of ripe red fruit with a fragrant overtone of white pepper. Juicy raspberry fruit and tart acidity meet in a fullish flavor, with a surprising edge of tannins that leave a fuzzy astringency on the finish. Good wine, although the acid and tannins make it a little more approachable with food than sipped alone. U.S. importer: Boisset America, San Francisco. (Feb. 21, 2005)
FOOD MATCH: Fine with a dish chosen to match, an orange-peel and bay-scented Provencal lamb-and-potato stew called giardiane.
VALUE: I've had heartier Côtes-du-Rhônes, particularly from hot vintages like 2003, but given the current state of the Euro, the low teens is a fair price for this item. It may also be worth shopping around, as Wine-Searcher.com prices vary among local retailers from as low as $8.59 to as high as $13.99.
WHEN TO DRINK: In this case, it's probably best to stick with the conventional wisdom about drinking up Côtes-du-Rhône while it's young and fresh, although the tannins might soften a little with a year or two of cellar time.
PRONUNCIATION:
Côtes-du-Rhône = "Coat doo Roan"
WEB LINK:
Here is the U.S. importer's page on Louis Bernard, with links to fact sheets on the producer's many wines:
http://www.boissetamerica.com/products/BrandDetails.aspx?BrnId=46
FIND THIS WINE ONLINE:
The importer lists state-by-state distributors in the U.S. here:
http://www.boissetamerica.com/buy/Distributors.aspx?BrnId=46
Find vendors and compare prices for Louis Bernard on Wine-Searcher.com:
http://www.wine-searcher.com/find/Louis%2bBernard/-/-/USD/A?referring_site=WLP

Full contents of today's Wine Advisor
WineLoversPage.com