<!TODAY'S TEXT STARTS HERE!>

30 Second Wine Tasting Tip:
Is that broken glass in my wine?


From time to time, when you pull the cork from a bottle of wine, you'll notice a crystalline deposit that looks like a cluster of coarse salt on the end of the cork or the bottom of the bottle.

If you haven't encountered this before, you may find it alarming. I fairly frequently get E-mail from worried wine lovers, concerned that this foreign substance may be dangerous. Is it broken glass? A hazardous or toxic contaminant? It's better to be safe than sorry, so I'm glad to have people ask.

The answer is simple: Don't worry! The crystals are potassium tartrate in crystalline form, essentially similar to the cream of tartar on your pantry shelf. This deposit sometimes occurs in wines (regardless of their youth or age) if they have been stored at an unusually cold temperature, or in wines that the wine maker chose not to put through industrial processes such as fine filtration or cold stabilization.

The crystals are odorless, flavorless and harmless, but they are not particularly pleasant to find in your glass simply because of their crunchy texture. In an extreme case, as I noted in the July 17 feature on refrigerating wine, http://www.wineloverspage.com/wineadvisor/tswa071700.shtml, it is possible that a wine exposed to near-freezing temperatures could precipitate out so much of its acidity that its natural flavor balance would be changed for the worse; but this is unlikely.

If you notice a deposit of crystals when you open a bottle, it's best to try to avoid pouring them into your glass, not because they're unhealthy but because most of us don't care for a crunchy texture in our wine!

Savvy consumers should also bear in mind that some wine shops - aware that most people don't like the idea of crystals in their wine - will offer a dramatic markdown on afflicted bottles. This might be a way to pick up something interesting for a fire-sale price.

Do you have thoughts or comments on this week's topic? Send me E-mail at wine@wineloverspage.com. I regret that the growing circulation of the "Wine Advisor" makes it difficult for me to reply individually to every note, but I'll answer as many as I can; and please be assured that all your input helps me do a better job of writing about wine.

We hope you'll invite your wine-loving friends to register for their own free weekly copy at http://www.wineloverspage.com/wineadvisor.

30 Second Tasting Notes:
A crisp, dry rosé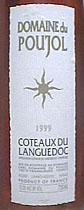 Domaine du Pou'jol 1999 Coteaux du Languedoc ($9.99)
The dog days of August (in the Northern Hemisphere, at least) call for light, fruity and refreshing wines that can be served well chilled. This one from Southern France fills the bill: It's a clear, attractive light-copper color, with pleasant berry and herbal aromas and a crisp, fresh flavor that shows plenty of fresh fruit along with ample zippy acidity to make it a fine food match. To its credit, although it's refreshing cold, it holds its balance and actually shows more flavor complexity as it warms in the glass. U.S. importer: Kermit Lynch Wine Merchant, Berkeley, Calif. (July 30, 2000)

FOOD MATCH: An unexpectedly good match with a vegetarian delight, baba ganouj, a garlicky Middle Eastern smoked eggplant dish somewhat akin to hummus.


Food Lovers' Voting Booth:
Best fuel for cooking?

In our last informal survey for food lovers, we took on the quasi-religious battle between the partisans of charcoal and the advocates of gas for outdoor grilling, and found charcoal winning by a substantial margin. This week, our poll looks at the obvious follow-up: do you consider natural gas the only appropriate fuel for the range or oven, or are you a modernist who prefers electricity? Just to make things more interesting, we have also included a few alternative fuel sources and a fill-in-the-blank option for "other." To join in on the fun, please visit http://www.wineloverspage.com/votebooth/findex.shtml and cast your "vote."

30 Second Advertising Partner:
California Wine Club

Since 1990, the California Wine Club, http://www.cawineclub.com, has been introducing its members to some of California's greatest wines and the small, family wineries that make them. Club members enjoy a monthly armchair tour and tasting of California wine country. As a member, you'll pour wines you won't normally find in your local wine shop or store: Two bottles of super premium wine each month, plus the club's lively and fun eight-page newsletter, Uncorked.

30 Second Administrivia

This free weekly E-mail publication is distributed to subscribers every Monday. Previous editions are archived on The Wine Lovers' Page. See www.wineloverspage.com/wineadvisor/thelist.shtml.

You are on the subscription list because you registered during a visit to Robin Garr's Wine Lovers' Page. If for any reason you no longer want to receive this publication, simply send a short E-mail to 'wine@wineloverspage.com' asking to be unsubscribed (and, if you wish, offering us any suggestions you may have as to how we could have served you better), and we'll remove your name from the list. We do not use this list for any other purpose and will never give or sell your name or E-mail to anyone.

If your E-mail program is having trouble handling the images in this edition, feel free to request that we switch you from the HTML to TEXT edition ... or vice versa. Please contact us in the same way if your E-mail address changes. And of course we welcome feedback, suggestions, and ideas for future columns. Send us E-mail at wine@wineloverspage.com.

All the wine-tasting reports posted here are consumer-oriented. In order to maintain objectivity and avoid conflicts of interest, I purchase all the wines I rate at my own expense in retail stores and accept no samples, gifts or other gratuities from the wine industry.

More time for wine?

You don't need to wait for Mondays to read about wine! Drop in any time on Robin Garr's Wine Lovers' Page, where we add new tasting notes several times each week and frequently expand our selection of wine-appreciation articles, tips and tutorials.

If you'd like to talk about wine online with fellow wine enthusiasts around the world, we'd be delighted to have you visit the interactive forums in our Wine Lovers' Discussion Group. If you're from another part of the world and don't feel entirely comfortable chatting in English, visit our International Forum and introduce yourself in the language of your choice.

Vol. 2, No. 28, July 31, 2000

<!TODAY'S TEXT ENDS HERE!>

Subscribe (free) to The 30 Second Wine Advisor