<!TODAY'S TEXT STARTS HERE!>

30 Second Wine Tasting Tip:
The big chill: Refrigerating wine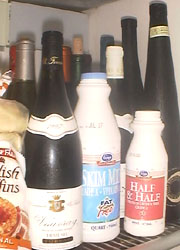 You bring home a bottle of wine and throw it in the refrigerator, planning to drink it soon. One thing leads to another, and several months later, the wine is still there. Is it ruined?

This is one of the most frequent wine questions I receive, in one form or another, from folks worrying that refrigeration might spoil their wine, or from people who wonder if it's a good idea to use the fridge as a wine cellar.

In my opinion, there is nothing wrong with keeping everyday wines in the refrigerator for a few weeks or even months, assuming that you intend to drink them in the reasonably near future.

However, if you want to "cellar" wine for years, hoping to see it improve with age, then the refrigerator is not recommended.

There are several reasons for this advice. First, the refrigerator is really too cold for long-term wine cellaring. Fine, ageworthy wines evolve best at 55F (13C) but simply won't improve at a refrigerator's colder temperatures in the range of 40F (about 5C). Moreover, wines will eventually deteriorate under refrigeration because the cold causes some of the wine's natural acids to precipitate out as insoluble crystals that gather on the cork or the bottom of the bottle. The crystals are unsightly but harmless, but they reveal that the wine's chemistry is changing. Finally, some experts believe that the frequent vibration caused by the refrigerator's motor could also cause the wine to deteriorate or even eventually loosen the cork.

For all these reasons, I consider the refrigerator acceptable for short-term wine storage (up to a few months), but wouldn't recommend it for longer periods.

What's your opinion? There's a lot of theory floating around on this topic, but not much practical experience. If you have actually tried refrigerating wine for long periods (a year or more), I would be very interested in hearing about it. Send me E-mail at wine@wineloverspage.com, and if I get enough interesting replies, I'll summarize them in a future edition. I regret that the growing circulation of the "Wine Advisor" makes it difficult for me to reply individually to every note, but I'll answer as many as I can; and please be assured that all your input helps me do a better job of writing about wine.

We hope you'll invite your wine-loving friends to register for their own free weekly copy at http://www.wineloverspage.com/wineadvisor.

30 Second Tasting Notes:
Two good-value reds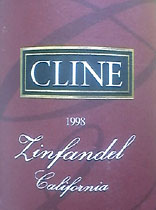 Cline 1998 California Zinfandel ($9.99)
Year in and year out, Cline's basic California Zinfandel - still holding at just under $10 in this market - stands as a benchmark, a good, clean textbook example of the variety. The 1998 is no exception; dark-ruby in color, it breathes ripe berry scents and big, bright mixed-berry flavors with a hint of chocolate and a citric snap, mouth-filling and warm.

Wyndham Estate 1996 South Eastern Australia Bin 444 Cabernet Sauvignon ($9.99)
If not as classic an example of its variety, this quaffable Australian red is a good buy nonetheless. Very dark garnet, its aromas focus on black fruit, new leather and oaky spice. Big and fruity, a bowl of juicy currants are wrapped up with lemon-squirt acidity and warm oak. No elegant "claret" this, but as the Aussies say, it's a good drop. U.S. importer: American Wine Distributors Inc., San Francisco. (July 7, 2000)

FOOD MATCH: Both work fine with grilled tenderloins.


Food Lovers' Voting Booth:
Gas or charcoal for your grill?

Since ancient times, when cave people rubbed sticks together to make fire, humans have argued over the best way to grill. Nowadays, the issue that divides most barbecue cooks into two warring camps pits tradition against technology.

So, when you're firing up the barbie, what's your choice: Charcoal or gas? That's the topic of this week's Food Lovers' Voting Booth, and we hope you'll drop by to add your opinion to the list. Click to http://www.wineloverspage.com/votebooth/findex.shtml, and cast your vote.

30 Second Advertising Partner:
Robert Parker's Wine Advisor & Cellar Manager

Robert Parker's Wine Advisor & Cellar Manager, http://www.winetech.com, is the first and only software developed in conjunction with Robert Parker and derived from his newsletter, The Wine Advocate. It combines both a database of wine information and a cellar manager to keep track of your collection.
30 Second Administrivia

This free weekly E-mail publication is distributed to subscribers every Monday. Previous editions are archived on The Wine Lovers' Page. See www.wineloverspage.com/wineadvisor/thelist.shtml.

You are on the subscription list because you registered during a visit to Robin Garr's Wine Lovers' Page. If for any reason you no longer want to receive this publication, simply send a short E-mail to 'wine@wineloverspage.com' asking to be unsubscribed (and, if you wish, offering us any suggestions you may have as to how we could have served you better), and we'll remove your name from the list. We do not use this list for any other purpose and will never give or sell your name or E-mail to anyone.

If your E-mail program is having trouble handling the images in this edition, feel free to request that we switch you from the HTML to TEXT edition ... or vice versa. Please contact us in the same way if your E-mail address changes. And of course we welcome feedback, suggestions, and ideas for future columns. Send us E-mail at wine@wineloverspage.com.

All the wine-tasting reports posted here are consumer-oriented. In order to maintain objectivity and avoid conflicts of interest, I purchase all the wines I rate at my own expense in retail stores and accept no samples, gifts or other gratuities from the wine industry.

More time for wine?

You don't need to wait for Mondays to read about wine! Drop in any time on Robin Garr's Wine Lovers' Page, where we add new tasting notes several times each week and frequently expand our selection of wine-appreciation articles, tips and tutorials.

If you'd like to talk about wine online with fellow wine enthusiasts around the world, we'd be delighted to have you visit the interactive forums in our Wine Lovers' Discussion Group. If you're from another part of the world and don't feel entirely comfortable chatting in English, visit our International Forum and introduce yourself in the language of your choice.

Vol. 2, No. 26, July 17, 2000

<!TODAY'S TEXT ENDS HERE!>

Subscribe (free) to The 30 Second Wine Advisor