<!TODAY'S TEXT STARTS HERE!>

30 Second Wine Tasting Tip:
That wine's got 'legs'!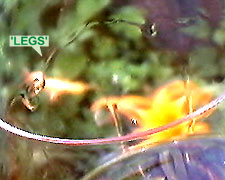 Swirl your wine glass once or twice, holding it firmly by the stem, so the wine forms a nice vortex that climbs up the sides. Then watch closely as the coating of wine flows back down the sides of the glass, and chances are you'll notice it forming into droplets that start as small "tears" and then extend into long vertical trails as they drip down into the wine.

This phenomenon is called "legs," and it's a wine-appreciation concept that I believe enjoyed more attention during earlier generations than it does today.

Here's why: The appearance (or non-appearance) of "legs" in the glass doesn't really tell you anything that you can't determine better by tasting the wine. It shows the presence of some viscosity in the wine, which may be the result of sugar, glycerin or alcohol. But since the sense of taste is a better way to gauge the wine's texture than merely watching it drip down the glass, checking "legs" is really not a very useful exercise. If you follow tasting notes by the experts (or even mine!), you'll notice that few modern wine reports mention this. Looking over my older wine books, I find both Frank Schoonmaker ("New Encyclopedia of Wine," 1988 edition) and Michael Broadbent ("Pocket Guide to Wine Tasting," 1982) give short shrift to "legs." Schoonmaker notes that they reflect primarily alcohol and are "not a useful guide to quality." Broadbent writes, laconically, "I have never been a 'leg' man myself."

Why mention the topic at all, then? Two reasons: First, the term is so widely known that one of the most frequent wine questions I hear is, "what are 'legs'?" Second, as I have sometimes pointed out about checking a wine's color and clarity, although it's true that we don't learn too much by merely looking at wine, I find that the simple act of pausing to observe the wine rather than grabbing the glass and slugging it down helps me get into the frame of mind to slow down, take my time, and fully enjoy the wine. It doesn't hurt to look before you slurp!

Do you find it useful to check a wine's "legs"? If you have an opinion on this not-so-pressing matter, tell me about it in an E-mail to wine@wineloverspage.com. I regret that the growing circulation of the "Wine Advisor" makes it difficult for me to reply individually to every note, but I'll answer as many as I can; and please be assured that all your input helps me do a better job of writing about wine.

We hope you'll invite your wine-loving friends to register for their own free weekly copy at http://www.wineloverspage.com/wineadvisor.

30 Second Tasting Notes:
A delicious California dessert wine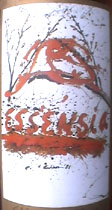 Andrew Quady 1997 Essensia California Orange Muscat Sweet Dessert Wine ($13.79)
Clear bright amber color, with a delicious and heady scent of fresh juice oranges, this fresh, appealing dessert wine follows through with a tart-sweet, intense bitter-orange flavor structured by crisp, bracing acidity. What it may lack in complexity, it makes up in exuberance: It's a fine, affordable sweet wine, well suited for dessert or brunch.

FOOD MATCH: Personally, I prefer dessert wines as dessert rather than with dessert, but this one would do nicely with fruit or caramelized-sugar desserts like crème caramel or crème brûlée.


Food Lovers' Voting Booth:
Favorite national or regional cuisine?

Where in the world does your favorite cuisine come from? People who love food and wine rarely restrict our fancy to our own national or regional cookery, and most of us range around the world in our search for culinary treats. With so many good things to choose from, it can be difficult to choose just one (or even two or three) favorites. But that's just what we ask you to do in the Food Lovers' Voting Booth, companion feature to our popular Wine Lovers' Voting Booth, http://www.wineloverspage.com/votebooth/findex.shtml. I hope you'll drop by and join in the fun!

30 Second Wine Link:
'Behind the Vine' vineyard tours

Martin Scott Wines Ltd., a U.S. wine importer based on Long Island, N.Y., has an unusually content-rich Website, particularly by the standard of most importers and other inside-the-business wine firms that have relatively little direct contact with the public. Its most useful feature of all, in my opinion, is its "Online Vineyard Tours" section, http://www.behindthevine.com/vtours.html, which features photos, wine and wine-tour information for Burgundy, Oregon and South Africa. (Sadly, their links to Italy and New Zealand are currently broken, but I've dropped them a note, hoping they can fix the links soon.)

30 Second Advertising Partner:
Wine.com

POPCORN AND BUBBLY
Munch a warm handful of lightly salted Black Jewel popcorn, then take a sip of chilled Laurens Brut ... once you discover how well bubbly pairs with popcorn, it may become your standard fare for watching movies at home, game nights, or elegantly down to earth hors d'oeuvres. Wine.com invites everyone to enjoy this perfectly matched pair. The extraordinary Black Jewel kernels start out black, then pop into amazing snow-white puffs with black centers. Click on: http://www.wine.com/sku/gift_sku.jsp?sku=0p22293&link_from=rgarr_adv_popcorn.

30 Second Administrivia

This free weekly E-mail publication is distributed to subscribers every Monday. Previous editions are archived on The Wine Lovers' Page. See www.wineloverspage.com/wineadvisor/thelist.shtml.

You are on the subscription list because you registered during a visit to Robin Garr's Wine Lovers' Page. If for any reason you no longer want to receive this publication, simply send a short E-mail to 'wine@wineloverspage.com' asking to be unsubscribed (and, if you wish, offering us any suggestions you may have as to how we could have served you better), and we'll remove your name from the list. We do not use this list for any other purpose and will never give or sell your name or E-mail to anyone.

If your E-mail program is having trouble handling the images in this edition, feel free to request that we switch you from the HTML to TEXT edition ... or vice versa. Please contact us in the same way if your E-mail address changes. And of course we welcome feedback, suggestions, and ideas for future columns. Send us E-mail at wine@wineloverspage.com.

All the wine-tasting reports posted here are consumer-oriented. In order to maintain objectivity and avoid conflicts of interest, I purchase all the wines I rate at my own expense in retail stores and accept no samples, gifts or other gratuities from the wine industry.

More time for wine?

You don't need to wait for Mondays to read about wine! Drop in any time on Robin Garr's Wine Lovers' Page, where we add new tasting notes several times each week and frequently expand our selection of wine-appreciation articles, tips and tutorials.

If you'd like to talk about wine online with fellow wine enthusiasts around the world, we'd be delighted to have you visit the interactive forums in our Wine Lovers' Discussion Group. If you're from another part of the world and don't feel entirely comfortable chatting in English, visit our International Forum and introduce yourself in the language of your choice.

Vol. 2, No. 24, July 3, 2000

<!TODAY'S TEXT ENDS HERE!>

Subscribe (free) to The 30 Second Wine Advisor