<!TODAY'S TEXT STARTS HERE!>

30 Second Wine Tasting Tip:
A tour of Greece in a glass
HOMER
Wine has been a part of life in Greece for thousands of years, since long before the ancient poet Homer wrote of Odysseus sailing over the "wine-dark" sea; and even in modern times, Greece stands out (with Italy) as one of the few nations that make wine in just about every region within their borders.

And contrary to popular opinion, many Greek wines are dry, fruity and delicious, capable of standing comparison with fine wines from the rest of Europe and the New World. In short, it's not all Retsina, the ancient Greek table wine made with pine resin, an idiosyncratic beverage that's tasty with Greek fare but reminds the uninitiated of turpentine.

But Greek wines remain barely a blip on the radar screen in the U.S. and most other countries, hard to find in retail stores and enjoying little familiarity or respect. They're worth seeking out, not only for the sheer sake of discovery but because unfamiliarity and lack of demand usually translate into affordable prices.

Let's take a quick look at some of the place names and wine grapes that you're likely to encounter if you start digging into the wines of Greece:

PLACES: Starting in the northern mainland, Macedonia (not to be confused with the former Yugoslavian nation with the same name) is home of an excellent wine region called Naoussa, known for dry reds. Attica, around Athens, produces a lot of Retsina; and the southern part of the mainland, Peloponnese, includes the wine regions Patras and Nemea, both of which also produce robust reds and crisp whites that can meet international competition. Finally, many of the beautiful Greek islands make their own wines, including Kephaonia, Crete, Lemnos and, one that has achieved some notice in the New World, the scenic Santorini.

GRAPES: Perhaps one reason most of us find Greek wines hard to learn is that, with the exception of Muscat in dessert wines, Greek wine makers tend toward local grapes rather than the Western European varieties that most of us know. The good ones are well worth discovering: Keep your eyes out for Agiorgitiko ("St. George"), which makes soft, fruity but full-bodied reds; and Xynomavro ("Sour Black"), which as the name implies makes big, dark wines that benefit from aging. A top Greek white grape is Assyrtiko, native to Santorini, making highly aromatic and tartly acidic wines.

Have you tried Greek wines? If you have a favorite, or a thought about their market potential, let me know with an E-mail to wine@wineloverspage.com. I regret that the growing circulation of the "Wine Advisor" makes it difficult for me to reply individually to every note, but I'll answer as many as I can; and please be assured that all your input helps me do a better job of writing about wine. Please feel free to get in touch if you'd like to comment on our topics and tasting notes, suggest a topic for a future bulletin, or just talk about wine.

If you're enjoying The 30 Second Wine Advisor, we hope you'll invite your wine-loving friends to register for their own free weekly copy at http://www.wineloverspage.com/wineadvisor.

30 Second Tasting Notes
A stylish white from Santorini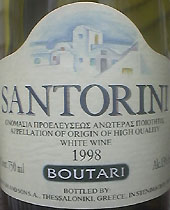 Boutari 1998 Santorini ($12.99)
Pale straw color, with ripe melon and citrus scents. Crisp and fresh flavor, citric fruit and rather full-bodied for a white. Very tart acidity hangs on with ripe fruit in a long finish. U.S. importer: Paterno Imports, Lake Bluff, Ill. (March 3, 2000)

FOOD MATCH: Although I normally think of this as a great seafood wine, it also married nicely with a simple stir-fry of pork loin and bok choy Chinese cabbage.


For more recent reports on Greek wines, see my tasting reports for March 3 (http://www.wineloverspage.com/wines/wt030300.shtml) and March 1 (http://www.wineloverspage.com/wines/wt030100.shtml).


30 Second Wine Link

Giorgos Vekios, a Greek wine maker and educator, hails his country's wines in his charming, tri-lingual site, The Roads of Greek Wines, http://w4u.eexi.gr/~oinos/ENPAGE.HTM. "Acropolis, the statues and the ancient texts are not our sole cultural inheritance," Vekios writes. "One of the products of this land, and one of the elements of our inheritance is wine. ... Believed to have a Divine Presence in it, it has been accompanying the Greeks through History for over 4,000 years."

Seeking Palm VII users

Calling early adopters! If you have a Palm VII and are using it for "wireless" access to the Web, I'd love to have your help in a quick, simple test. If you'd like to participate, drop me a note at wine@wineloverspage.com.

Wine Lovers' Voting Booth

Because our biweekly Wine Lovers' Voting Booth has been so popular, we've opened a second online poll, the Food Lovers' Voting Booth. As the name implies, this non-scientific survey will take on questions regarding food and wine. This week we ask, "When you plan a dinner with wine, which comes first? Do you choose a wine for the evening and then decide on a meal to match? Or do you choose a dinner entree first and then choose a wine to match?" If this question tickles your fancy, please drop by http://www.wineloverspage.com/votebooth/findex.shtml, and join in the balloting.

30 Second Advertising Partner

California Wine Club, www.cawineclub.com, is the perfect, affordable way to get two different bottles of excellent wine every month, along with its fun and fact-filled newsletter Uncorked. Commercially unavailable, these wines are like secret treasures we hand-select from California's small, award-winning wineries. Join for as many months as you like, or use The California Wine Club as a special, unique gift for friends, family, customers and colleagues. You can reach the Club at the link above or, in the U.S., by calling 1-800-777-4443.

30 Second Administrivia

This free weekly E-mail publication is distributed to subscribers every Monday. Previous editions are archived on The Wine Lovers' Page. See www.wineloverspage.com/wineadvisor/thelist.shtml.

You are on the subscription list because our records indicate that you registered during a visit to Robin Garr's Wine Lovers' Page. If for any reason you don't want to receive this publication, simply send E-mail to 'wine@wineloverspage.com' and we'll remove your name from the list. We do not use this list for any other purpose and will never give or sell your name or E-mail to anyone.

If your E-mail program is having trouble handling the images in this edition, feel free to request that we switch you from the HTML to TEXT edition ... or vice versa. We welcome feedback, suggestions, and ideas for future columns. Send us E-mail at wine@wineloverspage.com.

All the wine-tasting reports posted here are consumer-oriented. In order to maintain objectivity and avoid conflicts of interest, I purchase all the wines I rate at my own expense in retail stores and accept no samples, gifts or other gratuities from the wine industry.

More time for wine?

You don't need to wait for Mondays to read about wine! Drop in any time on Robin Garr's Wine Lovers' Page, where we add new tasting notes several times each week and frequently expand our selection of wine-appreciation articles, tips and tutorials.

If you'd like to talk about wine online with fellow wine enthusiasts around the world, we'd be delighted to have you visit the interactive forums in our Wine Lovers' Discussion Group. If you're from another part of the world and don't feel entirely comfortable chatting in English, visit our International Forum and introduce yourself in the language of your choice.

Vol. 2, No. 7, March 6, 2000

<!TODAY'S TEXT ENDS HERE!>

Subscribe (free) to The 30 Second Wine Advisor