30 Second Wine Advisor: Today's Sponsor
• California Wine Club
http://www.cawineclub.com

In This Issue
• Comparing Chardonnays
• Four Chardonnays
• Wine Lovers' Voting Booth: Your wine wish list
• California Wine Club: Can't Tell The Good From the Bad?
• Last Week's Wine Advisor Index
• Administrivia
Comparing Chardonnays
Today's article will be long on tasting notes and short on introduction as I present my reports on the Chardonnays that we featured in this month's Wine Tasting 101 program.
Wine Tasting 101 is not aimed only at beginners but at anyone who would like to sharpen his or her skills at tasting wine thoughtfully and recording the experience as a simple tasting note. Taking advantage of the interactivity of the Internet, it offers an online forum where participants can share impressions and post reports on specific wines in a civil, supportive atmosphere.
Each month features a particular grape or regional wine, chosen for affordable price and international availablity so participants around the world can compare the same "benchmark" wines. Tasting tips and links to background information are also provided, and the program is free and open to everyone who's interested.
This month we featured Chardonnay, offering a simple white Burgundy and a popular Australian Chardonnay for comparison in the $10 range, and an optional additional pair in a slightly higher-price range, a French Chablis and a California Chardonnay.
Using the "compare and contrast" method that I find particularly helpful in tasting wines analytically, I opened each of these pairs together for side-by-side tasting. My notes are below.
If you haven't yet tried Wine Tasting 101, I hope you will consider joining us. Note also that featured wines from previous months are "non-expiring," so if you browse through the discussions and see a wine that you like, feel free to add your comments.
Around June 1, we'll introduce the next wine of the month - most likely Argentine Malbec unless there's a last-minute change in plans. For more information on Wine Tasting 101, see
http://www.wineloverspage.com/forum/wt101.phtml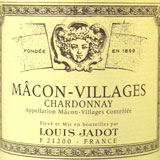 Louis Jadot 2000 Macon-Villages Chardonnay ($9.99)
This French white, a classic "entry-level" white Burgundy, is a clear light straw color. Fresh apple and citric aromas and flavors are light, tart and fresh. A simple but appealing wine, a good demonstration of relatively pure, unmanipulated Chardonnay. U.S. importer: Kobrand Corp., NYC. (May 3, 2002)
VALUE: Good value at $10.
WEB LINK: You'll find the Louis Jadot Website (in English and French) at
http://www.louisjadot.com/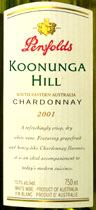 Penfolds 2001 Koonunga Hill South Eastern Australia Chardonnay
Pale straw color. Pineapple and a discreet whiff of butter on the nose and palate. Oak is evident, but it doesn't overwhelm the fruit; more round and rich than the Macon, a nice illustration of the "New World" style of Chardonnay in which fruit and oak both make contributions. U.S. importer: Southcorp Wines North America, Monterey, Calif. (May 3, 2002)
FOOD MATCH: Both the Jadot and the Penfolds served very well with crab cakes. The French wine was cleansing and unintrusive; the Australian's note of butter brought an interesting flavor element to the match.
VALUE: Good value.
WEB LINK: Penfolds' Website is online at
http://www.penfolds.com/

Savary 1998 Chablis ($17.99)
Pale straw color with a faint brassy glint. Apple scents add an odd, earthy note, a bit like ripe cheese. More typically Chablis on the palate, showing white fruit and the lovely "stony" minerality and crisp, steely acidic structure that distinguishes Chablis. Decent wine, but the lesson here is that simple Chablis - particularly from a cool and wet vintage like 1998 - is best drunk up within a year or two. U.S. importer: Kermit Lynch Wine Merchant, Berkeley, Calif. (May 17, 2002)
VALUE: The wine's slightly deteriorating condition makes this particular choice iffy, but the under-$20 range is entirely appropriate for sound Chablis.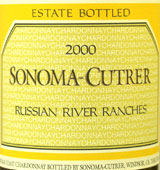 Sonoma-Cutrer 2000 Russian River Ranches Chardonnay ($17.99)
Clear straw color. Oaky vanilla and tropical fruit identify this immediately as a California Chardonnay. Flavors are consistent with the aromas, crisp fruit and sweet oak; butter flavors are present but not overdone. Pleasant wine, showing better structure than many of its "New World" competitors, works particularly well with food. (May 17, 2002)
FOOD MATCH: Both wines were paired with scallops pan-seared and finished with a slightly sweet lemon-limoncello sauce over pasta. "Butter" and ripe fruit made the California wine a natural match. The leaner, earthy Chablis was an acceptable but not particularly exciting partner to the dish.
VALUE: This price is appropriate for the wine's quality if you enjoy the California style in Chardonnay.
WEB LINK: Visit the Sonoma-Cutrer Website at
http://www.sonomacutrer.com/

Wine Lovers' Voting Booth: Your wine wish list
Most of us have the wines we enjoy regularly ... and the wines we set aside for special occasions. And then there's the wine of our dreams: The bottle so rare, so hard to find, or simply so expensive that we fear we may never actually have occasion to taste it.
But we can dream.
For this week's survey, we invite you to tell us, "what's No. 1 on your wine wish list?" Simply click to the Wine Lovers' Voting Booth,
http://www.wineloverspage.com/votebooth, to add your opinion to the list and see how other wine enthusiasts around the world have voted.
California Wine Club: Can't Tell The Good From the Bad?
When it comes to selecting great wine, the choices can sometimes be daunting.
With The California Wine Club, each month's two bottle shipment is hand-selected from the best of California's small, "Mom & Pop" wineries! Their credo? To only sell wines that they would serve to their own family and friends.
Each month is $32.95 plus shipping and includes a fun 8-page newsletter, Uncorked. Visit the California Wine Club website at
http://www.cawineclub.com
or call (800) 777-4443.
Makes a fun and unique gift, too!
Wine shipping available in the U.S. wherever permitted by law.
Last Week's Wine Advisor Index
For Monday-only readers who'd like to read specific daily Wine Advisor articles, here's last week's index:
• Oregon Pinot and salmon (May 24)
http://www.wineloverspage.com/wineadvisor/tswa020524.phtml
• First label, second label (May 23)
http://www.wineloverspage.com/wineadvisor/tswa020523.phtml
• Wine events ... everywhere! (May 22)
http://www.wineloverspage.com/wineadvisor/tswa020522.phtml
• Tasting Aglianico (May 21)
http://www.wineloverspage.com/wineadvisor/tswa020521.phtml
• Getting to know Bourgueil (May 20)
http://www.wineloverspage.com/wineadvisor/tswa020520.phtml
• Complete 30 Second Wine Advisor archive:
http://www.wineloverspage.com/wineadvisor/thelist.shtml
• Last week's Wine Advisor Foodletter: About pilaf: Turkish eggplant pilaf (May 23)
http://www.wineloverspage.com/wineadvisor/tsfl020523.phtml
• Wine Advisor Foodletter archive:
http://www.wineloverspage.com/wineadvisor/foodlist.phtml
Administrivia
To subscribe or unsubscribe from The 30 Second Wine Advisor, change your E-mail address, switch from weekly to daily distribution, or for any other administrative matters, click to http://www.wineloverspage.com/wineadvisor/admin.phtml. In all administrative communications, please be sure to include the exact E-mail address that you used when you subscribed, so we can find your record. If you must unsubscribe, please take a moment to tell us why you're leaving, and to offer any comments or suggestions you may have.
We welcome feedback, suggestions, and ideas for future columns. To contact me, please click to http://wineloverspage.com/ask_a_question.phtml. You may also send E-mail to wine@wineloverspage.com, but the link above is the simplest way to reach me directly.
We do not use this E-mail list for any other purpose and will never give or sell your name or E-mail address to anyone.
All the wine-tasting reports posted here are consumer-oriented. In order to maintain objectivity and avoid conflicts of interest, I purchase all the wines I rate at my own expense in retail stores and accept no samples, gifts or other gratuities from the wine industry.
Monday, May 27, 2002
Copyright 2002 by Robin Garr. All rights reserved.
Subscribe to the 30 Second Wine Advisor
Wine Advisor archives