30 Second Wine Advisor: This Week's Sponsor
• California Wine Club
http://www.cawineclub.com
In This Issue
• Where is Slovenia?
• Domaine le Sang des Cailloux 1999 Vacqueyras
• Voting Booth: Your wine budget in 2002?
• Spring Fever Wine Sale at The California Wine Club!
• There's still time to sign up for our Rhone trip
• Last Week's Wine Advisor Index
• Administrivia
Where is Slovenia?
I am packing today for a return visit to Slovenia, where I will be visiting wineries and touring vineyards this week before joining an international panel of wine judges at the 48th annual Ljubljana Wine Fair,
When I tell friends where I'm going, the first question most of them ask is, "Where is Slovenia?" And the usual follow-up is, "Do they have any wine there?"
As I reported in a Wine Advisor posted from Ljubljana at about this time last year, Slovenia is not as far away as you might think, but most of us haven't known it by that name for very long. Long part of the Austro-Hungarian empire and more recently the northernmost of the former Yugoslav republics, Slovenia was the first of those republics to declare its independence when Yugoslavia broke apart with the fall of the Iron Curtain in 1991.
Relatively tiny even by European standards, Slovenia is about the size of New Jersey and has a population of only about 2 million; but it gets a lot of scenic and geographical diversity into a small package, rising from the Adriatic to the Alps in a two hours' drive. It's adjacent to Northeastern Italy and Austria - only about an hour's drive to the Slovene border from Venice and about three hours from Vienna - with Hungary on its east and Croatia, another now-independent Yugoslav republic, on the south.
When you look at the noteworthy vineyards and sought-after wines that come from those bordering regions, particularly Italy's Collio (Friuli) and Austria's Sudsteiermark, you shouldn't be surprised to learn that Slovenia, too, grows fine grapes and makes excellent wine. Under Yugoslavia's rule, much of that wine went into low-cost exports - you may recall them under the Avia label.
But there's a large and growing cadre of skilled artisanal wine makers turning out much better and more interesting wines - wines that haven't yet made much of an impact on the world market, partly because production is so tiny and largely because the rest of the world is barely aware that they exist.
Slovenia deserves a wider reputation for its wine ... and its hospitality to travelers. Over the next week or two, I'll be reporting on those wines and wineries in these pages. If you would like to tag along in virtual space, I'll be uploading reports periodically at
http://www.wineloverspage.com/slovenia.
For more information on Slovenia and its wines, here's a link to a privately run site (with many articles in English) about the country's wine and tourism:
http://www.matkurja.com/projects/wine/index.html.
ADMIN NOTE: Because of these travels, today's Wine Advisor is going out a day early, and the March 25 edition may also be mailed early. I won't be able to send a regular daily Wine Advisor until I return home around March 28, and the Wine Advisor's FoodLetter will also take a one-week break, returning the following Thursday.
It will also be difficult for me to keep up with personal E-mail while I'm traveling, so if you comment or ask me a question during the period, please be patient.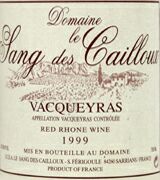 Domaine le Sang des Cailloux 1999 Vacqueyras ($17.99)
Clear but very dark garnet, bright at the edge. Big and appealing aroma, plums and raspberries with floral and subtle black-pepper notes. Big and bold on the palate too, berry fruit wrapped up with lemony acidity and soft but perceptible tannins. Drinking very well but capable of aging; its style shows its kinship with nearby Chateauneuf-du-Pape, right down to the papal keys embossed in the bottle glass. U. S. importer: Kermit Lynch Wine Merchant, Berkeley, Calif. (March 16, 2002)
FOOD MATCH: The wine's forward berry fruit makes it a good match, despite its robust flavors, with Sguazeto de Vedel, a simple veal stew from Trieste simmered with onions and a whiff of cinnamon, from Fred Plotkin's Friuli cookbook, "La Terra Fortunata."
VALUE: Not inexpensive, but when you compare its under-$20 cost to the prices on its neighbors from Chateauneuf-du-Pape, it starts to look like a buy.
WEB LINK: An importer fact sheet will be found at
http://www.winebow.com/france/rhone/lesang_descailloux.html.

Voting Booth: Your wine budget in 2002?
The Dow bumps. NASDAQ plunges. The global economy wobbles and Greenspan frets. Are we in a recession or coming out of one? Who knows ... and more important, from a wine lover's standpoint, how is the economy affecting your wine buying?
Keeping things simple this time, let's assume that the Dow in Dow-Jones represents the famous Port house, as we ask this week's Wine Lovers' Voting Booth question, "In 2002 do you plan to spend more, less or about the same amount of money on wine as you did in 2001?" To add your response to the worldwide tally, please drop by the Wine Lovers' Voting Booth,
http://www.wineloverspage.com/votebooth/index.shtml,
and let us know.
Spring Fever Wine Sale at The California Wine Club!
Save up to 50% on award-winning California wines! Visit
http://www.cawineclub.com
for unbeatable savings and be sure to take a look into this fun and unique Wine Club!
The California Wine Club has monthly subscriptions starting at $32.95 plus shipping. There's never any bulk wine, closeouts or private labels. Just fabulous wine, hand-selected from the best of California's small, family owned wineries! To join for yourself or send a gift, visit
http://www.cawineclub.com
or call (800) 777-4443. Special discounts on gifts of 3, 6, 9 or 12 months.
There's still time to sign up for our Rhone trip
From time to time over the next few weeks I'll want to remind you about our week-long tour through the southern Rhone Valley and Provence that's planned for June.
I'll be joining wine experts Lauriann Greene and Jean-Pierre Sollin of French Wine Explorers, a high-quality American tour company that specializes in wine tours of France, to lead an in-depth exploration of these two beautiful regions and their vineyards and wines.
The mood will be relaxed and the attitude easy as we make our way through some of France's most enjoyable wine regions as a small community of wine-loving friends, taking a close-up, inside look at the wines and food of the region and meeting the people who make them.
We still have some space left, and - unless the group fills to capacity sooner - we will take reservations until March 31. If you've been thinking about coming along, I hope you'll get in touch with French Wine Explorers soon. We're going to have a great time!
For more information about the tour, click to the details at http://www.wineloverspage.com/tour. And if you have any questions you would like to ask me first, please don't hesitate to use the form at http://www.wineloverspage.com/ask_a_question.phtml to get in touch.
Last Week's Wine Advisor Index
For Monday-only readers who'd like to read specific daily Wine Advisor articles, here's last week's index:
• What is that smell? (March 15)
http://www.wineloverspage.com/wineadvisor/tswa020315.phtml
• More Malbec (March 14)
http://www.wineloverspage.com/wineadvisor/tswa020314.phtml
• California or Argentina? (March 13)
http://www.wineloverspage.com/wineadvisor/tswa020313.phtml
• Corned beef, cabbage and wine (March 12)
http://www.wineloverspage.com/wineadvisor/tswa020312.phtml
• Malbec: The next Merlot? (March 11)
http://www.wineloverspage.com/wineadvisor/tswa020311.phtml
• Complete 30 Second Wine Advisor archive:
http://www.wineloverspage.com/wineadvisor/thelist.shtml
Administrivia
To subscribe or unsubscribe from The 30 Second Wine Advisor, change your E-mail address, switch from weekly to daily distribution, or for any other administrative matters, click to http://www.wineloverspage.com/wineadvisor/admin.phtml. In all administrative communications, please be sure to include the exact E-mail address that you used when you subscribed, so we can find your record. If you must unsubscribe, please take a moment to tell us why you're leaving, and to offer any comments or suggestions you may have.
We welcome feedback, suggestions, and ideas for future columns. To contact me, please click to http://wineloverspage.com/ask_a_question.phtml. You may also send E-mail to wine@wineloverspage.com, but the link above is the simplest way to reach me directly.
We do not use this E-mail list for any other purpose and will never give or sell your name or E-mail address to anyone.
All the wine-tasting reports posted here are consumer-oriented. In order to maintain objectivity and avoid conflicts of interest, I purchase all the wines I rate at my own expense in retail stores and accept no samples, gifts or other gratuities from the wine industry.
Monday, March 18, 2002
Copyright 2002 by Robin Garr. All rights reserved.
Subscribe to the 30 Second Wine Advisor
Wine Advisor archives