<!TODAY'S TEXT STARTS HERE!>

30 Second Wine Tasting Tip: The 'nose' of wine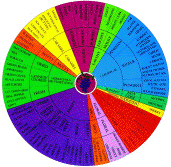 The wine taster's convention of calling a wine's aroma its "nose" has always seemed a little sniffy to me, if you'll pardon the metaphor. Speaking of a fine Burgundy's "nose" makes me chuckle and think of proboscises of various shapes and sizes when I ought to be focusing on the wine.

Be that as it may, our smellers may just be the most important organ we have when it comes to enjoying wine. Most of what we regard as taste is really in our noses, where we're capable of distinguishing among literally thousands of aromas in contrast with our taste buds' limited ability to sort out sweet, sour, salty and bitter.

Putting a name to the many things we smell in wine -- from blackberries and currants and apples to such odd aromatics as butter, kerosene, horse sweat and old rubber boots -- can be one of the greatest challenges in wine appreciation.

Happily, there's a useful tool to help us sort things out. The Aroma Wheel, invented by Prof. Ann Noble of the famous wine school of the University of California at Davis, makes things easy by organizing most of the common wine aroma descriptors around a circle ("wheel") with similar scents placed in proximity. Try nosing a glass or two with the Aroma Wheel at your side, and I think you'll be amazed at the way it inspires your wine vocabulary. You can download a full-color copy of the Wheel from wineserver.ucdavis.edu/VEN7.HTML, where you'll also find information about buying it in laminated form -- or even on a T-shirt.

30 Second Tasting Notes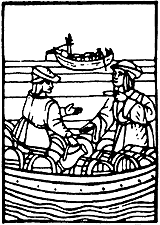 Two from Kermit Lynch

I'm not sure which came first, my discovery of Kermit Lynch's enjoyable little book, Adventures on the Wine Route, or the realization that the wines brought into the U.S. by this Berkeley, Calif., importer almost always pleased me with their flavor interest, diversity and value. Either way, even though I've never met the man (and, it should be noted, The Wine Lovers' Page has no business or advertising connection with him), I almost feel as if I know the guy. And reading his monthly catalog, like reading his book, is almost as enjoyable as sitting around the table after dinner over the rest of a good bottle, talking about wines and wineries and wandering through France.

Although Lynch sells primarily to distributors at the state level and will consider mail order only to wine lovers in the relatively few states "reciprocal" with California for wine shipping, he will send his catalog to wine lovers on request. For information, contact Dan Fredman by E-mail at probono@earthlink.net. If you'd like to buy Adventures on the Wine Route, it's available in paperback for $11.40, 20 percent off retail, through our Wine Bookstore associated with Amazon.com.

Domaine de Trémont 1997 Chenas ($15.99)
Clear garnet. Aromatic black-fruit aromas, spicy black cherry and blueberry, very pleasant. Very full-bodied, apple-skin and plummy fruit flavors; I'd swear there's a little fuzz of tannin on the finish. Surprisingly robust for a Beaujolais, even a Cru ... and it's fine. U.S. importer: Kermit Lynch Wine Merchant, Berkeley, Calif. (Jan. 20, 1999)

FOOD MATCH: In an experimental cross-cultural match with a Thai lamb curry, the flavors work well but the hot chile peppers and the alcohol in the wine are a bit uncooperative.

Domaine de la Chanteleuserie 1997 Cuvée Alouettes Bourgueil ($12.99)
Very dark ruby color, with herbaceous black-fruit aromas, dark berries and hints of fresh rosemary and lavendar. Light body but full flavor, an odd and intriguing textural effect; herbs and black fruit are consistent with the nose. An appealing herbal-floral potpourri persists in a long finish. U.S. importer: Kermit Lynch Wine Merchant, Berkeley, Calif. (Jan. 21, 1999)

FOOD MATCH: Excellent with a lamb and mushroom risotto.

30 Second Wine Link

Pinotage, an odd grape that's the result of a 20th Century cross between the noble Pinot Noir and the somewhat less highly regarded Cinsaut, is widely grown and admired in South Africa and hardly known elsewhere.

Londoner Peter May's delightful Pinotage Club seeks to change that, spreading the word and the joy of Pinotage around the world.

30 Second Advertising Partner

This week we highlight our newest advertising partner, Chateau Haut-Brion (haut-brion.com). This historic winery, one of the five declared "first growths" in the 1855 Classification of the Medoc, has been so respected for so long that it is mentioned in the writings of the British diarist Samuel Pepys and Thomas Jefferson, author of the Declaration of Independence and third president of the United States. Haut-Brion's Website is strictly educational and content-rich; it's well worth a visit.

30 Second Administrivia

This free weekly E-mail publication is distributed to subscribers every Monday. The information it contains will later be archived online. Last week's edition is now available for your review.

You are on the subscription list because our records indicate that you registered for it during a visit to Robin Garr's Wine Lovers' Page. If for any reason you don't want to receive this publication, simply send E-mail to 'wine@wine-lovers-page.com' and we'll remove you.

If your E-mail program is having trouble handling the images in this edition, feel free to request that we switch you from the HTML to TEXT edition ... or vice versa. We also welcome feedback, suggestions, and ideas for future columns. Send us E-mail!

All the wine-tasting reports posted here are consumer-oriented. In order to maintain objectivity and avoid conflicts of interest, I purchase all the wines I rate at my own expense in retail stores and accept no samples, gifts or other gratuities from the wine industry.

More time for wine?

You don't need to wait for Mondays to read about wine! Drop in any time on Robin Garr's Wine Lovers' Page, where we add new tasting notes several times each week and expand our selection of wine-appreciation articles, tips and tutorials often.

And if you'd like to talk about wine online with fellow wine enthusiasts around the world, we'd be delighted to have you visit the interactive forums in our Wine Lovers' Discussion Group. If you're from another part of the world and don't feel entirely comfortable chatting in English, try our new International Forum and introduce yourself in the language of your choice.

<!TODAY'S TEXT ENDS HERE!>