<!TODAY'S TEXT STARTS HERE!>

30 Second Wine Tasting Tip: Eyeballing wine

Perhaps because it offers a poetic connection with luxury, wine lovers seem to fall back on jewels and precious metals as metaphors for wine colors.

When I eyeball a red wine, I place it first into either the RUBY (reddish) or GARNET (purplish) category, then qualify that with "dark," "medium" or "light" and perhaps "hazy," "clear," or "brilliant." Every now and then a Zinfandel, Petite Sirah or Rhone simply doesn't look jewel-like, so I'll fall back on "purple," "reddish-purple" or even "blackish-purple."

My color categories for white are usually GOLD (yellowish), BRASS (greenish) or STRAW (beige), although an occasional white is so colorless that WATERY is the best call.

Even rosé wines show a range of colors, from SALMON to COPPER to startling PINK to light CHERRY RED.

What's the point of all this? There's no more effective way to sharpen your palate than to take the time to think about what you're tasting ... and, to reinforce it, to jot down a few quick impressions on a notepad (or computer) for your personal use as you enjoy a glass of wine. So with the indulgence of the more experienced tasters among us, I'll be devoting the first few issues of The 30 Second Wine Advisor to a quick review of viewing, smelling, tasting and forming an overall impression of our wine.

30 Second Tasting Notes

The name Valpolicella doesn't get much respect from serious wine lovers, and there's a reason for that: This light, fruity red wine, made from a blend of Corvina and other regional grapes in the Veneto region of Northeastern Italy, is generally pinched between the mass market, which makes a lake of simple, least-common-denominator wine that establishes Valopolicella's world reputation, and the luxury market, which takes a substantial portion of the best Corvina grapes for use in the rich, relatively expensive Amarone.

In between these two extremes, however, a limited amount of quality Valpolicella can be found, much of it grown in the older, traditional zone ("Valpolicella Classico") and often made to stricter requirements of alcoholic strength and bottle age ("Classico Superiore"). These wines are well worth seeking out, and as the retail prices below indicate, they can offer excellent value.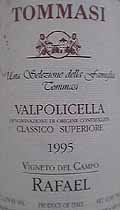 Tomassi 1995 Valpolicella Vigneto del Campo Rafael ($9.99) Best Buy!
Very dark garnet. Ripe blueberry and blackberry aromas with spicy, oaky hints of cinnamon and cloves. Big, fresh fruit flavors are consistent with the nose; juicy and tart with just a touch of characteristic Valpolicella bitterness in a long finish. Excellent wine and a very good value. U.S. importer: Solar Imports Co., Great Neck, N.Y. (Jan. 16, 1999)
FOOD MATCH: Fine match with fettuccine with ragú Bolognese.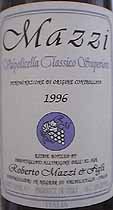 Mazzi 1996 Valpolicella Classico Superiore ($8.99)
Clear light ruby in color, with fresh red-fruit and spicy oak aromas, a whiff of nutmeg. Bright and crisp on the palate, berry and tart apple flavors, fresh and clean. Snappy acidity persists in a long finish. U.S. importer: Vintner Select, Cincinnati; a Marc de Grazia Selection. (Jan. 17, 1999)

FOOD MATCH: Showing Valpolicella's affinity with picnic fare, a happy match with mortadella and provolone sandwiches on fresh flatbread.


30 Second Wine Link

My Scottish friend Tom Cannavan, a regular participant in the Wine Lovers' Discussion Group, won a rave review in this week's Independent on Sunday, the British national quality newspaper, for Tom's impressive Website, www.wine-pages.com.

Under the heading, "The best of viticultural websites," wine correspondent Richard Erlich said, "Now, as ever, my favourite site ... His on-line wine course, based on one he teaches in the evenings, is useful and enjoyable. So are his links to other sites and UK wine merchant listings. If all sites were this good we'd spend more time surfing than drinking. Which is probably more expensive, but almost as much fun."

30 Second Advertising Partner

This week I'd like to point you toward the California Wine Club, www.cawineclub.com, whose slogan is, "The California Wine Club is the perfect, affordable way to get two different bottles of excellent wine every month, along with our fun and fact-filled newsletter Uncorked." You can reach the Club at the link above or, in the U.S., by calling 1-800-777-4443.

30 Second Administrivia

This free weekly E-mail publication is distributed to subscribers every Monday. The information it contains will later be archived online.

You are on the subscription list because our records indicate that you registered for it during a visit to Robin Garr's Wine Lovers' Page. If for any reason you don't want to receive this publication, simply send E-mail to 'wine@wine-lovers-page.com' and we'll remove you.

We also welcome feedback, suggestions, and ideas for future columns. Send us E-mail!

All the wine-tasting reports posted here are consumer-oriented. In order to maintain objectivity and avoid conflicts of interest, I purchase all the wines I rate at my own expense in retail stores and accept no samples, gifts or other gratuities from the wine industry.

More time for wine?

You don't need to wait for Mondays to read about wine! Drop in any time on Robin Garr's Wine Lovers' Page, where we add new tasting notes several times each week and expand our selection of wine-appreciation articles, tips and tutorials often.

And if you'd like to talk about wine online with fellow wine enthusiasts around the world, we'd be delighted to have you visit the interactive forums in our Wine Lovers' Discussion Group.

<!TODAY'S TEXT ENDS HERE!>