<! - Page Contents Begin Here - >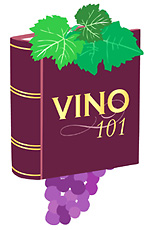 Matching Appetizers with Wine
A Server's Perspective: Wings
By Jorge Eduardo Castillo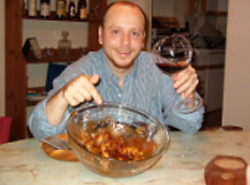 This is the first article on a series dedicated to the restaurant server. (We think wine consumers will find it interesting, too. - Ed.) As a server, you should think of yourself as a professional. Every job requires a certain level of self-confidence, and waiting tables is no exception. Your knowledge is imperative in order to be successful, wow your guests ... and ultimately increase your tips.
Many servers, especially at chain restaurants, are not trained at all when it comes to wine, or they receive minimal training at best; often they do not even know how wine is made. I will give you some hints on how to confidently guide your guests through their dining experience by pairing food and wine. Let's first concentrate on a popular appetizer that's not often thought of as a dish for wine: Chicken wings!
Most guests think of beer with wings, because of tradition, but beer may not always be the best match to create magic inside your mouth. Your job is to be confident enough to sell wine to complement the wings.
Remember, most people walking through your establishment's doors have never considered the idea that wings can be enjoyed with a nice glass of wine. Furthermore, on a drink-per-drink basis, wine consumers often order more glasses of wine than they would beer, since a glass of wine is only 5 ounces, compared with a 12- or 16-ounce serving of beer. So on average, you can expect a larger check with wine drinkers; moreover, a glass of wine is typically more expensive than a beer.
If the wings are hot-and-spicy, a slightly sweet, light, and low-alcohol white makes a fine match. A Riesling from Washington State or a German Auslese or Spätlese can be awesome with spicy Buffalo-style wings.
If the wings are mild, though, and your guest wants a red wine, suggest a young Zinfandel. Barbecue-based or other sweet wings preps will be complemented by a powerful Syrah/Shiraz or Grenache-based red, as the wines' astringent tannins beautifully mesh with the thick, sweet sauce while cutting through the fat in the wings. A fruit-forward Merlot is another fine choice (that's what you see in my glass in the photo above), so long as it was opened recently so those black currant, plum, earth, and herbaceous tones are still fresh. (Let's hope no quality restaurant will try to push out old wines that have been losing their fruit in an open bottle for a day or more.)
HOW TO SELL IT: The slower the pace of dinner, the more wine your guests will drink. Do not hurry their main courses unless they have told you they are in a hurry, or you need to turn your tables quickly.
Never deliver the main course while your guests are still enjoying their appetizers!
Just before the wings come out, or if your guests order a second drink while waiting, try this:
"Now, your wings are about to come out. May I bring you a glass of wine to complement them? Our BBQ sauce is molasses-based and we have a wonderful Syrah that will match them perfectly."
Be confident and make sure to try your wines with the courses offered at your restaurant. This way you can honestly tell them that you're speaking from experience and you can say frankly, "it was a party in my mouth."
Make it a goal to sell at least one glass of wine to every table, and monitor your progress. Keep track of which approaches worked and which did not. Most important, remember that a lot of taste is psychological, and people ultimately like what they like. If you are knowledgeable and confident, you can influence your guests to make pairing decisions that will please them.
If you have any comments about this article, or general questions about wine and food service for restaurant professionals, feel free to E-mail me at jcastillo@vino101.com.
Sept. 11, 2006
Jorge Eduardo Castillo is a representative of Vino 101, which provides on-line server wine training.
Visit www.vino101.com for more details.
Back to the Vino 101 index page